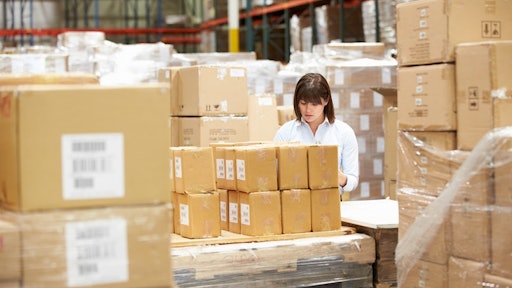 Getty Images
It's no surprise that e-commerce sales have skyrocketed in the last three years. Driven by the onset of COVID-19, e-commerce sales exploded, growing by 36% in 2020. Many people thought this huge peak in online sales would go away and return to what it was pre-COVID-19.
But that didn't happen. Consumers continued to embrace the ease and convenience of shopping for products online and from the comfort of their homes. In 2021, consumers continued to shop online and sales grew another 17.8%. And in 2022, U.S. retail e-commerce sales are expected to grow another 9.4% and cross the $1 trillion mark for the first time, according to the latest retail forecast from Insider Intelligence.
To give some context, in the apparel segment alone, sales are expected to reach roughly $200 billion this year. With the average package valued at $126, that equates to 1.6 billion packages.
That's a lot of packages. And a lot of ways to either delight or discourage your customers.
As e-commerce volume rises, so do consumer expectations
To better understand consumer satisfaction regarding their e-commerce orders, Sealed Air conducted the Consumer E-Commerce Experience Study 2021, which uncovered three central themes for driving direct-to-consumer (D2C) packaging satisfaction – deliver, dispose and delight. Consumers want their items delivered in the same condition they'd expect if they purchased it in store, with packaging that is easy to dispose, reuse or recycle and with packaging enhancements that delight, beyond the functional basics.
Let's take a closer look at each of these themes and how the right packaging can not only improve satisfaction but exceed customers' expectations and keep them coming back for more.
Deliver in a package that protects products from damage
Consumers' packaging preference is first and foremost driven by functionality to protect their ordered products from damages.
They also want their package to be right-sized, without a lot of empty space and don't want to hear their product bouncing around. Even products like clothing, that's not breakable or easy to damage, should arrive looking neat and tidy, and not in a jumbled pile or a wrinkled mess.
Ultimately, consumers want packaging that makes sense for the product they ordered, including the right amount of protection and easy-open features so the product inside isn't damaged by cutting it open with a sharp object.
While the study showed that 76% of consumers were satisfied with their box shipments and 80% were satisfied by their mailer shipment experience, this leaves room for improved satisfaction for both.
D2C brands can seize this opportunity to deliver the best experience with right-size boxes, and carefully select boxes versus mailers based on value, size and fragility. It's also important to include the right amount of protection – the correct balance of cushioning or void fill to protect the product – but not so much that consumers get frustrated with having to dispose of a lot of waste.
Dispose with ease, reuse and recycle
Consumers are having higher expectations of what packaging their product comes in, especially when it comes to ease of disposal.
While cardboard boxes are preferred from a functionality point-of-view, they do not score as well on consumers' second priority: easy disposal. Even though they are curbside recyclable, consumers cite frustration with the need to break down boxes, cardboard buildup and excessively large boxes.
Consumers also have challenges with mailers and excessive void fill materials, including confusion surrounding proper disposal and recycling ability of cushioning materials.
According to 46% of the e-commerce study participants, sustainability and minimizing waste is a core component of the future of packaging, so there is an opportunity to better communicate to consumers how to recycle or reuse all the packaging materials they receive, and why they were chosen in the first place.
Packaging waste also can be eliminated through ship-in-own-container (SIOC) packages, an area of exploration among major retailers. According to the e-commerce study, only 5% of shipments were received in SIOC packages, another area of opportunity for Earth-conscious retailers.
Bottom line is, recyclability is king, and it's about more than using recyclable materials. It's about making it easy to recycle, or making it easy to reuse, and keeping the materials in play as long as possible. To connect with sustainably-minded consumers, it's also about using right-sized packaging and adding clear information on why the material was chosen in the first place.
Delight consumers by creating a holistic consumer experience
In addition to right-sizing packaging and selecting the optimal packaging type, there is significant opportunity to enhance the unpackaging and opening experience. Oftentimes this concerns small enhancements that drive substantial positive impact on the D2C packaging experience.
Consider how your packaging can help educate consumers with messages printed either directly on the package or accessed via QR codes. This may include recycling information, messaging about the company's goals and values or product information.
Smart packaging, with scannable codes, also provides the opportunity to engage consumers with informational messages or videos and coupons to encourage repeat purchases. This type of packaging, also known as digital packaging, can delight customers with customizations that include addressing the consumer by name and referencing the products enclosed. This might also include ideas for styling products or suggesting coordinating accessories. In return, brands can receive insights based on these engagements, and the customer's next experience can be even more personalized.
For luxury brands, packaging customizations might include an elevated experience that consumers expect when shopping designer brands. In fact, one in five consumers report they are willing to pay a premium for highly customized printing applications and enhanced unboxing experiences, especially when this is inside the box due to theft and privacy concerns.
An enhanced presentation and customization inside the package can go a long way in delighting consumers, particularly for gifting and premium items.
Among enhancement, consumers say they are willing to pay for:
· Personalized messages printed on the package – 36%
· Colorful printed boxes or mailers with a choice of pattern – 35%
· Customized package print on the box or mailer using uploaded graphic photos by the sender – 34%
· Interactive packaging, featuring audio/video messages recorded by the sender – 33%
Ultimately, enhancing the unpackaging and opening experience can drive substantial positive impact on D2C satisfaction.
The three Ds for optimized shipping
As the D2C category continues to grow, it becomes even more important to optimize packaging practices to continue to satisfy and delight consumers.
Follow these guidelines to deliver products without damage, dispose easily and sustainably, and delight consumers with packaging enhancements that go beyond functionality.
As more and more consumers turn to shopping online, think of your e-commerce packaging as a way to recreate retail theater and shopping gratification for consumers through an optimized shipping and unpacking experience.