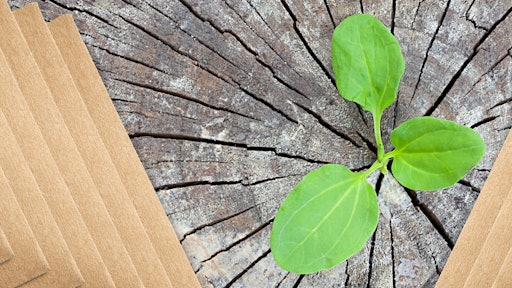 ruslan_khismatov AdobeStock_409882644
Packaging, labeling and supply chain decision makers face a barrage of demands when it comes to sustainability. From consumer pressure, to new tax filing requirements for corporate carbon emissions, to state-level extended producer responsibility (EPR) regulations, which impact the cost of producing consumer packaged goods (CPGs), packaging and labeling leaders have more stakeholders than ever before. With a seemingly omnipresent watchful eye on how the industry makes sustainable strides, it's no surprise that a recent survey of packaging and labeling decision-makers conducted by RRD found that almost all respondents (94%) agree that sustainability is a key consideration in packaging and label decisions.
With these converging challenges facing the packaging and labeling industry, it's clear that organizations need to think differently to advance the sustainability of their packaging and labeling solutions. Here are four ways to start:
Look at structural design
According to data provided by McKinsey and the CDP, CPGs are responsible for roughly 33 gigatons of CO2 released into the atmosphere. To meet worldwide sustainability targets by 2050, these levels must be reduced by half. Packaging suppliers can recommend CPGs consider working with materials such as aluminum and paperboard packaging, which are recyclable options and avoid materials or material combinations that may void the recyclability of packaging.
Further, structural engineering can uncover several opportunities to reduce the footprint of packaging operations. The use of less material — or alternative, more-readily available options — also helps introduce new freight and storage savings. Suppliers can suggest small changes to client packaging. For instance, reducing overall package size, using recycling-friendly inks, and optimizing manufacturing layouts may help reduce the overall carbon footprint of a package.
However, revising the design to be more sustainable does not mean sacrificing luxury or aesthetically appealing packaging. Using different print embellishments, textures, and finishing techniques may even improve the perception of value while enhancing the recyclability.
Demonstrate flexibility in sourcing
Many materials are experiencing limited supply, including virgin fiber, a key raw material in paper-based packaging. Now is an excellent time to review a number of relevant materials to identify areas for material usage savings as well as sustainability considerations.
Companies should consider embracing a substrate-agnostic approach to packaging. This translates to improved availability for a wider variety of materials, which allows manufacturers to look at alternative stocks and production methods without losing momentum. It also may present more sustainable options, encouraging companies to shift away from single-use, non-biodegradable and non-recyclable packaging options.
Agility in packaging decisions in the face of disruptions can prove more sustainable. In fact, in a recent RRD survey, the majority of packaging decision makers (55%) indicated they believe recent supply chain disruptions moved their companies closer to their carbon emissions goals.
Consider linerless label solutions
Linerless labels can support efforts to minimize both material use and waste. Traditional labels have a liner, when in use, the label is detached from a silicon-coated backer, which is typically non-recyclable, causing it to be one of the biggest drivers of waste in the label lifecycle. Linerless labels not only reduce waste production but also decrease energy usage and lower the carbon footprint while increasing sustainable substrates.
As a bonus, this also allows for more labels to be included in a roll, which has cost-saving and sustainability implications. Linerless labels deliver up to 60% more labels per roll, reducing downtime required to change rolls and garner greater sustainability by eliminating liner waste and reducing carbon emissions from freight.
Incorporate sustainability into your brand's story
A desire to become more environmentally conscious has been a growing trend across all generations, with Gen Z leading the pack. In fact, a recent report by McKinsey revealed more than 60% of consumers go out of their way to recycle and purchase products in environmentally friendly packaging, and whether online or on the shelf, a product's packaging plays a leading role in the perception of sustainability.
Suppliers should encourage brands to underscore sustainability efforts within their packaging, especially when incorporating new materials that consume less energy, water and raw materials. Sustainability improvements become more impactful when consumers easily recognize recyclable materials so they can take action.
In this age of economic, environmental and social change companies should focus on the bigger picture when it comes to sustainability in the supply chain. A company's strategy to sustainability often goes hand in hand with the cost savings it can achieve, leading to discussion about fundamentally changing the product solution and the total-cost of supply. Cost and waste can be reduced by looking at the most efficient way of getting their product to market.
A caveat? Resist packaging decisions that improve the perception of sustainability but don't do much in the way of improving actual sustainability. For example, smaller packaging isn't always more sustainable. To shrink packaging design, suppliers may need to make materials thicker in order to maintain strength, which may inadvertently have a negative impact on overall carbon footprint. Evaluating any packaging changes should be done holistically to make sure those changes have the desired positive impact.
Sustainable packaging is not a one-size-fits-all solution. It's critical to base a design process around the nuances of a given brand, considering acceptable materials, company sustainability goals, supply chain constraints and the unique needs of the packaging itself. As the world turns its eye toward the climate crisis, packaging decision-makers must consider a bevy of options to temper organizational carbon emissions and promote supply chain efficacies for a more sustainable future.