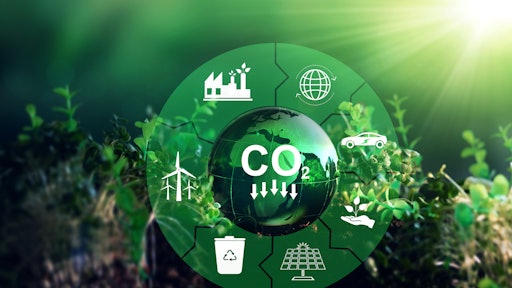 Miha Creative AdobeStock_484607009
The Climate Pledge—co-founded by Amazon and Global Optimism—and C40 Cities launched Laneshift, a partnership to tackle carbon emissions through zero-emission freight by reimagining medium- and heavy-duty shipping vehicles and the routes they travel.
"Cities in Latin America and India offer excellent opportunities to lead the way for electrification of trucks, and collaboration in these regions are critical to accelerating the transition to a cleaner, healthier environment," says Kara Hurst, VP and head of worldwide sustainability at Amazon. "Laneshift provides a platform to bring stakeholders together to move faster."
"Road freight is a high priority for decarbonization and a difficult sector to tackle. Laneshift will bring together cities and businesses that are at the leading edge of climate action, through this unique partnership between C40 and The Climate Pledge. This is the kind of collaboration that will be essential for success," says Tom Rivett-Carnac, founding partner of Global Optimism.
"Road freight is a major source of global emissions. To meet net-zero emission targets, we need to urgently electrify truck fleets. Laneshift will help to lay the groundwork for the adoption of EV vehicles in India and Latin America by decarbonizing freight in cities, resulting in cleaner air and good, green jobs even beyond city borders," says Mark Watts, executive director at C40 Cities.
Key takeaways:
In partnership with cities, Laneshift will accelerate the development of EV infrastructure and the deployment of EV trucks across cities in India (Bengaluru, Delhi, Mumbai, and Pune) and Latin America (Bogotá and Medellin, Colombia; Curitiba and Rio de Janeiro, Brazil; Quito, Ecuador; and Mexico City, Mexico), reducing emissions, cleaning up the air, generating green jobs, and working towards a just transition for workers.
Through Laneshift, The Climate Pledge, C40 Cities (a network of mayors from around the world), private and public sector stakeholders, city governments and non-government organizations will all work together to help equitably reduce and avoid greenhouse emissions. The organizations will also contribute to cleaning up dirty air that impacts vulnerable communities in some of the largest and most densely populated cities in Latin America.
Laneshift will help create a roadmap for how the freight industry and cities can work together to accelerate the transition to EV freight.