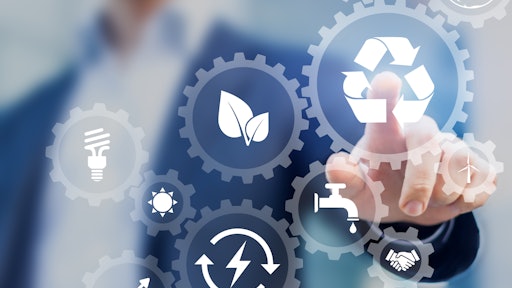 Getty Images
E-commerce boomed during the pandemic and shows no sign of slowing down. Morgan Stanley reports that e-commerce now makes up over one-fifth of retail sales and projects that e-commerce sales will grow from $3.3 trillion today to $5.4 trillion by 2026.
However, this growth in e-commerce is exacting a large environmental toll. Online shopping brings with it more packaging waste, most of it plastic, and higher emissions from the shipping of merchandise. To meet the rise in online orders, companies small and large are investing more in their warehouse and transport operations but most have little awareness of the environmental impacts produced by these aspects of their business.
For instance, there is scant attention paid to the fact that popular same-day and two-day delivery means that those deliveries are often made by less-efficient, more carbon-intensive routes. Or to the fact that plastic packaging mostly ends up in landfills or, eventually, in the ocean, where it does serious harm to marine ecosystems.
Indeed, the environmental consequences of e-commerce are largely not addressed by online sellers. A study by Scala shows that 64% of companies have no plans in place to reduce the environmental impact of their supply chain operations.
Consumers, on the other hand, are increasingly aware of their impact. In a survey by Sifted, 67% of consumers said they now consider ecofriendly practices when they make a purchasing decision. What's more, 91% said they would like to have an ecofriendly shipping option when they check out online and 57% said they'd pay an extra 10% or more for ecofriendly packaging and shipping.
Clearly, e-commerce companies would do well to take note of the rising importance of supply chain sustainability in the minds of their customers. Here are three ways they can reduce the environmental costs of their business and show shoppers they care about our planet's future.
1. Choose carbon-neutral logistics providers
There is an easy way to know if your logistics partner runs a sustainable operation. It's CarbonNeutral certification, the worldwide standard for carbon neutrality. This is a program of Climate Impact Partners, which provides definitive and transparent carbon neutral programs for companies everywhere. CarbonNeutral certification shows that a company has measured and offset all the emissions associated with its business.
For a logistics provider, this could mean modifying its shipping operations to reduce emissions through various steps, like choosing the shortest delivery routes, ensuring full loads during transport and pursuing last-mile efficiencies. Sustainable logistics partners often optimize their fleets by using the U.S. Postal Service network, which has promised that 40% of its new delivery vehicles will be electric.
2. Use more sustainable packaging
Waste from packaging now makes up almost one-third of the total waste trucked to landfills in the United States, the EPA reports. Of all the plastic produced worldwide, over 40% is used to make plastic packaging, the vast majority of which is tossed straight into the garbage.
Plastic is versatile, lightweight and cheap, and is frequently used in excess up and down the supply chain. Most e-commerce shipments are boxed up in bubble wrap, styrofoam peanuts, plastic pillows or other plastics. Very little of this can be or is recycled. Just 8.7% of the 34 million tons of plastic waste produced every year is recycled. All this plastic packaging is not just a problem for the planet but for logistics companies as well, as it means more space is taken up in warehouses and delivery vehicles, which in turn means lower efficiency and less sustainability.
Consumers are aware of this problem and want retailers to address it. A survey in 2020 showed 64% of consumers are more likely to buy from companies that offer compostable packaging. So ecofriendly packaging is not only better for the planet, but it pleases customers as well. Fortunately, the packaging industry is working on sustainable options to plastic that are cost-effective and functional, such as packing peanuts made of cornstarch and mycelium boxes made from the roots of mushrooms.
3. Explore carbon offsets
By now, most have seen the carbon offset option when we buy a plane ticket, which allows flyers to counteract their pollution by investing in projects that reduce carbon dioxide emissions. Offsets are also an emerging solution for companies looking to solve the problem of competing consumer preferences: easy online shopping on the one hand, sustainability on the other.
To balance out their shipping emissions, e-commerce companies can buy carbon offsets equal to the emissions produced by the shipment of their products. For instance, e-commerce companies and their shipping partners can offset their emissions by investing in projects like forest preservation and alternative power. Another way to offset carbon emissions is to cut power consumption in warehouses and facilities by using energy-efficient LED lights, motion-detector switches, electric forklifts and pallet jacks. E-commerce companies can also increase their commitment to recycling and reducing the waste they produce.
By now, all of these steps—from cutting resource use to minimizing waste—should be natural priorities for e-commerce businesses and their logistics partners. Whether it's recycling paper or shifting to ecofriendly packaging, the goal of all players in the space should be to achieve more sustainable, lower-impact operations.
Final takeaway
As online shopping grows, its impact on the environment will get increasing attention from policymakers, world governments—and consumers. Now is the time for e-commerce and logistics companies to increase their efforts at sustainability to achieve their business goals and satisfy the demands of their customers.