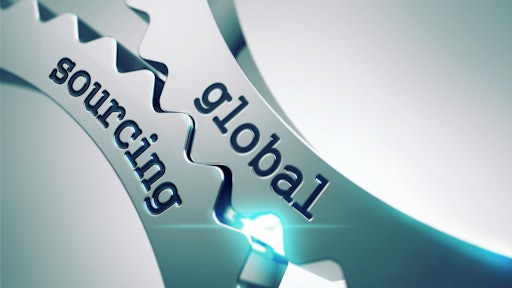 tashatuvango AdobeStock_73458047
With an eye toward net-zero emissions and manufacturing waste reduction, organizations around the globe are reconfiguring their supply chains and offshoring strategies to achieve ambitious sustainability initiatives.
But while leadership strengthens their sustainability muscles, global supply chain disruptions are
putting pressure on cost and operational efficiency. In particular, congestion at global ports and soaring freight prices have created sourcing bottlenecks and eroded organizations' bottom lines. In turn, this strain has made integrating sustainable infrastructure more difficult.
Global supply chain developments will continue to create variable market conditions, but organizations can still leverage a sourcing strategy that successfully balances sustainability, cost effectiveness and operational efficiency. The key is intelligent planning, a decision-making strategy that relies on data insights to form actionable objectives.
Intelligent planning can help organizations implement blended rightshoring models that increase supply chain flexibility and responsiveness and ultimately help them achieve sustainability targets.
Rightshoring: A balanced sourcing approach
Offshoring production to facilities in other countries has long been a popular solution for boosting supply chains' cost efficiency. But offshoring has major environmental impacts — this sourcing model can produce high carbon emissions from longer routes to market as products travel from overseas facilities. If inventory needs to be adjusted or recalled, this only worsens the carbon impact of the order by requiring expedited manufacturing and transportation to fill the gap. And this is a common occurrence since 88% of companies don't actively model inventory form and function. This makes it difficult to ensure correct orders and significantly increases manufacturing waste as unwanted products are disposed of and replaced.
Relying primarily on offshored sourcing also hinders supply chain flexibility. This is because offshoring requires longer lead times and a static inventory mix to withstand transportation — for example, products must have a longer shelf life to survive in transit. And as global energy costs and freight capacity continue to fluctuate, offshoring is becoming less and less practical as a primary sourcing method.
Without the capability to adjust supply chains to demand shifts and marketplace disruptions, organizations have a hard time allocating appropriate inventory and planning for future variability. An alternative to traditional offshoring, rightshoring combines offshoring and domestic sourcing to create a blended supply chain that's nimble, cost effective and more sustainable.
Through this balanced sourcing approach, organizations can benefit from the cost savings that offshoring provides while still investing in domestic infrastructure. Local sourcing goes a long way toward reducing inventory costs, allowing for greater product variation and enabling rapid response adjustments to capacity restraints. It also significantly reduces the carbon emissions produced by an offshoring-first strategy.
But executing an effective rightshoring strategy can come with challenges. In particular, it can be difficult to manage sourcing across multiple geographies and account for inventory variation. Rightshoring also requires that you design products in relation to your supply chain model and unique capabilities. Fortunately, intelligent planning offers the data-driven tools to make rightshoring manageable and to continuously refine your entire sourcing network.
5 intelligent planning tools for sustainable rightshoring
While figuring out rightshoring can be difficult, you likely already have the data you need at your fingertips. Many organizations collect a large volume of data through their manufacturing facilities and supply chains and intelligent planning can help you apply this data to sourcing optimization objectives.
As you design a sustainable rightshoring model, leverage these five intelligent planning tools.
Supplier scorecarding.

For the arm of your sourcing model that includes offshore infrastructure, use supplier scorecarding to analyze the ethical implications and sustainability impact of various vendors and facilities. Especially consider employment standards, environmental policies and protections and the specific economic conditions of the offshore locality.
Dynamic inventory.

This

approach

takes market changes, lead times and product shelf life into account to properly allocate inventory and adjust for consumer demand. Successfully managing your product mix across different sourcing locations can be complicated, so consider a third-party logistics (3PL) partner to help ease the operational burden.
Financial analytics

. Rightshoring is all about finding the balance between flexibility, cost efficiency and sustainability, and financial analytics go a long way in determining the risks and financial nuances of the blended sourcing model. It's also particularly helpful in analyzing infrastructure costs between dual or multiple suppliers and assigning the appropriate risk protections.
Sustainability KPIs and emissions management.

Quantify and measure the sustainability impact of your rightshoring strategy by setting granular key performance indicators (KPIs) in areas like waste reduction, transportation and product design. Additionally, consider an emissions management platform to track your carbon output and report on sustainability progress.
Real-time reporting and visibility

. Move away from the uncertainty of forecasting by leveraging a real-time reporting platform or intelligent dashboard. These platforms feature dynamic reporting capabilities that alert you of potential operational setbacks and provide sourcing and logistical alternatives. By planning for potential hurdles, this tool ensures you always have access to critical resources in times of shortage or limited capacity.
Sustainability strides require supply chain flexibility
As you work to achieve sustainability targets and optimize your sourcing model, remember to stay flexible. Global disruptions and upward energy costs will persist, and intelligent planning tools can provide you with actionable insights to continuously adjust your supply chain.
Most critically, put agility at the center of your blended rightshoring strategy. This will ensure responsive processes and alternatives in a highly variable market — ultimately enabling sustainability strides, cost-effective sourcing and streamlined retail and inventory operations.