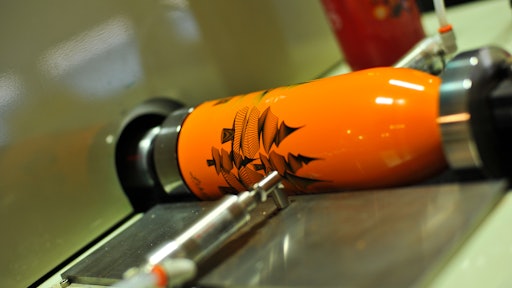 There are an estimated 60 million plastic bottles thrown away every day in the United States, making it a global crisis. As consumers become more environmentally friendly, they are turning toward companies that share the same values as them. An easy way many have found to cut down on their plastic waste is by using reusable water bottles. This is something Liberty Bottleworks has made its mission since realizing profound results of its own.
Since being founded in 2008, Liberty Bottleworks has aimed to help save the world by producing the greenest, highest-quality bottles made in the United States. The company took into account that less than 25 percent of all plastics are recycled and looked to make efficient bottles that also appealed to the consumer. A majority of its bottles are custom manufactured for globally recognized brands and are customizable for its customers.
"From printing a family photo on a single bottle, to thousands of bottles for a concert, we can —and have—done it all," says Shawn Hill, sales manager for Liberty Bottleworks. "I compare our printing to the 'heart and soul' of Liberty as a company. While there are many other bottle manufacturers on the market, we take great pride in our printing process and design bottles that reflect our corporate and owner's personalities."
"When our company first started, no other bottle manufacturers offered printed designs, only solid colors. We wanted to be different," Hill adds. "Our custom bottles allow individuals' freedom of expression."
The company celebrates diversity and encourages individuality, believing that someone's bottle design is a window to who they are wherever they go. Liberty even went as far as to survey customers about what they didn't like about water bottles, developing a prototype over two years that was of the highest quality. Hill credits asking for advice, working hard and learning from mistakes as part of the reason why Liberty Bottleworks is successful.
"American manufacturing is starting to make a comeback. Talk to others who have been there before. You can spend hours trying to solve a problem on your own or seek knowledge from others who have experienced the same issue," Hill advises. "Not only will you save precious time, but you could also win over a future customer in the process."
With the opinions and suggestions from its target audience, Liberty began selling its bottles in 2011.
"As a small American manufacturer, we are a tight-knit family. Each bottle is inspected as it passes through the production line, and again after powder coating," Hill explains. "We then print each bottle individually, inspecting it again before and after print. Finally, all bottles are turned over to our quality check team. There, they are closely inspected as we cap and package them for shipping."
At the heart of Liberty Bottleworks is its determination to better the world. The company has a "zero waste" policy at its facility and helps maintain its sustainable practices by having "big recycling bins and very small trash cans," Hill jokes.
"We operate on a daily zero-waste mind-set. Recycling bins are placed at every desk and we have recycling stations in every department to help encourage employees to 'think green,'" Hill says. "Throughout our manufacturing process, conveyor belts and vacuum systems have been set up to collect all scrap metal pieces and metal shavings, sending them straight to various recycling bins. Even our power coating booths are equipped with vacuum pumps to collect and recirculate excess powder so we can operate at over 95-percent efficiency."
The company has even implemented an employee-led "Green Team" that looks for ways to improve the facility's performance—and Liberty takes notes on what they have to say. Installing motion sensors and energy-efficient lighting and the suggestion to use solar panels for powering various machines all came from employees.
Liberty also aims to give back in any way it can. The company donates bottles to local charities as fundraising items and donates 5 percent of net sales of its Karm collection bottles to various nonprofits.
"We also extend discounts and donation bottles to organizations we feel are making an impact nationally or globally," Hill says. "We donate part of our sales to Keep America Beautiful and Travelers Against Plastic."
Making metal water bottles in the United States remains important to Liberty Bottleworks as most of its competitors continue to manufacture outside the country. According to the company's website, Liberty set out to make its metal bottles using recyclable materials, supporting the U.S. and its suppliers, while manufacturing in a clean factory that it knew was safe.
"Aside from creating jobs and growing the domestic economy, American manufacturing can help the environment as well," Hill suggests. "If we have the capability to reduce carbon emissions from global transit by manufacturing closer to home, it is our responsibility to do so. We want to create a country—and a world—that future generations can thrive in, and it begins with being 'Made in the USA'."