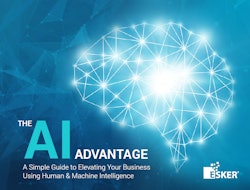 Simple, secure and sustainable — that's AI in business. Discover why being a better employee and better business is just an AI solution away in this educational guidebook.
What's in the guidebook? Artificial Intelligence (AI), machine learning, deep learning … ever wonder what it all really means to your company and customer service department? If so, this guidebook is for you! In it, we dig into AI's essential role in modern day business, exploring topics such as:
How the human/AI partnership is tied to success
Core AI expertise that a best-in-class solution should offer
Process examples of AI in action & customer results
Learn more about Esker's diverse AI technologies. Download Now!