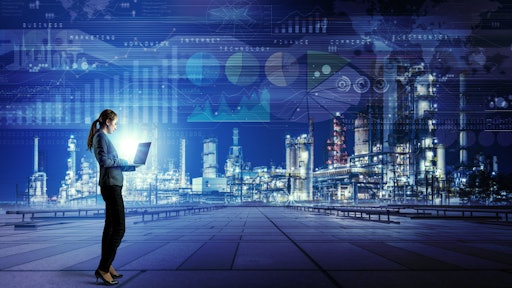 AdobeStock_182350781
In today's highly competitive business environment, how work gets done is just as important as the product or service that a company sells. A rising competitive advantage - in lieu of a differentiator that outruns innovation - is operational efficiency and agility that keeps productivity up, costs down and customers happy.
All eyes have been on supply chain leaders as they've adapted their operations to combat challenges along the way these past 18 months - massive disruptions, shortages, lost supplier access, shipping delays and more. The instability has been insurmountable for some, exposing weaknesses in the supply chain in need of immediate attention to stay in business.
What does the supply chain of the future look like? Well, for one, it leaves less to chance. It plans and readies itself for disruption. It thrives on predictability and visibility, but doesn't stop there. The average supply chain professional needs a way to respond by being able to create effective automated workflows and digital solutions for needs of the business in whatever environment lies ahead.
This supply chain overhaul builds resilience into the entire process, and it comes at the intersection of visibility, no-code, automation and digital agility.
Barriers to visibility are barriers to an effective supply chain
Three key challenges when it comes to creating high-performing supply chain operations all start with data.
You can't manage what you can't see.
Visibility is one of the most important factors when it comes to effective supply chain operations, yet the siloed nature of the supply chain makes it difficult. Internal silos exist by department (procurement, finance, operations, etc.), and the systems (materials requirement planning [MRP], enterprise resource planning [ERP], inventory, accounts payable, purchase order, etc.) that are involved in various processes.
Externally, there are a number of stakeholders, including manufacturers, warehousing facilities and freighting companies that further reduce end-to-end visibility as the process grows in complexity. The combination of both online and offline communication between employees and these external collaborators make activity impossible to track.
You can't improve what you can't measure.
To stay competitive, businesses must use data-driven insights to continuously improve. Supply chain operations are no exception, and as the environment shifts, companies will need to do real-time analysis to understand where there are opportunities to optimize processes and maximize investments.
That said, data quality is a significant challenge. While so many different, disconnected systems create silos, they also result in fragmented data spread across various solutions and in multiple data formats. This limits a company's visibility into data and ability to make better decisions.
You can't prevent what you can't predict.
Staying ahead of challenges is key to supply chain success, especially during times of uncertainty like we're experiencing today. It's important for businesses to accommodate shifting demand patterns and changing customer behaviors and expectations as best they can in real time.
Without a clear view of activity and the ability to analyze data to show gaps, it's impossible to proactively shift and adjust to minimize disruption. The result is a reactive supply chain that can't anticipate change.
Turning visibility into agility and action with no-code automation
The solution to overcoming these common barriers to effective supply chain operations? Digital agility. Automation technology closes the communication and data gaps that exist in the supply chain to increase connectivity, visibility and predictability. And, no-code is the way you can make sure your automations stay responsive to the uncertainty ahead with the ability to make adjustments, improvements and new solutions on the fly.
For example, we've seen customers in the logistics industry automating workflows of their account teams and processing massive amounts of changing data from many systems to provide real-time updates, execute supplier check-ins, help with resource planning and scheduling, shipment tracking and especially responding to customers with the most-up-to-date information as everything is in flux.
Being able to create these types of digital solutions is more vital than ever. And with the rise of no-code, the ease of streamlining these workflows, dynamically updating data and creating brand new apps and processes is making it a reality, matching the urgency and pressures of the ever-increasing rate of change and unforeseen supply chain challenges.
Parting words on deploying no-code automation technology
Paring these challenges with rising customer expectations, efficient and agile operations are more of a crucial market differentiator than ever before. How can businesses set themselves up for automation success and competitive advantage with no-code?
● Do the work to fully understand all the gaps that exist, and what the impact is on operations.
● Prioritize processes to automate based on potential ROI and differentiation.
● Get your existing employees involved as "business technologists." They know their processes and challenges better than anyone else. With a no-code tool they can often create automations faster and in a more practical way than traditional tech resources.
● When considering your options for a no-code automation tool, make sure your solution treats data dynamically, doesn't overlook the human element and will be flexible to change.
● Don't just think about what needs to be done in the short-term. More use cases will always come in these fast-changing times. Make sure you're set up to quickly automate anything thrown your way in the long-term.