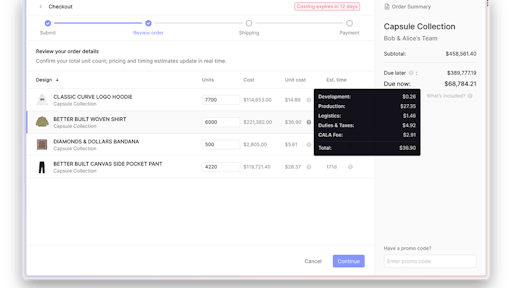 SEKO Logistics
CALA partnered with SEKO Logistics (SEKO) to launch a new pricing engine that incorporates what is said to be the most comprehensive door-to-door total landed cost calculator for the fashion industry, factoring in product type, material type, complexity, number of units, time of year and destination.
"Margin management, responsiveness and reliability are critical for managing supply chains right now, so we partnered with SEKO to ensure our customers have the most comprehensive, upfront overview of production and shipping costs possible," says Andrew Wyatt, CEO of CALA. "Decisions can only be made based on the information available, so prior to the introduction of our pricing engine brands selected their factory based purely on it having the lowest production cost. Our pricing engine's added layer of analysis reveals that this isn't always the best decision. For example, a customer might rule out another factory because its production cost is higher. However, overall, that factory may actually be the most cost-effective if it's closer to the shipment's final destination and devoid of excessive duty and shipping costs. Costs can also look completely different by doubling or tripling units. Crunching the numbers on all of these variables previously took weeks. Now, in just seconds, CALA reveals the full supply chain picture so our customers can make the most efficient decisions for their business."
From SEKO:
CALA's pricing engine considers dozens of factories in 13 countries, and more than 100 shipping lanes across four different shipping modes.
CALA unifies the entire fashion and lifestyle product creation process – from product ideation all the way through production, quality control, freight forwarding and customer fulfillment – into a single digital platform.
Based on the product specifications submitted, the pricing engine will generate a total cost breakdown of a project for development, production and logistics, while also accounting for duties and taxes.
Brands can also see an estimate of how long each stage will take to complete, giving a unique window into the expected project scope before financially committing to a project.
"CALA's platform is revolutionary for fashion brands and retailers. This new pricing engine is one-of-a-kind and gives brands rapid, tangible insights in one, easy-to-use system that saves them both valuable time and money," adds Brian Bourke, SEKO's global chief commercial officer. "Leveraging our global network and forwarding capabilities allows organizations the ability to scale based on both their current and future needs as their customer base grows. With customer demands only continuing to become more complex, this partnership offers the right solution to enable global supply chains effectively and efficiently."