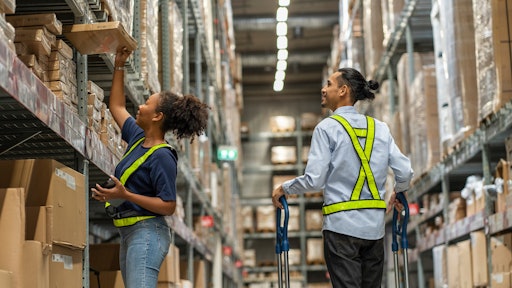 supAVADEE AdobeStock_528067774
The continued growth of e-commerce has gone hand-in-hand with an increase in online sales of electronics and technology items that contain hazardous components, including lithium batteries. These batteries, which power laptops, cell phones, power tools, electric bikes and more, have a complex set of rules, regulations and restrictions that govern shipment. This creates significant supply chain challenges for businesses that sell and distribute products containing lithium batteries – not just for shipping products to customers but managing returns as well.
As we gear up for the busy holiday season, having a well-defined and compliant reverse logistics process in place is critical.
Today's returns landscape
Today's consumers can go online and buy what they want when they want it, and they expect the returns process to be just as easy. According to the National Retail Federation, retailers estimated more than $761 billion in merchandise sold in 2021 was returned by consumers. This accounted for an average of 16.6% of total U.S. retail sales. That figure is even greater for online purchases, where it's estimated between 20-30% of orders are returned.
Returns have become such a normal part of the online shopping experience that 41% of consumers intentionally overbuy – often ordering multiple variations of an item – and then return the items they don't want.
This swell of return deliveries has created a challenging reverse logistics environment – both consumers returning to stores and stores returning to manufacturers and distributors. Many of these returned products are electronics and other technology items that contain hazardous components, including lithium batteries, which adds a whole other level of complexity and risk.
Reverse logistics is challenging
Returns can be inconvenient and expensive, but when it comes to sending back product purchases that contain lithium batteries, safety is also a key factor, since returned items have a higher risk of being unstable.
Return shipments of dangerous goods are subject to the exact same regulations as outbound shipments, which means they must be compliant with regards to packaging, labels, documentation and shipping method. Since it's the shipper's responsibility to comply with all hazmat transport regulations, customers must be equipped to adhere to these rules – whether they're aware of them or not. This is where comprehensive, well-defined returns processes become essential.
Unfortunately, many of those responsible for handling dangerous goods lack confidence in their organization's ability to successfully manage the reverse logistics process. In fact, a global survey of dangerous goods professionals found that 13% say existing processes are not adequate to meet current compliance needs. And, when it comes to the ability to support future reverse logistics needs, only 20% of dangerous goods pros believe their company can support them. In the United States, that number drops to 14%.
How can organizations increase the chances of successfully complying with reverse logistics requirements? It starts with having well-defined returns management process.
Improving returns management
How a business handles returns directly impacts customer satisfaction and the ability to maintain regulatory compliance, making it imperative for retailers to simplify and streamline the returns process as much as possible. Afterall, consumers don't want to spend time figuring out safe shipping procedures – they simply want to put an item in a package, ship it and get on with their day. It's up to organizations to have the necessary process in place to make that happen.
To streamline returns of regulated goods, such as lithium batteries and related devices, retailers, manufacturers, and distributors should consider investing in packaging that arrives preassembled and pre-labeled with simple closure instructions. Some next-generation shipping boxes are comprised of materials engineered specifically to provide a thermal barrier when transporting lithium batteries, making the returns safer and easier. Not only does this improve the customer experience, but can also provide additional business benefits:
Competitive advantage. Ease of doing business and excellent customer service (especially for something as inconvenient as returns) can help your company stand out to consumers, suppliers and other supply chain partners.
Risk mitigation. Comprehensive reverse logistics processes helps ensure goods are returned safely, mitigating the risk that comes with shipping lithium batteries and reducing the chance of injuries, fines and environmental incidents that can come with shipping dangerous goods.
Brand loyalty. Superior returns processes can help build customer loyalty and drive repeat business.
Establishing a comprehensive returns management process begins with a clear understanding of how reverse logistics impacts your supply chain and overall business. To that end, a strategic approach to returns management should:
· Educate customers. Make customers aware that rules exist and guide them on shipping requirements for the product being returned. Remember, you are responsible for educating your customers on the shipping regulations and making sure the return shipment is compliant.
· Make it easy. Hazmat compliance can be complicated, so take steps to simplify the process as much as possible for your customers. Deliver all lithium battery-related shipments with all the labels and markings necessary for fully compliant returns along with easy-to-follow instructions.
Prepare customer service teams. Train customer service reps to correctly answer questions about return shipments. Consumers and even some supply chain partners likely won't be trained in compliant lithium battery shipping, so your customer service reps must be ready to guide them throughout the process.
Ship returns by ground. There are allowable regulatory exceptions for ground transport that aren't available with air travel. Shipping even properly functioning lithium batteries by plane (let alone defective merchandise being returned) has become significantly more complicated.
· Consider avoiding returns completely. If your customers only need to return relatively inexpensive batteries or items, consider sending replacement items and foregoing the returns process completely. Although this could further strain already stressed margins, it could reduce the strain and cost on your reverse logistics operations. However, you would need to instruct customers on how to properly dispose of the batteries.
Be ready for recalls too
A comprehensive returns management process should also include plans for dealing with the dreaded recall. These returns typically come from retailers and distributors, not consumers, but the concern is the same. In case of a recall, make it as easy as possible for customers and supply chain partners to compliantly return dangerous goods. Because recalls often happen unexpectedly, be prepared with an advance plan in place before it happens.
Moving reverse logistics forward
Reverse logistics has become a normal part of business and an integral part of the supply chain. And with the reverse logistics market expected to exceed $958 billion by 2028, having a comprehensive returns management plan will be increasingly important.
Doing so will further position organizations to meet consumer expectations, ensure safety of all stakeholders and improve the customer experience. Afterall, compliance gaps on returns can be costly in more ways than one. If you want to avoid the costs and complications of non-compliant dangerous goods returns, advance preparation will help you help your customers get it right.