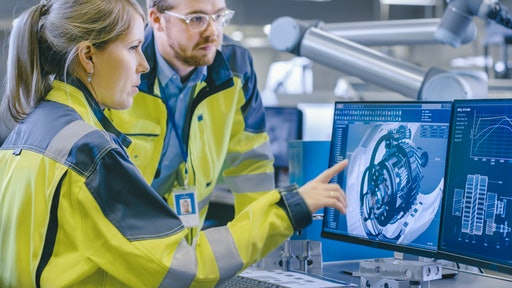 Getty Images
While labor shortages are constant among most industries right now, the pandemic exacerbated an already difficult situation in construction and delivery of bulk materials. Nearly 92% of contractors reported moderate to high levels of difficulty finding skilled workers in Q3 2021, and 93% expect the shortage to worsen over the next six months. As industry leaders prepare for 2022, there should be no greater priority than figuring out how to attract new talent into the field.
2022 should be seen as a rebuilding year for companies to put in new processes that not only attract a diverse set of new workers, but also increase your existing team's confidence with technology. When executed well, companies should expect to see operational improvements, higher employee satisfaction, and ideally, a slowdown of the labor shortage's current trajectory.
The idea of updating systems and digitizing may seem overwhelming, and there will certainly be a learning curve. But, as you'll see in the New Year, these updates will be critical for your company's viability. 2022 is the year where companies will find themselves lagging behind if they don't improve their operations. It's a "need to have," not a "nice to have" now.
Here are four tips for leveraging digital construction project management tools to strengthen the workforce in the New Year.
1. Bridge the communication gap with centralized messaging
Communication is critical for employees, as there are several moving parts everyone needs to be up to date on. For all their value, cell phones are not the beacon of connectivity they once were. People are inundated with constant emails, calls and text messages and important communication can get lost in the mix.
Investing in a digital infrastructure that centralizes communication and keeps everyone on the same page with real-time updates is key to reducing confusion. For example, if a dispatcher learns of severe weather that will impact activity at a jobsite, he/she can efficiently alert everyone--the hauler, the plant and anyone else who needs to know--simultaneously. All communication is stored and easily accessible, making it easy to verify if there's a dispute later on.
Providing opportunities for clear communication is critical to keeping your workforce motivated and on task. It shows that you value their time and are actively improving efficiency.
2. Let employees do what they do best with digital dispatching
Digital dispatching is a great introduction to the digital world, as it combines the best of human interaction with the efficiency of technology. Dispatching is more often than not very manual work, creating schedules with a whiteboard or spreadsheets and dispatching with phone calls or text messages. Digital dispatching allows you to create a schedule in advance, provide drivers with real-time updates for their next jobs, alleviate bottlenecks with improved visibility and adjust the flow of trucking throughout the day -- if need be.
The workforce of tomorrow does not want to be saddled with time-consuming manual tasks. Digital dispatching gives them the freedom to focus on higher level work such as maintaining relationships and market knowledge/expertise. Your employees will feel more fulfilled, and you'll reduce costs and save time.
Click here to hear more about technology trends in trucking:
3. GPS tracking is good for you, the customer and employees
GPS tracking has certainly been a delicate subject with many employees, but it doesn't have to be. In fact, when implemented effectively, it actually improves workers' outlook on the system and their job function. Every workforce, new or experienced, wants to know that their time is being used valuably, and GPS tracking is a great tool to help manage that. Drivers can perform their work more accurately with clear arrival and departure points, verification of work completed and less distraction from phone calls wondering when they will arrive on-site -- all of which enhances their working experience, while improving efficiency.
The key to successfully implementing GPS tracking is to work diligently to get your team on board. Make sure employees feel heard and valued, clearly communicate the benefits of GPS tracking for them, the business and the customer and be transparent about how/when they'll be tracked. This should be a priority for not only retaining your existing workforce but making your new workforce feel at home in your organization.
4. Unburden back-office employees with automatic invoicing
Hauling is only one line item for most contractors, but dealing with all the related paperwork can easily use up to 30% of the back-office team's time. This is time spent sorting through a bin of tickets, batching them and sending out invoices. Add in the occasional missing ticket that needs to be tracked down and you've got staff doing a lot of unnecessary manual work - that you pay for and they hate.
Automatically generated invoices can eliminate all of that. Instead of keeping up with paper load slips, drivers upload digital tickets throughout the day. Those e-tickets, along with their digital punch-ins, are stored in the system and then used by the software to automatically create invoices. Many solutions will take invoicing a step further and consolidate them, giving one easy document to work with, rather than one invoice per third-party hauler. Your back-office employees can focus on other work, your hired haulers are guaranteed timely payment and you can have the peace of mind that invoices are always taken care of.
Conclusion
Looking ahead to an increase in construction projects in the coming year, the skilled labor shortages have a direct impact on the construction industry, especially as the need for construction pros is only ramping up. The Infrastructure Bill will bring more funding and projects to the industry. As a result, the labor shortage is only expected to grow. The industry may seem slow to evolve, but more and more professionals are realizing the need to adopt new, innovative processes that can make their workforce more efficient. This introduction of digital tools also serves as a means of overcoming the labor shortage by attracting younger, emerging talent that value the streamlined capabilities of technology solutions. Taking advantage of centralized communications, digital dispatch, GPS tracking and automatic invoicing will initially present a learning curve within your workforce, but with proper training, your crew can adapt and benefit from simplified processes that will save time and money all around -- making 2022 your most successful year yet.