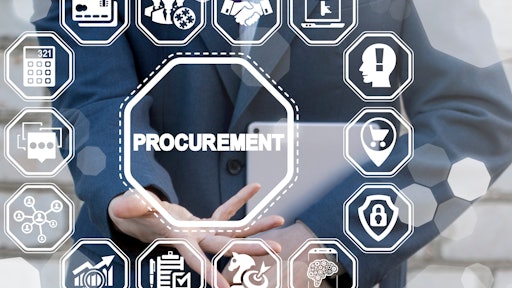 wladimir1804/adobe.stock.com
Maximizing resources and minimizing sunken costs is likely a top priority for your organization and its data centers. But with all the moving parts, including data center compliance, asset tracking management, capital asset visibility and more, it's easy for processes and equipment to get lost in the shuffle.
Procurement is a vital part of the asset management process that ensures you use your inventory as efficiently as possible. Smart procurement takes it to a higher level, allowing companies to get the most out of onsite inventory by not overbuying or underbuying and leverages existing on-site inventory more efficiently.
What is smart procurement?
It's no secret that procurement enables businesses to keep operations running smoothly. But when you dive deeper, procurement can be more than just a part of everyday business. When executed properly, smart procurement has the ability to lower costs, minimize operational challenges and get the most out of your resources. With smart procurement, asset managers have real-time visibility into each site and know all the necessary details on their inventory at any given moment. With enhanced oversight and a better sense of what's actually going on at all sites, you can greatly reduce over-provisioning and wasted assets. Additionally, back-end integrations with enterprise resource planning (ERP) software/payment systems allow early payment processes to run correctly, which in turn saves money.
Here are a few key reasons smart procurement is essential:
Provisioning.

Under- and over-provisioning are typically among the biggest challenges organizations face when it comes to asset procurement. While capacity planning and operations are typically top of mind for businesses as they go to stand up a project, conversations around inventory management and procurement are rarer than they ought to be. This in turn, leads to under- and over-provisioning, which results in sunken costs and wasted resources when left unchecked. Automated, accurate and real-time provisioning enhances operational efficiency for both asset managers and IT directors, as well as minimizes the amount of manual and error-prone processes on their plates.

Inventory control

. Smart procurement is a must for large organizations that need to know where their capital assets are located at all times and how they're being utilized. If you only have a few small assets moving about a single data center, you might be able to easily keep tabs on them and manage them efficiently. But when dealing with capital assets on an enterprise level and real-time visibility into where they are located can make all the difference.

Sustainability

. Businesses need to not only think about what's best for their organization, but also what's best for the planet. A lot of assets in circulation today weren't built with sustainability in mind. Without proper inventory control and procurement in place, organizations may continue to use assets that should have been retired ages ago. With smart procurement, senior-level IT directors and asset managers can get a clearer sense of which assets are negatively impacting their sustainability goals and promptly retire them or recycle them for more efficient equipment. As major data centers continue to experiment with new technologies such as immersion cooling and alternative power sources, it's important that your organization begins working towards a more sustainable future. Smart procurement is just one small way you can be part of the solution and not the problem.

Procurement integration

. Procurement integration with asset management solutions provide companies a seamless way to collect, consolidate and analyze real-time information on virtually all distributed IT assets. A big opportunity for cost savings is having a server partner tag assets before shipping. The customer will be notified as soon as the new server(s) arrive at the receiving area and without human intervention required. Additionally, customers can negotiate early payment terms with server vendors and start an early payment process and automate the receipt of the server.
In today's world, you need your asset management solutions to be just as dynamic as the data centers themselves. With equipment constantly on the move throughout your facilities, it's easy to misplace or forget about assets. But a surplus of overlooked equipment can quickly begin negatively impacting your finances.
To truly make smart procurement a reality for your organization, you need a partner that can provide proven asset management solutions and people-powered support. Instead of over-investing in hardware to compensate for lost and stolen equipment, a proven real-time asset management platform gives detailed device information, so you know where your assets are, how long they've been in service, whether they require maintenance and more. With smart procurement asset managers get the in-depth information they need to prevent overbuying and achieve major cost savings. By improving the allocation of resources and eliminating excess expenses, you can enhance operational efficiency across the board.