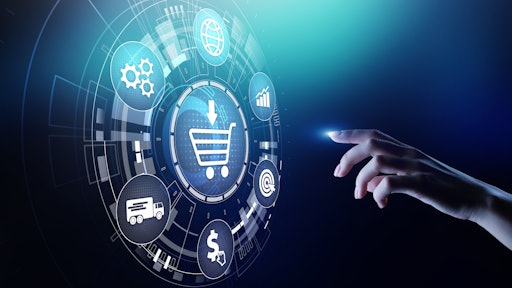 Wrightstudio/adobe.stock.com
Over the last 3 years, national and international supply chains have been hit by wave after wave of challenges. COVID-19, international conflicts, financial downturns, workforce shortages, declining productivity, inflation and more are some of these challenges. Nearly three out of four suppliers face shortages that put major or severe stress on their supply chains.
In response, chief procurement officers (CPOs) are working to shore up fragile supply chains, cut costs where they can and rethink legacy supply chain models. Technology has a significant role to play here as digital transformation is a top priority for 75% of CPOs. Cutting-edge technologies such as robotics, blockchain and artificial intelligence (AI) are often cited as watershed solutions that will transform procurement and supply chain management, in the coming years, these solutions will reshape the industry.
But CPOs are seeing the most impactful short- and medium-term improvements from technologies that don't hit the headlines, most notably connected commerce solutions that assist with automated procurement (AP). Connected commerce solutions give buyers and suppliers the power to create more robust and adaptable supply chains while streamlining procurement processes and reducing procurement costs.
Connected commerce is the digitization of the buyer-supplier relationship. It uses integration technologies such as PunchOut catalogs, purchase order (PO) automation, invoice automation and advanced shipping notices to automate the flow of data between buyers and suppliers.
PunchOut catalogs allow buyers to select products from a supplier's e-commerce store and have a requisition order automatically created in their e-procurement platform. Invoice automation sends supplier invoices directly to customers' e-procurement solutions. When coupled with PO automation and advanced shipping notices, automated invoicing substantially reduces accounts payable workloads by simplifying three-way matching. Together with other automation solutions, these technologies produce a B2B connected commerce ecosystem with numerous benefits for buyers and suppliers, such as fewer errors and an increase in time savings.
Why invest in connected commerce?
Connected commerce solutions help CPOs reach procurement and cost-efficiency objectives. 76% of CPOs say improved operational efficiency is their top priority with cost savings a close second. Digital transformation is key to achieving those objectives in an era of frequent supply chain disruption.
To consider just one example, an industrial systems integrator used a phone and email-based ordering system, which was inefficient for its sales team and customers. Looking to provide customers with a better user experience while reducing costs, the integrator implemented an e-commerce-based PunchOut catalog ordering system.
Once the PunchOut catalog system was up and running, the cost of order placement and management fell by approximately 88%. Customers were able to access up-to-date pricing and view available stock without picking up the phone, and order details were transferred automatically to their e-procurement solution for approval.
But the benefits of connected commerce go beyond cost savings and enhanced user experience. Automation helps businesses build resilient supply chains that can quickly adapt to changing circumstances. Supply chain risk is top of mind for all CPOs, but assessing risk is no easy task when procurement processes rely on manual data entry and static procurement documents. CPOs don't have the data they need and the data they do have isn't always reliable.
Without accurate and up-to-date information, businesses can't track supplier performance, unexpected cost and quantity divergences, fulfillment delays and other quality issues. When suppliers are integrated with buyer e-procurement solutions, data flows between platforms automatically. A complete connected commerce ecosystem automatically delivers requisition orders, PO acknowledgements, advanced shipping notices and invoices. Giving buyers the information they need to track supplier performance and make informed decisions on improving the business.
Procurement automation is a two-way street
CPOs are on board with the benefits of a connected commerce strategy. E-procurement is the fastest-growing digital commerce sales channel and e-procurement sales are expected to exceed $1 trillion for the first time this year. Many buying organizations are full steam ahead with integration and automation, and suppliers must keep pace.
74% of suppliers realize the right technology could help them to grow their business, strengthen customer relationships and increase profitability. But the same survey also shows that only 9% are fully automated, while 90% complain that they struggle with cumbersome manual processes. Other complaints include a lack of data flow and a lack of insight into customer demand.
One of the key blockers to procurement automation on the supply side is the sheer magnitude of buyer platforms. Each e-procurement system and enterprise resource planning (ERP) solution has its own spin on procurement integration. Supporting and maintaining dozens of different systems is an expensive and time-consuming proposition, but fortunately it's a challenge with a solution.
Modern integration services bridge the gap between leading procurement solutions and e-commerce systems, often with pre-built connectors that support a full range of connected commerce solutions. Buyers and suppliers can leverage these solutions to approach their trading partners ready for integration and procurement automation.
Connected commerce empowers automated procurement to streamline and strengthen B2B relationships. It gives buyers and suppliers the information they need to build robust procurement processes on resilient supply chains while reducing errors, time spent and costs.