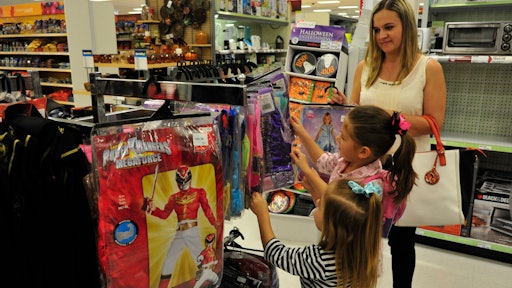 Total spending for Halloween is expected to reach $9 billion, the second highest in the survey's 14-year history, according to the National Retail Federation's annual survey conducted by Prosper Insights & Analytics. The figure is relatively the same as last year's previous record of $9.1 billion.
Celebrants are planning to spend an average of $86.79, up from last year's $86.13, with more than 175 million Americans planning to partake in Halloween festivities this year.
"The economy is good and consumer confidence is high, so families are ready to spend on Halloween this year," NRF President and CEO Matthew Shay says. "Retailers are stocking up to supply children, pets and adults with their favorite decorations, candy and costumes for the season."
According to the survey, consumers plan to spend $3.2 billion on costumes (purchased by 68 percent of Halloween shoppers), $2.7 billion on decorations (74 percent), $2.6 billion on candy (95 percent) and $400 million on greeting cards (35 percent).
Pet costumes continue to gain popularity as well, with nearly 20 percent of celebrants planning to dress their pets in costumes this year up from last year's 16 percent.
"One of the biggest trends this year is the growth of spending on pet costumes," Prosper Insights Executive Vice President of Strategy Phil Rist says. "Out of the 31.3 million Americans planning to dress their pets in costumes, millennials (25-34) are most likely to dress up their pets, the highest we have seen in the history of our surveys."
When buying costumes and other Halloween supplies, 45 percent of shoppers will visit discount stores, and 35 percent will go to a specialty Halloween store or costume store. In addition, 25 percent will visit department stores, 24 percent will buy online and 24 percent in grocery/supermarket stores.
The survey, conducted Sept. 4-12, asked 6,961 consumers about Halloween shopping plans.