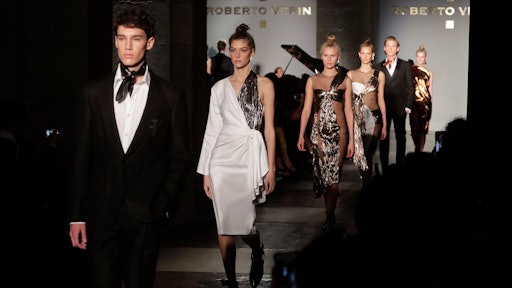 In this era of endless choice, brands must keep their promises in order to stay relevant—and grow. Today, shoppers are demanding more convenience and an immediacy to their purchase needs, giving rise to the so-called "See Now, Buy Now" generation that wants greater choice—but on their terms. No brand is immune from these pressures; even luxury designers are now faced with the challenge of faster turnaround to get product from the catwalk to the customer's closet. Retail and brand companies have to support better and localize assortments, which translates into more products sped through the supply chain and often delivered right to the customer's doorstep, and they need to find ways to do so without eroding margins.
No matter how well you think you navigate the complex, detailed and intricate merchandise lifecycle management processes—the planning, designing, producing and delivering product to your customer—your cycle is too slow, too costly, too wasteful and just plain not good enough to keep pace with consumers' shifting expectations. Retail is experiencing a sea of change, and the waves from that change reach all the way back into the supply chain and impact all participants.
That See Now, Buy Now trend swept through the fashion industry several years ago. As its name suggests, See Now, Buy Now refers to consumers who expect the looks they see on catwalks and red carpets to be available for purchase almost immediately, versus the standard lag time of months between runway debut and store availability.
While See Now, Buy Now, as well as "fast fashion," are most often debated within the apparel sector, it's important to note that these trends of accelerated product lifecycles are impacting all brands and retailers regardless of what products they sell.
Retailers and brands are now expected to turn stock more frequently, introduce more products each year and provide consumers with a personalized experience, all while supporting an ever-expanding product collection. To make life even more interesting, the supply chain has extended to now include that last-mile delivery. This small change has huge implications for the supply chain teams that formerly were responsible for the planning and logistics up to the retailers' distribution center or warehouse doors.
More customer-centric product lifecycle processes in today's retail environment isn't going to be easy, but innovative retailers are leveraging these strategies to meet shoppers' expectations without sacrificing their profitability.
1. Position Product Closer to the Customer
To be successful in managing the merchandise lifecycle, everything starts with a solid merchandise financial and assortment plan.These plans represent the foundation for every decision about every item, category, location, channel and segment throughout the entire selling season. When done right, these plans allow you to build compelling, customer-focused collections. The assortment plans in particular also instruct as to the best locations to deploy the product—those that facilitate the final distribution to the stores, fulfillment center or direct-ship location to get product quickly and inexpensively to that source of demand: the customer's door.
Demand forecasting serves as a critical part of the entire merchandise lifecycle, as the accuracy and timeliness of your forecasts will set the course for the entire selling season. Accurately anticipating demand and aligning stock positions to those demand forecasts can significantly impact revenue, markdowns and margins.
Since the best possible plans are those that can adapt, in-season planning should occur to update plans according to real-world conditions as the season unfolds.
By planning product in customer-pleasing locations, retailers are empowered to more quickly connect shoppers with the products they want to buy while reducing the high costs associated with inventory movement.
2. Leverage Order Management for Optimized Fulfillment Decisions
Plans get you to a good starting point, but as the selling season progresses, adaptation and agility need to take their turn in supporting customer preferences. Previously, omnichannel fulfillment was a capability that only the most innovative, leading-edge brands offered. As consumers embraced more omnichannel browsing and buying patterns, consumers have come to expect a wide and expanding range of fulfillment scenarios that include products being fulfilled from stores, distribution centers, drop-ship and everywhere in between.
Enter: order management.
As the frequency and cost of non-store orders continue to grow, along with customer demands for flexibility and speed, profitable order management has become critical to retailers' success. Inefficient and disconnected ordering can impact profit margins and customer experiences to a degree that no retailer can afford.
To extend your supply chain straight to your customers, retailers need to be able to source merchandise from the locations that are most profitable while processing orders quickly and efficiently in a way that will meet—or exceed—their customers' need for speed.
True omnichannel experiences such as Buy Online, Pick Up In Store (BOPIS) require that retailers break down the silos created by traditional supply-centric processes. Instead, retailers must make a direct connection between merchandising and order management and consider how each order is fulfilled to meet customer needs.
This, of course, requires retailers to analyze the data, anticipate demand at a granular level and align network inventory resources in order to optimize efficiency.
3. The Merchandise Office Must Evolve and Improve
The implications of faster and more frequent product lifecycles, and delivery to the customer's door, have a particular impact on the merchandise office—that group of individuals who have to plan, select, design, deliver and manage the logistics, locations and lifecycle for each of the products that a retailer or brand wishes to place in front of potential customers.
The merchandising department is dynamic, works at a feverish pace, and is often staffed with highlyexperienced people who possess tried-and-true processes (probably built for a different era) and are usually supported with legacy software (and miles of arcane Excel spreadsheets). How does this team move into the future?
One of the most neglected disciplines in moving people, processes and technology into the future is change management. This is critically important to the future of merchandising and, therefore, the ability to get products to consumers faster while retaining the creativity, quality and emotion behind each design.
The merchandise organization needs to find ways to streamline its workload by planning and managing product holistically, significantly reducing the time between analysis, decision and action for every function across the entire merchandise lifecycle.
This cannot be accomplished working through multiple, disparate systems that are, as previously noted, typically held together with Excel spreadsheets.
Business processes also need to work in a timely fashion, adhering to a strict calendar of activities and deadlines that reflect the merchandise selection, procurement and deployment, and the management of deadlines.
Holistic systems and processes will allow retailers to connect multidisciplinary teams, foster a more collaborative work culture and keep product information—and products—moving faster. This, in turn, will help retailers address the complexities and inherent opportunities within their customers' See Now, Buy Now demands.