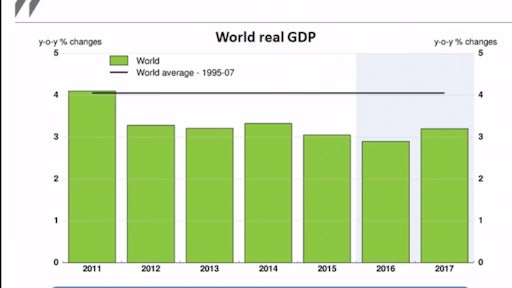 A collapse in trade growth suggests that globalization may be stalling and is contributing to a stagnation in world economic output, the Organization for Economic Cooperation and Development (OECD) said.
The OECD trimmed its global growth forecasts by 0.1 point for this year, and next to 2.9 percent and 3.2 percent, respectively. The volume of world trade declined in the first quarter and will fall short of overall output growth in the full year, the Paris-based organization said in a report.
With Republican presidential candidate Donald Trump threatening to slap tariffs on Chinese imports and contenders for France's 2017 presidential election advocating protectionism, the OECD warned that a key driver of prosperity in recent decades as increasingly under threat.
"Trade growth rates have deteriorated dramatically since the financial crisis," OECD Chief Economist Catherine Mann said in an interview. "Some people might say this is a good thing. No, this is damaging and it shows up as a decline in productivity growth."
To read the full story, please click here.