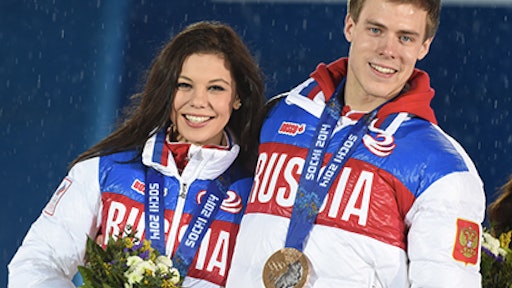 New York—Feb. 21, 2014—Bosco Sport, Russia's premier sportswear company, and official clothing supplier of the Russian, Spanish, Serbian and Ukrainian Olympic teams, is harnessing the power of Gerber Technology's YuniquePLM system to improve visibility and control over its diverse product lines. Using YuniquePLM, Bosco Sport accelerated production and delivery of uniforms to hundreds of Olympic athletes and more than 45,000 volunteers.
Bosco Sport, a Yunique Solutions' customer since 2012, is using YuniquePLM version 5.1 to optimize visibility of the product development process, improve product quality and gain a better understanding of financial details. YuniquePLM works seamlessly with the company's existing Galileo Enterprise Resource Planning (ERP) system. It imports product style data and bills of material directly from the ERP system, thereby improving the decision-making process, eliminating redundant data entry and accelerating product to market.
Original Olympic collections of Bosco Sport are available to the public at Bosco Sport stores in Russia where demand is high. Bosco Sport also had the privilege of outfitting Russian President Vladimir Putin who stopped by Bosco Sport's distribution center in the Olympic Village to purchase a jacket before the games.
Stefano Montanari, CEO of Bosco Sport Italy, said, "YuniquePLM has enabled us to standardize the business cycle that was previously more fragmented, helping us to have better control over our line of sportswear and leisure fashions."
With YuniquePLM, Bosco's largest customer in Russia enters a sketch into the system, along with the product details, and almost instantly, the engineering department in Italy is able to move the product into production.
"We wanted a system that would ensure consistency in all phases of our product lifecycle," added Montanari. "YuniquePLM enables us to collect information and easily access data, helping us to make informed business decisions."
To date, many prominent fashion brands implemented YuniquePLM, including Abercrombie & Fitch, Active Lifestyle, Adorn Fashions, Aéropostale, Aigle, Bugatti, Cutter and Buck, Du Pareil au Même, Fruit of the Loom, Icicle, Jonathan & Fletcher, Kenneth Cole and Lafodex, among others.
Companies in this article