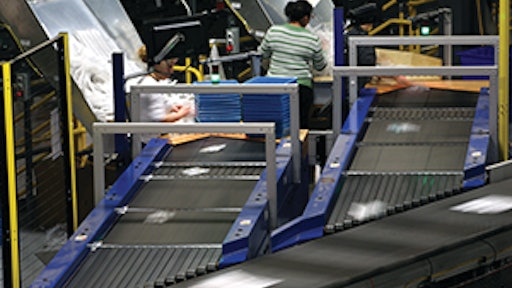 Current surveys indicate that customers expect online orders to be delivered within five business days. A recent industry study showed that more than 20 percent of online orders were delivered outside this expectation—directly attributable to a delay in getting orders out the door and into the hands of carriers. Potentially, that means 20 percent of those online customers you worked so hard to attract aren't going to return to the website and place more orders.
To prevent customer loss, the operations and maintenance functions in distribution centers (DCs) need to be prepared to meet periods of high demand year-round. A fully prepared and tested plan that's focused on key systems, maintenance and operational areas is crucial to your center's ability to sustain the service levels it was designed to deliver, and ensures that your systems are ready to handle whatever disruptions may occur.
Look to the Past to Protect the Future
Your most effective tool to ensure optimal performance is to examine and analyze your existing maintenance and operational records to identify previous areas of weakness, and then develop effective action plans to deal with them.
To effectively build and use these kinds of plans, you should establish processes to document and track everyday events, such as equipment failures, unscheduled shutdowns in conveyors or sortation equipment, interruptions in order flow, and reductions in service levels and throughput. This provides a complete portrait of your center's strengths and vulnerabilities.
To identify the critical areas in advance, train your team to track and document details about events, including:
Maintenance occurrences/equipment failures. What failed, how often, what did it take to resolve the issue and how long, what prevented a quicker resolution and how severe was the impact to service levels?
Workforce planning and availability. Are shifts sufficiently staffed, not only with production associates, but also with supervisory personnel, maintenance teams, information technology (IT) resources and managerial-level team members?
Problem resolution processes. If disruptions occur, is the resolution process fully understood by your organization? Were practical troubleshooting steps and escalation processes established and easy to follow? How much time did it take to resolve recurring issues and could that interval be improved?
If you tracked these items with sufficient detail in the past, this data can provide an effective foundation for preparing a response plan. That plan should include prioritizing action items to be addressed before busy times, such as increased preventive maintenance cycles on key pieces of equipment, refresher training for supervisory personnel, and better documentation and communication of problem escalation processes.
Surge Testing: Crucial to Successful Planning
Leading retailers make surge testing an integral part of their planning. Surge testing simulates the conditions during periods of high demand. Typically, a distribution center holds backup to half a normal day's throughput, and then sends it all during a compressed three- to four-hour period to replicate peak volume and operating conditions.
When you plan a surge test, key supervisory and management team members should identify possible risk areas, as well as goals for the operational elements you are assessing: product and communication flow, pick modules, conveyor operation, wave transitions, throughput rates per area, order accuracy and other key DC metrics.
It's important to have knowledgeable observers at all the key areas you are assessing, with instructions on how to observe and capture information. In particular, you can use surge testing to assess and resolve "choke points" in the way your people interact with the DC's technology.
Preventive Maintenance: Adjust Cycles for Peak Demand
Today's DC technologies are engineered to be robust, reliable and operate at peak performance under demanding conditions. Nevertheless, these systems operate best with preventive maintenance (PM) programs that follow manufacturer's recommendations, which are normally based upon a standard number of operating hours.
For periods of high demand, DC and maintenance management should assess their standard preventive maintenance schedule and identify critical areas in which maintenance intervals should be increased. Inspections and audits should be conducted, focusing on the following critical equipment aspects and those components that are subject to increased wear and tear as utilization surges:
Alignment and fastening of critical photo eyes and sensors.
Power transmission elements, motors and belt alignment of equipment.
Power and communications cabling, connections and interfaces that are loose or can be accidentally disconnected due to continuous vibration.
Conveyor switch points that require frequent lubrication.
Critical parts inventory planning.
With the preventive maintenance aspects examined, it's also crucial to review your response plan for emergency maintenance to ensure you have the expertise, partners, and spare parts necessary to handle increased operating hours and multiple-shift conditions.
To develop the right plan for your facility, consult with your key systems suppliers who can provide insight on where to focus your increased PM intervals and spare parts planning, and can even provide refresher training for maintenance personnel on troubleshooting and efficient repair practices.
Problems Happen … Be Ready for Them
No DC system is perfect and flexibility is key for dealing with unique situations. That is why having a process to document, communicate and respond to issues is so essential; it's the best tool you have for handling the unexpected.
In today's IT-driven distribution center, around-the-clock IT support, and clear processes for troubleshooting and problem escalation are essential. Review your response and escalation steps, and clarify any misunderstandings about whom to contact in the event of an emergency. Documented response plans are invaluable tools to ensure continuous coverage.
Preparing to Meet Customer Demands
Being ready for periods of high demand starts with taking simple proactive steps to identify and respond to operational and system issues before they happen. You can dramatically impact service levels and profitability by following these key items:
Have a process to track and document your events.
Evaluate and regularly review these events with maintenance and operations personnel.
Plan and conduct surge testing to determine and correct any issues.
Adjust preventive maintenance cycles to accommodate increased system usage, and its wear and tear.
Make sure all personnel are well-trained on best practices for using distribution center technology to ensure accuracy and productive flow.
Review troubleshooting and problem escalation processes, and confirm all resources are properly scheduled and up to date.
The sooner you can implement these recommendations, the better. Contact your sortation and distribution service provider to schedule a high demand or peak season audit. Fully equipped companies, such as BEUMER, can investigate your current operations and plans, and provide proactive recommendations to improve preventive maintenance practices, conduct refresher training, and analyze and enhance your DC's troubleshooting and resolution practices.
At a Glance: 10 Quick Maintenance Tips for Distribution Center Readiness
Replace damaged or missing components.
Clean filters and areas where dust builds—lack of ventilation often causes equipment failures.
Make sure all lamps and annunciators are working properly.
Lube everything that can be lubed; clean all belts and other moving parts.
Check and update your critical spare parts inventory.
Confirm location of equipment documentation; make sure it is up-to-date.
Back up your systems and data; make sure you can restore them.
Track down and resolve troublesome noises.
Confirm that photo eyes are properly aligned and fastened.
Check your safety devices; make sure they activate and can be reset.
Mark Sibley is the director of customer support at BEUMER Corporation, a subsidiary of the BEUMER Group, which specializes in the design and supply of conveying and loading technology and systems; palletizing and packaging technology; and sortation and distribution systems for logistics and airport baggage handling applications. BEUMER Corporation also offers a full range of customer support services that keep systems optimally productive.
Companies in this article