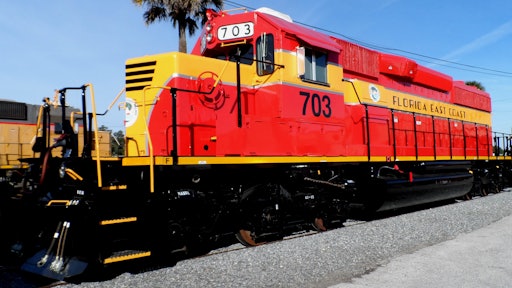 Jacksonville, Fla.—March 25, 2013—The recently delivered FEC 703 is the first of three locomotives refurbished in 2013 to come out of the Progress Rail (of Caterpillar Inc.) rebuild facility in Patterson, Ga. with the matching Heritage paint scheme as displayed on the 2011 FEC 714, the first locomotive to highlight the Heritage paint scheme.
"Today, the paint scheme signifies the continued growth that FEC aspires to attain as a premier regional rail network serving the east coast and I am proud to incorporate our rich heritage into our future plans," said Jim Hertwig, President and Chief Executive Officer, Florida East Coast Railway.
The founder of the Florida East Coast Railway (FEC), Henry Flagler's strategy for FEC was to move freight by rail utilizing Florida's deep water ports in conjunction with a vision for growth generated by the opening of the Panama Canal. Today's FEC continues Flagler's vision as it expands its infrastructure to meet the demands created by the new Panama Canal opening in 2015.
"FEC is currently building an even stronger infrastructure," said Fran Chinnici, Senior Vice President, Engineering and Purchasing, Florida East Coast Railway. "We have major construction projects underway to expand rail operations at Port Miami, Port Everglades, West Palm and the Bowden Terminal in Jacksonville to handle the increased demand. The refurbished locomotives are just one example of FEC's investment in handling future growth."
Companies in this article