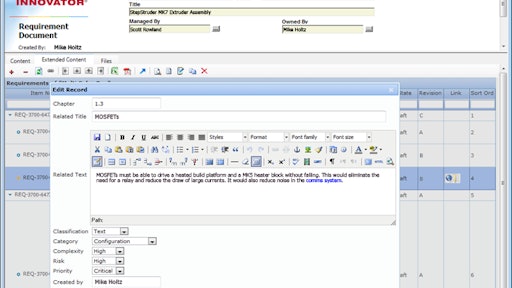 Andover, Mass.—Dec. 17, 2012—Product Lifecycle Management (PLM) software solution provider Aras released the Aras Requirements Management solution, which provides next-generation functionality embedded in PLM for systems engineering. With Aras Requirements Management, global enterprises get the advanced capabilities they need to meet complex customer demands, drive product quality and minimize risks.
"Bringing together requirements management and PLM isn't a new idea—it just hasn't been done very well to date," said Peter Schroer, President of Aras. "We didn't acquire a separate requirements management system and try to stitch it in to our existing technology. We built it right on our PLM platform so global businesses get all of the advanced functionality along with the scalability, security and flexibility they really need without having to deal with two different systems."
With Aras Requirements Management, users can identify, associate, track and trace different types of requirements—including physical, functional, logical and performance requirements—and validate that the system or product satisfies the original intent.
In addition, Aras Requirements Management enables the creation of a single, multi-discipline requirements hierarchy that can be organized into multiple requirements documents addressing individual disciplines including mechanical, electrical, software, firmware and others. Each requirements document has chapters and sections with configurable version control throughout the hierarchy. A multi-discipline hierarchy enables the organization of requirements by traditional discipline or other groupings without losing their place in the overall hierarchy. This capability is critical for designing today's complex products and systems where a single requirement is often addressed by a combination of hardware, software and electronics.
Requirements are then linked to specifications, parts, Bills of Material (BOM's), test plans and other PLM items at different phases of the lifecycle becoming part of the overall configuration. Change management workflow assures requirements stay in sync as the system or product evolves over the life cycle.
Additionally, the new solution features:
Enhanced Requirements Capture—Make anything a requirement including Files, Emails, Scanned Images, URL links, Pictures, Videos (even from YouTube), as well as existing PLM items, such as parts, materials, drawings and models.
Trace Matrix Verification—Provides traceability of requirements to verify that systems, subsystems and interfaces satisfy all of requirements, from high-level conceptual down to the detailed component-level.
Comprehensive Impact Analysis—Requirements are included in the impact analysis on proposed changes and can become affected items on ECRs & ECOs.
Closed Loop Validation—Full support for validation plans, procedures and all related documentation with reporting, sign-offs and workflow.
Complete Compliance—A full audit trail with change history can be automatically recorded for environments with compliance and regulatory conditions.
Powerful & Easy to Use—Comprehensive features with secure Web browser access and familiar look and feel for users across the enterprise.
Multi-Discipline—Simultaneously manage requirements from many different disciplines—mechanical, electronics & electrical, firmware and software—together in one environment for complex systems engineering.
Cross-Functional—Achieve requirements collaboration with product management, marketing, quality, manufacturing, procurement, field support and other groups throughout the product life cycle.
Extended Enterprise Collaboration—Gather requirements from across the extended enterprise and involve customers, subcontractors and outsourced manufacturers with strict security for need-to-know visibility and access.
Federated Integration—Connects securely to existing enterprise systems and authoring tools throughout the company using Web services.
Companies in this article