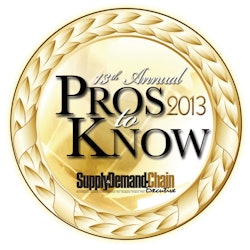 "Gifts for the kids to put under the tree for when (a'hem) Santa drops by? Check. List of ingredients to get for Christmas dinner? Check. Entering one of my company's executives in SDCE's 2013 'Pros to Know' awards?" Well, let's hope you have on that last one. But if not, don't worry—there's still time with just a few days left before deadline.
Sure, some folks who we consider "pros" in the industry may not consider themselves so—out of sheer modesty, perhaps. Whatever the case, each year, Supply & Demand Chain Executive likes to give these men and women in the industry the recognition they deserve. And aside from some clicks on your PC to fill out our online survey for these awards, what do you have to lose?
Recognizing the providers or practitioners in the global supply chain is no easy task. This past year alone, SDCE editors had to comb through nearly 300 entries for the 2012 Pros to Know Awards to narrow down which practitioners and providers are really surpassing the "already set high" bar to shape the supply chain industry.
So what does it take to be recognized as a pro?
As SDCE Editor Barry Hochfelder explained earlier this year in announcing the 2012 award winners, the provider and practitioner pros "efforts in developing the tools, processes and knowledge base necessary for supply chain transformation" in addition to "promoting new approaches to supply chain enablement" are what earn them a place in the annual "Pros to Know" awards.
More specifically, some actions of the already-honored practitioners included improving service levels while reducing expenses; enabling cross-functional supply chain collaboration; or even redefining procurement and spend to create sustainable business value. This past year's honorees including Ted Johnson of the University of California, San Diego, Cynthia Dautrich of Kimberly-Clark and Joey Benadretti of SYSPRO—to name a few—all demonstrated such actions in some form or another.
In addition, improving practitioners' efficiency to help them manage their growth, better maintain their supplier and key partner relationships or streamline their global trade automation are some of the key examples that a provider "pro" offers to their practitioners which would potentially herald them a place in SDCE's annual "Pros to Know" awards. Past provider pro honorees included Ann Drake of DSC Logistics, the team from IASTA and Jim Barnes of enVista.
Rules of entry for the 2013 awards
Practitioner Pros are the end-users who work in such industries/environments as CPG, retail, healthcare or transportation (including warehousing and distribution). They include supply chain executives who demonstrated leadership by managing risk in the supply chain; provided competitive advantage; and delivered value to the bottom line.
Provider Pros are individuals from software firms; service providers; consultancies; or academia who helped their supply chain clients—or the supply chain community—prepare to meet industry challenges.
We encourage all businesses, who work to grow and shape today's supply chain, to enter their nominees and fully answer all questions on the entry form to avoid disqualification.
UPDATE: Submissions are now closed for the 2013 "Pros to Know" awards. Stay tuned for a complete list of winners to be announced in January 2013.