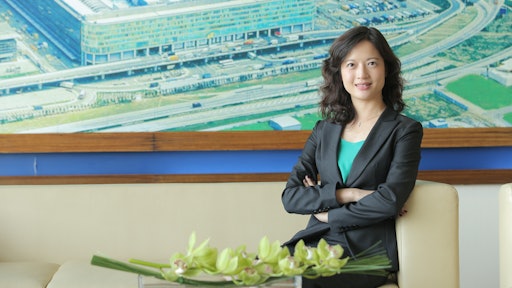 Hong Kong—Oct. 12, 2012—Air cargo handler Hong Kong Air Cargo Terminals Ltd. (Hactl) appointed Vivien Lau as Managing Director of its subsidiary—Hong Kong Air Cargo Industry Services Ltd. (Hacis). Lau replaced Kenneth Bell, who transferred to Tradeport as Chief Executive.
"We are delighted to welcome Vivien to her new post in the group's senior management team," said Mark Whitehead, Managing Director, Hactl and Chairman of Hacis. "Her experience and drive will be invaluable in helping us to realize our ambitious plans for Hacis—this business will play an increasingly important part in Hactl's future growth."
Lau will lead the company's continuing expansion and development. Hacis' main activities are express airfreight road feeder services to and from its six IATA-designated cargo depots situated throughout Southern China's major industrial region; local airfreight collection and delivery services throughout Hong Kong; and added value services at its Chek Lap Kok base, such as pallet building and breakdown; packing and labeling; and provision of customer reception facilities.
Lau held various leadership positions within the Jardine Matheson Group, of which she spent the first six years in EastPoint Property Management Ltd. She is an MBA scholarship winner from Henley Business School in the United Kingdom, holds a Bachelor's Degree in Social Sciences and is a qualified management accountant.