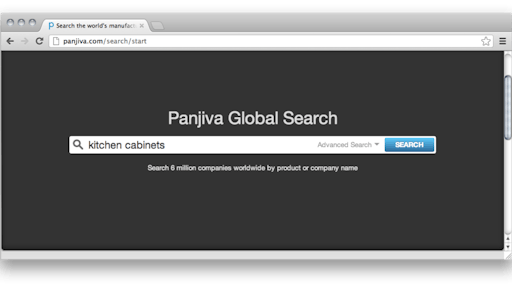 New York, N.Y.—Oct. 2, 2012—B2B platform provider Panjiva now provides its Global Search, a new search engine that serves as a one-stop resource for those engaged in global trade. Global Search crawls, indexes and organizes information from around the B2B Web and presents it in an intelligent, user-friendly manner that enables buyers to find the companies and products they need faster and easier than ever before.
For buyers looking to source new products or identify potential sellers of those products, searching the Web for information can be extremely challenging, time-consuming and costly. Panjiva collects and analyzes all of trade-relevant fragments of product and company information available on more than seven million Web pages, across 400,000 Web domains—and presents this information in a consumable, actionable format.
"Why should executives charged with making multi-million dollar decisions have to spend days scouring the Web and piecing together information?" asked James Psota, Co-founder and Chief Technology Officer, Panjiva. "Just as Kayak organized fragmented information about flights, we've organized fragmented information about the millions of companies engaged in global trade."
Building on the company's proven track record of gathering and organizing U.S. Customs and Census data, along with more than a dozen other objective data sources, Global Search augments Panjiva's platform with Web data to provide unparalleled insight into six million companies worldwide and 35 million unique products that are bought and sold internationally.
With Global Search, users can quickly and easily refine the world of global trade down to a qualified, targeted list of 10 companies. Users also benefit from a full suite of new features including:
Product photos—With 35 million product images associated with company profiles, users receive a more clear picture of what companies buy and sell
Robust search algorithm—Panjiva's search algorithm takes into account a number of factors when generating search results, including the company's activity levels, the presence of matching product images and their responsiveness to inquiries
Contact information—Global Search includes more than eight million new contact details so companies can more easily communicate with one another on product details, pricing and more
"Global Search is a game changer, not just for Panjiva but for the entire universe of people involved in global trade," said Josh Green, Chief Executive Officer, Panjiva. "By combining our proven global trade data expertise with the powerful technology built by our world-class engineering team, we've created the B2B platform that most efficiently and easily helps qualified buyers and sellers connect."
Global Search is available now and included in all Panjiva subscription plans.