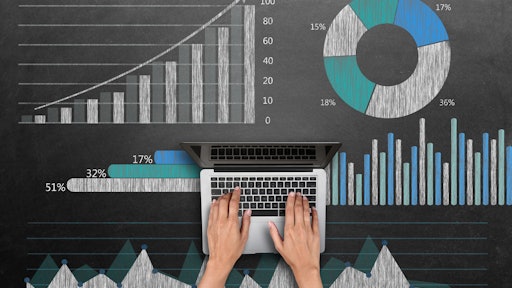 Getty Images
Profiles in Supply Chain Enablement: Global company consolidates supply base, reduces procurement transaction costs with on-demand spend management
Company: Fortune 100 Manufacturer (U.S.)
Company Size: Large
Company Sector: Manufacturing (Auto/Air/Transportation)
Area(s) of Enablement: Sourcing, Procurement
Enabler: Perfect Commerce (Lee's Summit, MO)
Case Study:
This Fortune 100 Manufacturer has more than 115 years experience building and optimizing facilities across the globe, but when it came to optimizing its sourcing and procurement operations, the company's Building Solutions unit turned to an on-demand supplier relationship management solution to drive end user adoption and achieve uniform processes across the company. The Building Solutions business unit of this Fortune 100 Manufacturer provides building automation, security and safety solutions to a wide range of customers, including commercial and government buildings, health care facilities, airports, schools and military installations. When the Building Solutions unit began looking for ways to leverage its overall procurement spending, the organization faced an array of challenges. North American procurement operations were decentralized across many branch offices. Each location purchased services and materials individually from local suppliers, resulting in a huge supply base of more than 8,000 vendors. Competition among suppliers was limited, giving the company minimal leverage, and most service contractors provided their own materials — at a marked-up price — inflating the cost of materials. Widely distributed processes also resulted in low standardization of both direct and indirect materials. Each branch office maintained its own inventory, adding to the cost and complexity of materials management, while a manual procure-to- pay process contributed to low productivity and chronic delivery problems. Moreover, locations performed a total of 400,000 transactions annually, yet more than 70 percent of transactions were for purchases under $500. In short, decentralized, largely manual purchasing processes and high inventory costs, as well inconsistent payment processes, were having a negative impact on cash flow and the management of working capital at the business unit.
The Solution
To achieve centralized, controlled processes, the business unit set out to implement what they call "e-nabled procurement." The guiding strategy was to drive alignment throughout the unit by adopting standard tools and processes. The unit's vice president of global sourcing explains: "We envisioned a single system for all our requisitioners, project managers, technicians and support personnel. We wanted one Web-based requisitioning tool, a single set of catalogs with standard items and negotiated prices, and one core purchasing application, all integrated with our Oracle project accounting tool." This VP, a 20 year veteran of the company responsible for the overall leadership of sourcing, procurement and logistics for the unit's locations worldwide, examined both the external and internal factors affecting the company's ability to streamline its supply chain. To optimize the use of any new technology for sourcing and procurement, the VP felt the company needed to leverage Web-based tools and processes to enable local activity and drive process consistency. To provide standard tools and processes to all North American locations, the manufacturer chose the Perfect Commerce suite of supplier relationship management solutions. Perfect Commerce has been in operation since 1999 and was one of the early pioneers in B2B e-commerce. Providing connectivity to trading partners via The Open Supplier Network (The OSN), Perfect stakes a claim as the largest provider of on-demand supplier relationship management (SRM) solutions, with more than 500 clients (over 100 of which are in the Fortune 500), 165,000 users and 11,500 suppliers. The company offers source-to- settle solutions designed to help companies reduce the cost and complexity of their purchasing process and accelerate the delivery of bottom-line results. For this Fortune 100 manufacturer, the major goals of implementing the Perfect Commerce solutions included establishing common, measurable procurement processes with central oversight, consolidating the supply base and increasing competition, and providing Web-based tools to enable local processes while ensuring consistency. Early in the process, the company utilized Perfect's Event Manager solution, part of the PerfectSource family of sourcing solutions, and services to help stimulate increased competition among suppliers by conducting reverse auctions. Then the company instituted an innovative "two ways to buy" process to reduce maverick purchases and ensure consistency. Buyers may make purchases only through Event Manager or by using the managed procurement card program. None of the company's locations are permitted to write checks for purchased materials or services. As a result of the project, more than 80 percent of spend is now managed through the Event Manager tool, with a significant reduction in maverick buying. "We received outstanding support from Perfect Commerce throughout the implementation," said the company vice president. "The Perfect team supported delivery and customization of all the tools, as well as supplier adoption initiatives for global suppliers speaking eight different languages."
The ROI
Today, three years into its procurement transformation, this Fortune 100 manufacturer has seen significant results. The organization is saving an average of 6 percent annually on material costs thanks to consolidation of the supply base, greater leveraging of overall spend and more effective purchase price negotiation. In addition, the company has seen its supply base decrease from more than 8,000 to less than 2,000 suppliers, with more than 80 percent of materials spend consolidated with 121 suppliers. An automated, streamlined transaction process has cut transaction costs by about 80 percent and reduced the number of people needed to process transactions by almost 70 percent. And inventory reductions of more than 68 percent, as well as greater consistency in invoice payment cycles, have improved cash flow at the business unit. "We now have common, repeatable processes across our locations," said the VP. "And for the first time, we have access to all the data we need to run the business. We can manage materials and services better because we know what we are buying." With e-procurement fully implemented in the United States and Canada, the company's next goal is to complete implementation in Europe and the Asia/Pacific region. The organization expected common processes to be in place across the globe by year-end 2005. "Supply Chain has been scoring big wins since implementing the Perfect solutions in 2002," the company VP said, concluding: "We have lowered the cost of materials and services, increased the productivity of procurement operations, reduced inventory and improved the payables process. The financial impact is outstanding."
For more stories of successful supply chain implementations, read the "2005 Supply & Demand Chain Executive 100" article in the June/July 2005 issue of the magazine. Also watch the Today's Headlines section of SDCExec.com every Tuesday and Thursday for more in depth best practices drawn from this year's Supply & Demand Chain Executive 100.