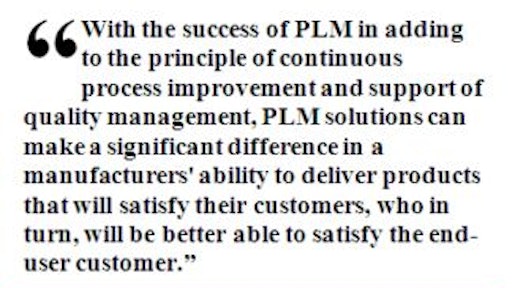 The concept of Lean Manufacturing methods has moved beyond simply Six Sigma principles into the many systems that manage the operation of a manufacturing facility. If Lean means to reduce waste, reduce development cycles and seek continuous process improvement, the integration of these systems is critical to competitive standing and quality assurance.

Often overlooked in the quest for Lean adoption in new product development is product lifecycle management (PLM). Systems vendors and industry analysts attribute reducing costs and lead time in new product development to PLM. PLM is a concept-to-grave application that communicates throughout the manufacturing process and has the ability to share a complete product record with design, engineering, sales and other management processes that are often managed by enterprise resource planning (ERP) systems.

Successful execution of PLM, however, requires a thoughtful approach to assessing existing processes, recognizing where problems are occurring and making improvements that not only eliminate the problems but also generate efficiencies. Without these assessments and improvements, PLM could lead to only a cycle of ineffective changes. However, with these assessments and changes, PLM provides a powerful opportunity to drive bottom line benefits.

So, exactly how does PLM coexist with, and add benefit to, Lean Manufacturing principles?

PLM eliminates waste. In any new product development project, the development team provides information and knowledge. Wasteful activities in this process are any that don't directly contribute to the creation of new information and knowledge. Some examples may be creating multiple copies of bill of materials (BOMs) for various uses, "busy" administrative work like manual delivery of paper documents or electronic files to suppliers or design partners, or manual notifications of engineering changes. Any time there is manual intervention into a project, there are bound to be human errors, some minor and many that could have significant ramifications for the development process.

PLM eliminates information silos. It's often difficult for engineering and manufacturing teams to share information for a variety of reasons, including radical differences in terminology. PLM systems allow the sharing of information among the different groups, even bringing in data from customers and sales that might otherwise never get as far as the engineering team. This secure sharing of critical information at every step of the product development lifecycle enhances efficiencies and results in better products, quality resolution and most of all customer satisfaction.

PLM is a collaborative tool. PLM manages design data and seamlessly moves it throughout the enterprise. It creates workflows for traceability and provides visibility into the complete product record. According to Chuck Cimalore, chief technology officer of Omnify Software, a Massachusetts-based provider of product lifecycle management software for small and midsize manufacturers: "PLM provides a central location to manage all product data and enables collaboration among internal and external teams. By combining data typically managed in separate systems, engineering, for example, gains visibility into a complete data set and has access to information such as customer feedback, vendor information from ERP and compliance issues. This helps engineers to make better design decisions and improve efficiencies."

PLM adds value to the customer. In applying Lean principles to new product development processes, it's important to deliver the right balance of functionality with the highest level of quality that will satisfy the customer and support the customer's competitive advantage. To achieve this, engineers need a way to efficiently analyze customer requirements and turn them into product features. PLM software communicates with various systems. "Engineers can pull data from ERP and then connect it to the CAD environment, allowing them to stay within their design environment," says Cimalore. "Key product information is now at their fingertips."

PLM is flexible. PLM is a technology that is leveraged by various groups within the organization. If there are issues, changes to processes, compliance requirements in the quality realm, for example, PLM provides immediate visibility. The ability to share data — product records — helps the design community and supports Lean principles. It elevates the entire design team to a higher level by allowing them to get all data supporting the product record, to see what's been accomplished and determine how to refine or speed up development cycles. "It helps elevate everyone involved in the process to the higher standards that Lean demands," adds Cimalore.

PLM supports compliance. With constant pressure from regulatory agencies to maintain the highest level of compliance standards, manufacturers are faced with managing the intricacies of making sure that every step of the way the end products are acceptable. PLM, with its ability to track and manage information, has become an increasingly meaningful component in managing compliance issues. Complete visibility into the product record throughout every step of the design process can alleviate glitches and recalls.

PLM supports project measurement and controls. New product development projects, without a PLM approach, may not be able to keep up with measurements, performance or project reviews. However, many PLM technologies have built-in measures and controls, like project schedules, the status of deliverables or risk assessments. Management of these important new product development events can even be delivered on project dashboards that provide a graphic display of critical project timetables and parameters. Appropriate team members have access to these dashboards and can see, in real time, the project status to send kudos to a team that's ahead of schedule or to nip in the bud any issues that surface.

PLM supports continuous process improvement. The consistent improvement of processes within the entire organization, whether it be in the ERP realm or the new product development cycle, is the backbone of an organization's successful Lean philosophy. PLM can recognize trends and provide integral reporting mechanisms that provide quantifiable analysis, all of which are driven back to the engineering teams that leverage that information to manage continuous process improvements. "PLM technology provides information management and analysis capabilities to continually improve product development processes and support Lean principles," says Cimalore.

PLM supports quality management. Quality is a key piece of the new product development lifecycle. In many manufacturing organizations, quality management technology is often siloed and not easily accessible by the design teams. From the aspect of managing a Lean organization, this has a real impact on gaining efficiencies. Some quality systems are manual and can't capture data for the complete product record or provide analysis. And, as stated before, manual systems leave themselves open to human error.

PLM solutions that offer a quality component have the ability to capture and share test information, common trends and customer feedback. That information can be tied back to a product record and transmitted back to engineering. "Quality information gives engineering everything they need to know about a product, including direct customer feedback," says Cimalore. "This is a critical piece for Lean manufacturing and better design practices in general because it brings the engineer closer to the end-user to help design better products."

Product lifecycle management continues to show its effectiveness in adding to bottom line improvements in the manufacturing environment. It's flexibility in being able to eliminate waste, provide the foundation for the sharing of information and serve as a collaborative tool all add to better products. With the success of PLM in adding to the principle of continuous process improvement and support of quality management, PLM solutions can make a significant difference in a manufacturers' ability to deliver products that will satisfy their customers, who in turn, will be better able to satisfy the end-user customer.

Adopting Lean on its own can bring some benefits, but the way to maximize potential gains — and bottom-line profitability — is to introduce product lifecycle management and integrate it with other business critical systems.