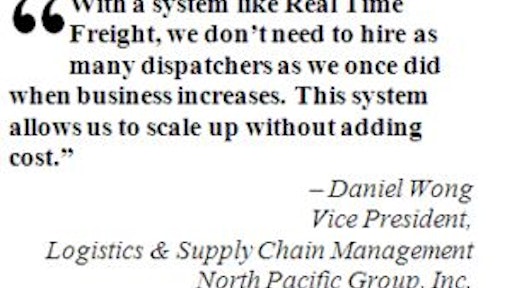 November 3, 2009 —
North Pacific Group
is one of the largest wholesalers and distributors of building materials in the U.S. "Because of our industry, we constantly have to go out to the marketplace to look for trucks to haul our products," says
Daniel Wong
, vice president of logistics and supply chain management at the Portland, Ore.-based company.
In the past, the company used a very manual, cumbersome process. "This created a lot of risk for us as a shipper," Wong notes. North Pacific Group has traders who sell its products. When a trader would close a deal, he would turn to the dispatcher, who would write down where the load was going. The dispatcher would compile a list of all the loads he had available and then fax or e-mail it to truckers or brokers, asking them to bid on it.
Those that were interested in the loads would either e-mail back or call, and negotiations would begin. However, the communication lines were, in some cases, incomprehensible and frustrating for everyone. If the trucker or broker couldn't get in touch with the dispatcher, they had to decide whether to send a truck anyway, or wait around and hope they could reach the dispatcher later.
The dispatcher was also overwhelmed with the responsibility associated with responding back to everyone and the resulting potential risks. For example, if a carrier had a poor safety record, but the dispatcher forgot to take them off the list, the dispatcher might give them a load. There was no systematic way to remove carriers from the list.
"In this industry, there is a tremendous risk for shippers to use brokers," adds Wong. "If the broker doesn't pay the carrier, the carrier comes back to the shipper. Certainly, this isn't a problem with the big brokers, but there are some smaller ones where that is a problem."
Understanding the inherent problematic nature of the company's existing system, North Pacific Group set a goal to get its loads covered in the most efficient way, at the optimal cost and at the lowest level of risk.
One option it considered to replace its manual system was to go to a Web site where it could electronically publish its shipping needs. "However, this wouldn't have gained any real efficiencies for us," explains Wong. "We would have still had to enter the information onto the site. Then we would still have had to do the searching, sorting and matching to see which carriers were available."
Enter Real Time Freight
It was around this time that North Pacific Group discovered
Real Time Freight
. Chicago-based Real Time Freight connects direct shippers and allows them to share all their time-sensitive freight information with approved carriers and brokers. All parties involved in the freight transportation process are connected via the Internet in a secure, real-time, closed-loop environment.
When a shipper posts a load, all relevant load information is provided in real time through the load board interface. The load is visible to other internal users of the load board, as well as the private or public carrier community that the shipper is looking for a response from. Load details include origin, destination, ship date, delivery date, commodity, rate, pallet requirements, shipper company name, consignee, comments and contact information.
When a carrier has available equipment to run the lane within the timeframe, it submits an offer through the load board to show interest in securing the load. Carriers provide their rates, as well as any comments regarding the load transaction.
Shippers receive multiple responses from all available carriers that are interested in the load, and they can view all of these responses on a single sheet of paper for easy comparison and prioritization of preferred carriers. Using the same system where the load was posted, the shipper can then accept an offer from one of the carriers, automatically updating the status of the load to "closed" so other carriers don't waste their time submitting offers.
The selected carrier is notified via e-mail, and is also able to see that the load was awarded to them from a page within its Real Time Freight application, which also shows all of their outstanding offers.
"Real Time Freight does several things differently," says Wong. "For one, it allows us to integrate with our ERP system. The minute our trader closes a transaction with a customer, the need for that load to be shipped is immediately available on Real Time Freight's system."
North Pacific Group also likes the fact that Real Time Freight is a private network, not an open Internet network. "This allows us to use only carriers that we want," Wong explains. That is, in advance, North Pacific Group was able to limit availability to the carriers that met its service requirements, such as having a good safety record or having already signed a compliance letter of agreement. North Pacific Group can continue to monitor its carrier performance and add or delete carriers to and from the system as appropriate.
In addition, qualified carriers can immediately see what is available from North Pacific Group on the Real Time Freight Web site. "They no longer have to wait for a fax or e-mail," says Wong. "If they want, they can sit on the Web site all day long, see what is available the moment it is available, and 'mine' the business." The carrier can then decide if it wants to bid on it or not.
As the shipper, North Pacific Group can set the rules. For example, it can decide how long it is willing to wait before it makes a decision, such as first come, first served; the lowest cost within a ten-minute timeframe; or a tiered system, giving the load to the highest-rated carrier that comes in first.
Once the shipper has been determined, North Pacific Group receives a real-time notification from Real Time Freight. "The system also updates our ERP system for us with the cost information, which allows us to close out the load," continues Wong. Then, all the "back end" billing processes can be started electronically.
According to
James Vrtis
, president and CEO of Real Time Freight, carriers in general have responded as well to the technology as have shippers. "It is easy for carriers to get started with the system," he explains. "It takes about 15 minutes of training." After that, they can enjoy the benefits of the system. "It provides them with many of the same efficiencies that the shippers get," he continues. "They also get almost immediate response on where they are ranking, which allows them to work better with their customers."
Results and Benefits
According to Wong, Real Time Freight's technology is a very effective and efficient system for the company and its carriers. "It also helps us deal with all of the risk issues that used to be of concern for us," he adds.
With the old system, when the business volume increased, the company needed more dispatchers to handle the workload. "With a system like Real Time Freight, we don't need to hire as many dispatchers as we once did when business increases," Wong continues. "This system allows us to scale up without adding cost."
As is the case with all of the software companies with which North Pacific Group works, it continues to work with Real Time Freight on improvements. "We discuss advancements in the software so we can use the technology even more," says Wong.
Real Time Freight is already thinking about the future, too, according to Vrtis. "Our next step is to take the rich data that we have collected in our first phase and provide it in a manner that allows customers to make better decisions on the bid screen," he says. For example: What did I pay for this lane during the last three months?
As shippers continue to gain access to more information in different formats, that rich data promises to make their jobs even easier and their decisions even more effective.
About the Author
: William Atkinson is a freelance writer based in Carterville, Ill.