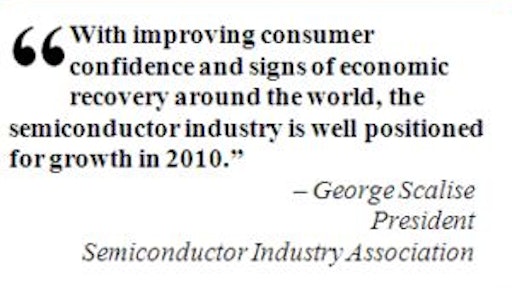 San Jose, CA — February 3, 2010 — Worldwide semiconductor sales fell by just 9 percent in 2009 against the year before, marking less of a drop than might have been expected, given the economic turmoil that roiled the markets last year, according to a new report from the
Semiconductor Industry Association (SIA)
.
Semi sales tallied $226.3 billion last year, down from 2008 sales of $248.6 billion. Total sales for 2009 surpassed the SIA forecast of $219.7 billion.
December sales were $22.4 billion, an increase of 29 percent from December 2008, when sales were $17.4 billion. December sales declined by 1.2 percent from November when sales were $22.7 billion. All monthly sales numbers represent a three-month moving average.
George Scalise
, SIA president, suggested that 2009 turned out to be a better year for the global semiconductor industry than expected. "A strong focus on inventories throughout the supply chain mitigated the impact of the worldwide economic downturn and positioned the industry for growth as the global economy recovers," Scalise said.
He added that sales in the final quarter of 2009 were supported by healthy demand in a variety of end markets, including PCs, cell phones, and consumer electronics.
"In 2010, unit sales of personal computers and cell phones — which account for approximately 60 percent of total semiconductor consumption — will grow in the low to mid-teens, providing a solid platform for chip sales," Scalise continued. "Consumer electronics are expected to grow in the mid-single digits."
Scalise noted that the association also is seeing the effects of recovery in the enterprise sector and believes this trend will continue. SIA expects a return to normal seasonal patterns, which suggests a modest slowdown in the first quarter.
China and India, two key emerging markets, are also driving demand. In addition to purchasing consumer items such as handsets and computers, both regions are continuing to invest in wired and wireless infrastructure. These investments in infrastructure create demand for a broad range of semiconductor products.
"Advances in technology are continually enabling development of new products, such as netbook and tablet computers," said Scalise. "Attractive price points for these products are creating new market segments that hadn't previously existed, and they are adding to overall semiconductor demand."
Scalise concluded: "With improving consumer confidence and signs of economic recovery around the world, the semiconductor industry is well positioned for growth in 2010."