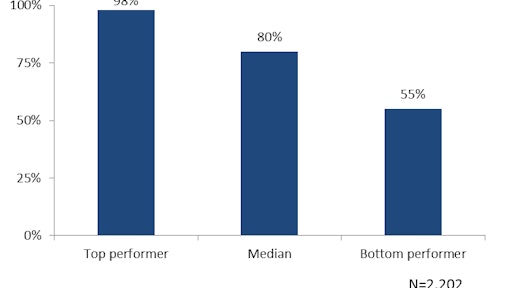 A purchase order (PO) is used by the procurement or purchasing department to order goods or services. Typically, a purchase order contains information regarding the items to be purchased, the person or department placing the order, and any special delivery terms the circumstances may dictate. Purchase orders play an important role in procurement because they provide clear instructions and communication from buyer to seller, as well as reference documentation in the event that there is some confusion in the order or delivery of the product or service.
Purchase orders can be in either electronic or hard copy form. As Figure 1 shows, APQC's Open Standards Benchmarking data in procurement indicates that top-performing organizations approve 98 percent of purchase orders electronically, as compared to only a little more than half of POs approved electronically among bottom-performing organizations.
When it comes to procurement, as the size of the organization and typically the complexity of the purchasing process increases, manual procedures are often inefficient, requiring excess paperwork, increasing the possibility of error and redundancies and lengthening cycle times. Automation and technology are often key drivers of increased efficiencies and productivity for organizations seeking to improve process performance. Online purchasing, or e-procurement, automates labor-intensive ordering and payment processes. Organizations use e-procurement to leverage volume discounts, consolidate buying and decrease costs and errors related to human labor. Given these benefits, the percentage of POs approved electronically is a key performance indicator regarding procurement efficiency.