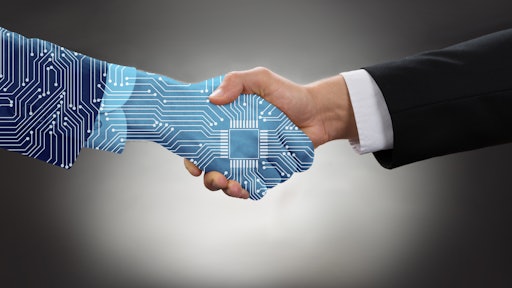 Procurement could be the last link in the supply chain to be disrupted by technology, but we may begin to see that change in 2018.
Artificial intelligence (AI), or machine learning, has been a major buzzword across the supply chain over the last few years. Its effects thus far have been mostly speculative, but its potential to transform the decision making process using highly accurate digital data is increasingly appealing to the procurement department.
AI-enabled procurement is focused on business outcomes and user experience. It enables cost efficiencies through the automation of repeatable tasks, delivers real-time insights to help businesses make better decisions, and deploys new and smarter ways to infuse data models to enrich day-to-day operations. What's more, it can provide a better way to build new relationships with suppliers and other third parties to innovate new business models and collaborative relationships.
Basic machine learning technology is already used by some procurement applications in areas such as spend analytics and contract analytics, automating the processes of collecting, cleaning, classifying and analyzing expenditure data in an organization to identify savings or paths to greater efficiency. But according to a recent report published by the analyst firm Gartner, AI-enabled procurement processes will take on a larger role in the supply chain over the next five years. In Predicts 2018: Procurement and Sourcing Technology Will Benefit From Advances in AI, Data Visualization and B2B Marketplaces, Gartner analysts Patrick M. Connaughton, Magnus Bergfors, Desere Edwards and Kaitlynne N. Sommers speculate that by 2022 50 percent of all legacy spend-analysis software will be retired, replaced by AI-powered, cloud-based solutions.
The report also predicts the biggest changes to the ­procurement function over the next five years will be the integration of virtual assistants and chatbots into online procure-to-pay marketplaces. VEAs and chatbots are computer programs that simulate a conversation with a human being. VEAs work on behalf of enterprises to support employee engagement with, for example, the procurement process. Chatbots have a narrower functionality and are often highly specialized.
These AI features, Gartner says, will help guide end users through the buying process, while a VEA will use a series of simple questions to help determine the best buying channel and payment method for the employee. Chatbots will be used to handle common supplier requests, such as answering questions about the status of a payment or helping to resolve invoice discrepancies.
For Oracle, introducing AI into the procurement function is all about simplifying the user interaction of applications. They are seeing the use of chatbots as a way to simplify the human interaction, where employees are not having to crunch the numbers.
"Where we really focus is on simplifying the user experience. It's about the application of having greater usability," says Jim D'Addario, Oracles's director of product marketing, SCM. "The use of bots and bringing in big data and these intelligent applications really simplifies the human interaction where they're not having to crunch all the data, and the applications themselves are delivering recommendations to the employee—whether it be a buying experience or whether they're evaluating suppliers on the front end. (Chatbots are) making that much faster and making it easier for (employees) to evaluate a large number of variables and great volumes of information that may be coming from third-party sources. You simplify that, deliver the recommendations, and the evaluator is making more intelligent decisions faster."
Broken Promises
Legacy spend-analysis software at one point offered a solution to simplify the procurement function—but is had failed to deliver on its promise. According to Gartner, the current spend-analysis process is time-consuming and error-prone, and as a result, procurement managers are not able to make quick decisions in the face of changing market conditions.
Supply chains continue to grow more complex, so it only seems natural that their software programs follow suit. One of the reasons that procurement has lagged behind the rest in adoption of advanced technologies, D'Addario says, "is because a lot of procurement functions focus on the transactional and procure-to-pay, which is really the requisition cycle and future payment."
That said, D'Addario notes that many of the procurement organizations Oracle works with are moving upstream into what the software company calls strategic procurement, or the supplier, management and contracting areas.
"As we move into direct procurement and as supply chains become more complex and risky, procurement organizations are focusing more on managing suppliers and properly qualifying them," D'Addario explains. "This includes making sure they have the right business attributes, like financial stability; that they have compliance with any regulatory standards that are required, for example, handling hazardous materials; that they have the proper insurance certifications; and that they monitor them on an ongoing basis to make sure that they are being up to their contractual obligations."
To ensure a company has dedicated the necessary resources to these more complex areas of procurement, D'Aaddario says companies should "automate as much as possible, so they can divert their resources into the strategic end."
Another reason many procurement departments may shy away from investing in technology is due to the major upfront costs associated with their current software. Ryan Duguid, vice president of technology strategy at Nintex, says the introduction of the cloud, however, has trimmed down much of that expense.
"Technology in this space used to be in the realms of very bespoke, very expensive, lots of consultants, lots of hardware involved in it," explains Duguid. "As a result, you had a massive upfront cost, you had to play out the ROI over five, 10 years. Because of that, your systems get very dated, as well as the user interface, the hardware it runs on; you're stuck back in late 90s, early 2000s-type approach to technology.
"The big thing is that all of this now is in the cloud; it's all managed by someone else. Ninety percent of the cost of running these types of systems disappears," he says, adding, "AI is not a thing you want to ignore, you don't want to be the curmudgeon that says, 'One day when it's finally at maturity, I'll think about it.' Because then you'll be left behind. You have to have a forward-looking mindset with IT. Focus on the areas where you can get the biggest wins. Get out of the business of running your own data centers, your own servers; get out of the business of highly customized software. Look at low-code, no-code platforms; look at empowering more people to automate more problems, and do it on someone else's cloud. That's really how I think people need to be looking at technology landscape right now."
A Marriage of Capabilities
As procurement teams start to adopt AI-enabled technologies such as virtual assistants and chatbots, purchases will be automated and streamlined. As a result, constantly updated streams of raw data will become available that offer a new way to generate insights and alert leaders to opportunities. Unfortunately, the average human brain can't process this data quickly enough to take advantage, while algorithms crunching the numbers can pick up on opportunities people would miss.
This doesn't mean to say AI will replace the human mind, however. In fact, it will only further empower it, enabling employees to make better decisions and focus on more complex tasks.
Much like Oracle's approach, Duguid says for him and Nintex the focus on AI and machine learning type technologies is to work out how to enhance the power of the individual.
"People are extremely valuable; they process information and make decisions in very unique and interesting ways that as a society we barely understand," he says. "The human brain is processing billions and billions of data points nonstop—whether you're awake or you're asleep—and most decisions are made as a result of the whole set of those data points. You'd never be able to explain to someone that concept of intuition or gut feeling. It's actually just a data-driven decision based on a whole bunch of life experiences you've had, and that's extremely powerful."
AI is essentially trying to simulate that approach—but at a quicker pace and with greater accuracy.
"So there are cases where we can say, 'Look, you don't really need a person involved in this.' But there are plenty of cases where someone's got to step back, they've got to lay their eyes on a situation, they've got to consult with other people, and those are the cases where the power of AI machine learning is to provide suggestions or recommendations to that person to help enhance their own cognitive faculties.
"My view is if you marry those capabilities, you get the best of both worlds," he adds.
SAP's Vice President of AI and Cognitive Products Shivani Govil further drives home the give and take relationship between the human brain and machine learning, noting that AI is very relevant in helping people both do their jobs better, but also be more efficient by automating tasks, reducing errors and helping them to discover hidden insights.
"You're always going to need humans," she says. "What these technologies are going to do is make them less tactical and more strategic. Instead of being the guy that just buys stuff for me, he's going to be able to focus on other more important things like finding the right supplier who could maybe develop a product in a more innovative way. So, I think it's actually going to signal a shift and a good one for procurement."
In fact, Govil suggests within the next five years AI will be part of every application, rooted in every way we do business. Employees will expect the technology to be part of their job, providing guidance on what they need to next or what task to prioritize.
"People are going to expect a lot of the mundane and repetitious tasks to happen automatically, so they can be more strategic in terms of thinking about how to get the best results," she says, adding: "There's a huge opportunity with some of these innovations to really help procurement professionals and supply chain professionals do their job better. I'm seeing that as people get more comfortable with (technology), they start to embrace it, leading to better results and better performance for themselves as individual workers, but also for their business and what they're trying to do for their company."
Follow Amy Wunderlin on Twitter.