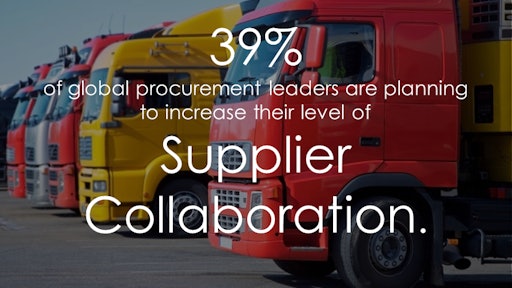 In a world of complex and integrated supply chains, your business' success hinges on your supplier relationships. The way you interact with them is changing. Today, suppliers are viewed as strategic partners, which can help gain competitive advantages. In fact, procurement leaders consider supplier collaboration as the second most important area of focus after consolidating spend.
If you are in procurement or supplier relationship management (SRM), you are aware that driving effective collaboration and communication with vendors can enable cost reduction, risk mitigation, faster time to market and innovation. No wonder that almost 30 percent said that they were likely to invest in SRM over the next 12 months, according to Deloitte.
In reality, procurement organizations often manage information about their suppliers and products in multiple siloed systems across regions, departments or business units. Adding, changing or correcting the information in one system doesn't automatically reflect in others. Many of those updates never reach critical systems that distribute content on channels. As a result, the data required for processing, distributing, or selling products and services is inaccurate, inconsistent, incomplete and fragmented. Ultimately, this fragmented and archaic way of managing business-critical data makes it impossible to effectively collaborate with suppliers.
To help sourcing, procurement and supply chain organizations enhance their supplier collaboration, I identified five supplier data strategies. Keep them in mind when selecting solutions to support your supplier collaboration efforts:
1. Effective Supplier Collaboration Starts with Great Supplier Data
Effective supplier collaboration relies on the quality of data you receive from your suppliers or from third-party providers. This is related to both information about your vendors, their companies, locations, and financial or contact information, as well as the information about the products or services they provide. It is crucial to embed data governance into your supply chain applications and workflows. Also, according to the Aberdeen Group, leaders in supply chain management are 73 percent more likely to use multi-domain master data management (MDM). MDM serves as the ideal foundation for several supply chain supporting applications. Use MDM to manage product and supplier master data to get one single trusted view of consolidated data for efficient supplier collaboration.
2. Automate Supplier Collaboration and Lifecycle Management
Make it easy. Simplify and automate your supplier collaboration when it makes sense. Implement a master data-fueled supplier management application to enable the centralized management of suppliers and their lifecycles. It helps your business pull together master data about suppliers that is, in most cases, fragmented across the company's departmental, line-of-business and regional applications. Turn inaccurate, inconsistent or disconnected information into clean, consistent and connected information. Leverage a configurable business process-driven workflow to manage the full supplier lifecycle, including supplier self-service registration, supplier onboarding, information management, analysis, monitoring, collaboration, communication and relationship management. This automatically leads to boosted productivity and cost reductions in your supply chain, while leaving more time for important face-to-face meetings with strategic suppliers.
3. Keep It Simple for Your Suppliers
The most powerful tools are useless if they are not easy for businesses to use. This is true for your organization, as well as for your suppliers. First of all, one portal for suppliers to exchange data through is enough. Your suppliers should not need to update and manage data in several portals. Second, make it easy to consume data by using a supplier portal with a business-friendly user interface, with clearly presented dashboards and visible alerts for urgent matters, like expiring certificates, requests for proposal or missing insurance information. Third, try to speak their language and consider using localized supplier portals available in most of your suppliers' languages.
4. Provide Suppliers Access to Your Product Information Management (PIM)
Do you typically receive perfect product data from your suppliers? If you are a manufacturer, distributor or retailer, you know that getting accurate, complete and current product information from your suppliers is a very important aspect for successful supplier collaboration. To support this, your suppliers should be able to upload and update product catalogs using their supplier portal access at any time. Make sure you work with a powerful master data-fueled PIM that allows you to get the product data you need for fast product launches and omnichannel success. Suppliers should be able to make product data available in a variety of different formats and even to add large volumes of data to their assortments. If required, an automatic exchange of product data with your trading partners via the Global Data Synchronization Network (GDSN) should easily happen within your PIM, ensuring that the right information gets to the right employees and departments in time.
5. Use Interoperable Systems for Supplier Collaboration
No matter which systems you use for supplier management and supplier collaboration, you can quickly get in trouble if they are not interoperable. For a successful supplier data strategy, you need both—a one-stop shop for your suppliers, and a trusted 360-degree view of suppliers and products. Taking a centralized approach by using a single platform for all supplier collaboration allows you to improve efficiencies of your supply chain and IT processes. Embed data quality rules to ensure that the data coming in and going out to trading partners is always consistent and complete. Don't forget to fuel other business and analytical applications with this clean, consistent and connected supplier data. This can help you increase the efficiency of supplier collaboration and relationship management, and lead to increased agility for new product introductions and supplier onboarding.