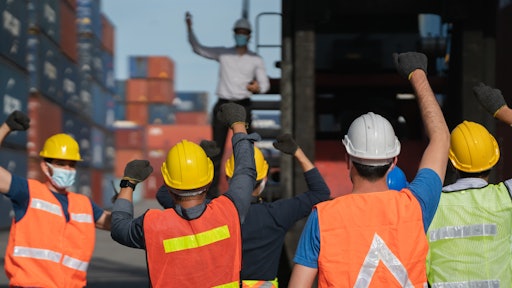 Me Studio/stock.adobe.com
When a group of New York based Amazon workers voted to form a union, a historic moment occurred. What started as an employee being fired over protests concerning the company's subpar COVID-19 safety precautions ended after 11 months of gathering momentum to start the first union at one of the world's largest companies.
Why is this happening now?
Warehouse workers everywhere have endured working through the coronavirus pandemic with increased pressure, higher demand, less workers available, and lack of benefits. Amazon workers celebrated a victory over not just poor pandemic safety, but also ongoing harsh conditions at the Amazon facility like the low wages, the lack of job security, the absence of sufficient air conditioning in the summer, and the constant monitoring of their productivity and the short breaks. Ultimately, the union's main draw was that it was founded and run by people like them who often spent their afternoons and evenings with the organizer, Chris Smalls, in his tent set up across from the warehouse.
Why did it work?
Employees at other Amazon warehouses are expected to try to replicate the success from the Staten Island facility. However, they aren't all seeing the same win. A larger union at an Amazon warehouse in Bessemer, Alabama, is failing for the second time. Despite the effort having a considerable amount more funding, the obstacle seems to lie in who's backing the initiative. In Alabama, there's more resources, but they are coming from outside organizers who don't work for the company and don't necessarily understand the workers' struggles. The Staten Island effort, on the other hand, relied on only 24 volunteer-worker organizers, all of whom were actual Amazon employees. Having a stake in the game matters.
What are the challenges?
The union in Staten Island is a small win in a big war. In a statement Friday, Amazon said that it may file objections to the outcome, and that it was disappointed in the results "because we believe having a direct relationship with the company is best for our employees." The company is still very much not union friendly; they're trying to fight against union organization by implementing more big brother like policing interoffice chat conversations –– policies that will surely only further galvanize strikes and union support.
Are there more signs of progress?
In the wake of Amazon NY's union success, more strikes are cropping up. Starbucks baristas in several locations have voted to unionize and, in late March, Google Fiber contractors in Kansas City, Missouri, supported a union effort, becoming the first workers with bargaining rights under the Alphabet Workers Union.
The Staten Island victory, and recent successes at six Starbucks coffee shops in Buffalo, were each accomplished by worker-led unions independent of the labor movement's legacy organizations. Recruitment campaigns were authentic movements fueled by passionate one on one conversations. Organizers were able to connect with fellow workers, not just about wages and working conditions, but about larger cultural conversations and personal struggles. This slow but effective approach to convince workers to organize is a strategy that national leaders say could be key to the future of the labor movement.
What's the future?
We predict more worker groups will strike and push for unionization to demand better benefits, pay, and rights in the industrial and service workplaces. While Amazon will continue to push back with new labor relations strategies and technology to monitor union sentiment, more union votes may spark as a result of the recent victory.