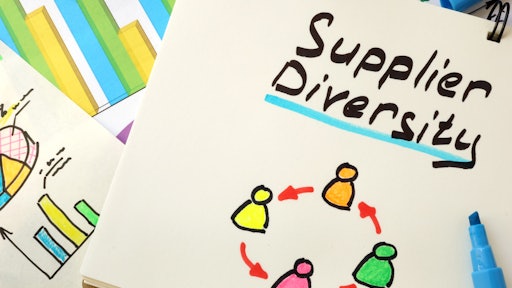 Vitalii Vodolazskyi/stock.adobe.com
Supply chain executives have increasingly prioritized supplier diversity efforts in recent years, and 65% of teams now have a formal supplier diversity policy, according to the 2021 State of Diverse Suppliers report.
Documenting your supplier diversity policy is certainly an essential step in establishing a successful supplier diversity program. However, as most supply chain executives have experienced firsthand, managing and measuring the program's impact can be a complicated process.
To help you strengthen your supplier diversity program and drive meaningful results for your company, communities, and society at large, let's explore the elements of an effective plan. Then, let's walk through four core steps to evaluate your supplier diversity success.
What is an "effective" supplier diversity program?
All too often, supplier diversity program effectiveness is narrowly defined by the total amount of money spent with diverse businesses rather than by evaluating results on a larger, more holistic level—including the total number of diverse suppliers awarded business, and your ability to influence other companies to also prioritize supplier diversity.
If you measure your supplier diversity program against how much money is spent with diverse suppliers, your company could achieve its goal by investing large sums in just one or two suppliers. This certainly helps those few suppliers, but a truly effective program seeks to uplift as many diverse suppliers as possible with sustainable contract sizes that actually make a difference.
The most effective supplier diversity programs will:
Attract new diverse suppliers through multiple avenues like industry groups and events.

Reduce contracting barriers for small suppliers to do business with your company.
Nurture existing diverse suppliers and help them expand their operations.
Celebrate diverse supplier achievements within your organization.
Influence other companies to partner with diverse suppliers.
Integrate supplier diversity into procurement operations and your company's DNA.
4 steps to assess your supplier diversity program
No matter where you are in your supplier diversity efforts, the following four steps will help your team align on its goals, measure your success, and develop a lasting, effective supplier diversity program.
Compare your supplier base against industry benchmarks
Improving your supplier diversity program requires you to understand your diverse supplier base and how it stacks up against others in your industry.
Gather any metrics you can that showcase the state of your existing supplier diversity. For starters, collect these details:
Total number of diverse suppliers you partner with

Average contract size for diverse suppliers
Diverse supplier spending as a percentage of your total spending
Number of new diverse suppliers in the last year
Turnover of diverse suppliers in the last year
Increase in money spent with existing diverse suppliers in the last year
Number of diverse suppliers invited to sourcing opportunities
While you gather the above details, partner with industry groups and peers to benchmark how your company compares to others in your space.
Industry organizations like the National Minority Supplier Development Council (NMSDC), National LGBT Chamber of Commerce (NGLCC), and Women's Business Enterprise National Council (WBENC) are incredibly valuable to explore supplier diversity topics and access resources to improve your supplier diversity, including benchmark data.
When reviewing benchmarks, however, remember that there are likely differences between your brand and others, such as how mature your company is in its supplier diversity journey or how many diverse suppliers are available in your given industry or location. Additionally, when comparing the percentage of diversity spend, there can be differences in the kinds of expenditures included in the denominator of the calculation.
Review or set supplier diversity goals
With your baseline data in hand, you can now set or adjust your supplier diversity goals.
It's crucial to set goals that are attainable for your team. Many companies strive to meet the industry benchmark when first developing their supplier diversity program, which is an unrealistic expectation. If you set too aggressive a goal—for example, if you have .5% spend with diverse suppliers and set a goal of 15% by end of year—you could demotivate your buying community and set yourself up for failure.
Make sure your goals are clear and specific. Aiming to "increase supplier diversity" is too vague to effectively guide your team strategy. Instead, consider tangible goals like the following:
Achieve 25% spend with diverse suppliers

Retain 90% of our diverse suppliers
Increase the average spend per diverse supplier by 10%
For companies just getting started, aim to double what you're currently doing, such as an increase from 1% to 2% or 2% to 4%. Larger companies that have more mature supplier diversity programs should strive to meet or exceed their industry benchmarks.
Track KPIs that measure supplier diversity progress
Depending on your supplier diversity goals, you will now pick three to five key performance indicators (KPIs) that signal the health of your program.
The best KPIs go beyond vanity metrics and link to your business bottom line and community impact. Standard KPIs like diverse supplier spend and diverse supplier count are a great starting point for teams, but these KPIs should evolve as your program matures.
Revisit the data you collected for step one of this process, and consider using these valuable supplier diversity KPIs to measure the full impact of your program:
Cost savings: How have your diverse suppliers helped reduce costs for your team?

Economic impact: How many jobs have been created because your company partners with diverse suppliers? How has this impacted local markets and economies?
Market share: Has your supplier diversity program helped to increase your market share within diverse communities? Have your revenue forecasts shifted to account for this new market share?
Your team should implement technology solutions to track your supplier diversity KPIs so you can effortlessly review, sort, and filter your data to uncover weaknesses and opportunities in your program.
Speak directly with your suppliers
The most effective supplier diversity programs focus on more than just bringing in new suppliers. Partner with your existing suppliers to help them expand their business with your company.
If possible, speak with each supplier at least once every six months to understand their satisfaction with the relationship, how your business has helped them grow, and ways you can better partner with each other. Is there any reason this supplier may lose their diversity certification, such as an upcoming merger or acquisition? What is needed to expand the partnership?
Whenever possible, connect your suppliers with other companies and industry groups that can provide them with educational resources or new business opportunities that help them thrive.
Drive ongoing supplier diversity success with open communication
By completing the above four steps, your team will have a clear understanding of the state of your supplier diversity program and where you can improve.
Reinforce the importance of supplier diversity through high-visibility reporting methods that show everyone in your company how your program is tracking against its goals. Use internal communications like company-wide emails and newsletters to spotlight supplier diversity strides.
As you expand your program, remember that trade shows are a vital way to create awareness around your supplier diversity program, network with peers, and build new leads.
Through a consistent internal and external effort coupled with the right measurement tools, your supplier diversity program will flourish and uplift your brand communities for years to come.