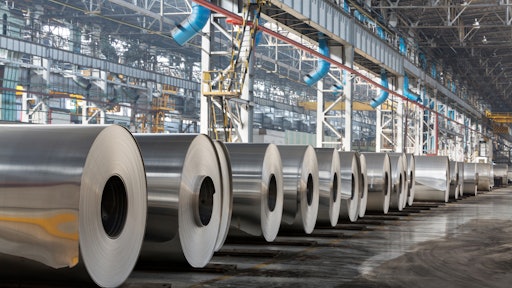 Pavel Losevsky/stock.adobe.com
Russia's ejection from the global economy and China's new COVID-19 lockdowns are resulting in significant supply chain woes for American manufacturers, especially those who rely on precious imported metals, like aluminum. Scarce aluminum is impacting businesses from breweries to contractors to LED lighting manufacturing. These industries, and more, are being pushed to increase project costs and prices on popular end-user products. While scarce aluminum may impact prices today, the price increases won't be enough to affect markets, industries, or consumers permanently.
China is the largest exporter of aluminum in the world. However, since the Chinese Communist Party actively supports Chinese businesses which compete directly with U.S. manufacturers by subsidizing low-cost exports to the states, there is an inherent conflict with looking to the Chinese to increase production and availability to assist U.S. companies during the ongoing supply chain snarls. Russia is the third-largest aluminum producer globally, behind India and China, producing approximately 5.5% of the global supply. Together, China and Russia make up more than 60% of global output. The current conflict in eastern Europe has created additional volatility in the aluminum market because sanctions on Russia add to existing upward price pressures on the metal and reduce its availability on the global market.
Supply-chain management is entering a new era, with a scarcity of raw materials and delays in production being two of the biggest concerns. Stockpiling supplies to combat these challenges is one of the best approaches, but it requires liquidity and agility.
Many countries and companies are learning from Russia's war against Ukraine is the need to move manufacturing back to the U.S. and shift mentality from "just in time" to "just in case." American first policies must be re-instituted if this country has any chance to help others rise to address dependence on imports. This includes aluminum and other materials. Domestic manufacturing also opens the door to white labeling your service to your competitors – turning them into clients – that may not be able to implement such an operational pivot. While it is difficult for any country or region to be self-sufficient in all the goods and materials consumed by modern economies, this renewed focus on resilience and sustainability will present manufacturers with the ability to control their destinies better.
The importance of aluminum in strengthening American manufacturing
Aluminum is the third most abundant metal overall. Aluminum is in a class of its own for various uses, including transportation, construction, electrical, and consumer goods. Aluminum is also 100% recyclable. Additionally, it takes only 5% of energy to recycle scrap aluminum than produce new aluminum.
Aluminum is used in transportation for its unbeatable strength to weight ratio. Its lighter weight requires less energy to transport, allowing cost-effective fuel efficiency and lower CO2 emissions. Its corrosion resistance eliminates the need for anti-corrosion coatings. Experts predict that aluminum content in the future production of new cars and trucks will increase by 60% by 2025.
For strengthening infrastructure, aluminum's low density makes it the best option for long-distance power lines. If copper were used, support structures would be heavier, numerous, and expensive. Aluminum is also more ductile than copper, forming it into wires quickly. Lastly, its corrosion resistance protects wires from the elements making it last longer. Aluminum is also used in motors, consumer appliances, and power systems. Television antennae, satellite dishes, and even some LED bulbs are made of aluminum.
Aluminum is used frequently in consumer goods such as smartphones, tablets, laptops, and flat-screen TVs. Its appearance makes modern consumer tech gadgets look sleek while lightweight and durable. It also allows heat to disperse quickly, keeping electronic devices from overheating. As a leading example, Apple uses aluminum parts in its iPhones and MacBooks.
Aluminum in LED manufacturing dependency
Currently, all LED lighting products depend on high-grade aluminum as a primary component. Over the last five years, the cost of aluminum ingot on the world market has virtually doubled from below $2,000 per ton to $3,800 per ton, driving up the cost of aluminum components in LED products. This has presented significant challenges for LED manufacturers.
The increasing cost of energy coupled with limited access to new energy sources is accelerating the adoption of energy-saving utilities and devices such as LED lighting, which significantly reduces energy use. As a result, we expect LEDs to replace 90 percent of HID lighting sources over the next ten years. For this to occur, LED manufacturers will be required to meet the challenge of potentially diminished aluminum stockpiles combined with the higher aluminum costs. An end to the eastern European conflict may not provide near-term relief as governments seek to reduce dependence on Russia's exports.
Currently, there are no equally viable aluminum alternatives, both as a form factor substance and a heat sink for LED heat dissipation. Thermal plastics are a possible long-term alternative, but a pivot to this material is expensive, requiring re-engineering and re-tooling of entire product lines. They are also unproven in outdoor commercial applications, especially in severe weather.
For the time being, LED manufacturers, especially manufacturers of commercial products, must hedge their aluminum purchases to ensure availability and pass the increased cost onto the consumer as the market allows while being mindful of lower-cost Chinese imports. "Just in time" component procurement must give way to capital-intensive component inventories requiring accurate forecasting of future needs based on sales information and historical data.
These are the only alternatives available to LED manufacturers in the current geopolitical situation. Alternatively, U.S. companies increase their localized North American manufacturing capacities to respond to changing market conditions quickly. Localized manufacturing helps bridge the time gap between market needs, orders, and fulfillment. Local manufacturers will have an edge in fulfilling customer needs in the current environment.
Although the traditional commercial marketplace is being significantly affected by these conditions, the newly emerging and dynamic indoor farming/horticultural market is more insulated from these cost increases. LED manufacturers in the horticulture market are more insulated from current conditions than their commercial counterparts. As a rule, horticultural products have a lower aluminum to sell price ratio than commercial lighting products. Therefore, the aluminum cost increases for this type of lighting will not be as high as in the commercial sector. In addition, there are more options for form factors acceptable in this area which allow for more flexibility in product manufacture.
The general LED manufacturing industry will face raw material challenges soon. The challenges faced by commercial products will be more significant than those faced by horticultural products. Still, localized manufacturing and better materials planning will be a requirement for success in the future.