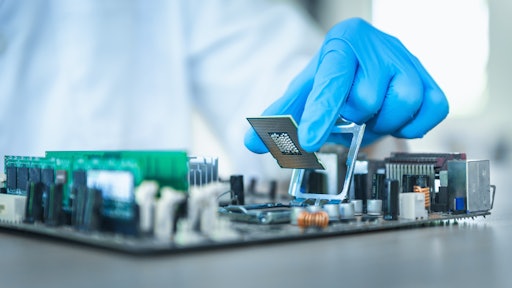 Maha Heang 245789/stock.adobe.com
There's no end in sight for the global semiconductor shortage. According to the U.S. Department of Commerce, demand for chips surged 17% from 2019 to 2021. But what started as a 'pandemic problem' has quickly evolved into a long-term crisis. Between China's zero-tolerance COVID lockdowns, Russia's invasion of Ukraine and the massive supply chain bottlenecks, the disruption is spreading like fire. Sourcing agility will be key to navigating the volatility.
Global volatility: Worsening the shortage
It's been a wild ride since the chip shortage began last January. In September 2021, China experienced rolling power outages – causing semiconductor manufacturers to pause production and curb electricity usage. Given that China is a major center for the packaging of semiconductors used in autos and appliances, the effects were felt globally.
The energy crisis was only the beginning. Last year, China introduced zero-tolerance COVID policies as Delta and Omicron surged, causing major manufacturing sites and trade ports to shut down. With China being home to about a third of global manufacturing, everyone felt the impact. To make matters worse, China-United States flights were suspended – causing air freight capacity to plummet while pricing soared. As demand for ocean freight increased, rates followed as well. In fact, the cost of shipping goods from China to the U.S. has increased by almost 1,000% since the pandemic began.
Now, Russia's invasion of Ukraine further threatens chip production and distribution. Without understating the exponential human harm Russia is causing, both countries are major exporters of two key raw materials in the creation of chips. The White House has already intervened, contacting leading semiconductor companies to warn them of severe disruption and recommending they seek alternative suppliers. With leading manufacturers already operating on less than five days' worth of inventory in some instances, operations remain very fragile.
Disruption beyond chips
Transportation bottlenecks have made the limited supply of chips – and everything else -- more expensive to ship and nearly impossible to get on time. Global container rates for January 2022 increased by 1%, making prices nearly 140% higher than they were the year before.
For factories with less than a week's worth of chips on hand, sky-high freight rates are now the reality. But paying high prices doesn't guarantee on-time products. Port congestion continues to cause major shipping delays and prolonged transit times.
The challenges aren't unique to the ocean. Many businesses have turned to air freight to build back their supply. But between canceled flights, limited capacity and even more expensive rates, air offers little relief. In fact, air freight fees are expected to jump another 30% this year. If a mere 1% increase sent ocean freight rates through the roof, the cost of air freight could soon be unimaginable.
Limited capacity and rising prices have made sourcing and securing supply more difficult than ever before. The balance of power has shifted almost entirely to carriers. With high rates and canceled contracts, buyers are scrambling to renegotiate and re-award. Without the ability to move fast and offload tactical operations, sourcing teams won't weather the storm.
Agility: The key to resilience through volatility
To overcome the chip shortage, government entities are stepping in. The European Union outlined a 43-billion-euro plan to double the EU's global chip production by 2030. This comes days after the U.S. announced its plan to pour $52 billion into American semiconductor manufacturing, with $39 billion specifically tapped for the development of new domestic factories.
However, change won't happen overnight. To address the shortage's immediate effects, supply chain and sourcing leaders need to act to ensure agility. Technology is the best starting place. Sourcing optimization capabilities can recommend quick award decisions at scale while weighing a combination of factors like rate, transit time, supplier incumbency, sustainable packaging and more. The ability to quickly weigh and evaluate multiple options instantly is critical when trying to maintain continuity without sacrificing other priorities like sustainability.
Optimization can help consolidate projected demand, evaluate stock availability, gauge supplier lead time, freight capacity and more. It also enables teams to identify geographically diverse suppliers to help decrease supply risk. Most importantly, it frees up employees' time to focus on the supplier/carrier relationships.
Lastly, sourcing optimization allows teams to centralize procurement efforts in a single platform to track offline spot events and activity. A digital thread is provided to connect every interaction for tracing and auditing. The increased transparency of smaller spend improves future RFPs and supplier tracking by keeping everything in one location during times of disruption.
Global shortages igniting change
Your business doesn't have to suffer during the chip shortage. Digital transformation and advanced optimization technology equips sourcing teams to manage disruption and ensure continuity through the most challenging times.
Volatility will lessen with time, and supply and demand will slowly normalize. The global chip shortage will eventually subside – but the strategies sourcing teams undertake now will prepare them for the next shortage, whatever it may be.