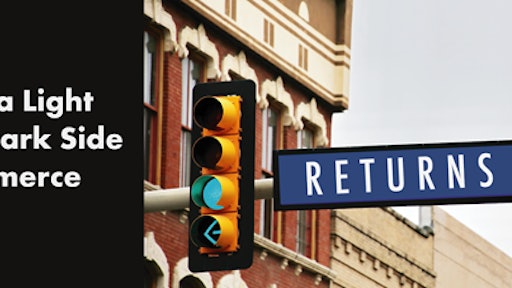 Ruby Has Fulfillment
Product returns have always been a huge cost center for e-commerce brands. Multiple studies cite an average return rate of 20% that rises to 30% during peak holiday season. With the accelerated growth in e-commerce over the past year, however, the returns problem has also mushroomed. Based on initial data analyzing over 1 million returns this holiday season, retailers experienced a 41% increase in returns of online orders. The largest period for returns was the week between Christmas Day and New Year's Day, in which consumers initiating returns increased 70% on average per day compared with the daily average for Sept. 24-Nov. 29, 2020.
In addition to the direct hit to the bottom line, returns are a huge drain on resources and customer service teams, and are hurting our planet with tons of wasted products and packaging. So, how can we, as an industry, reduce returns and better handle reverse logistics?
Lots of moving pieces
Returns are not only costly, but are also a complicated process that involves many steps, multiple touchpoints with the customer and multiple connections to exchange data and goods:
1. Customer initiates the return
2. Merchant approves/denies return or facilitates exchange
3. Return label is generated
4. Customer ships item
5. Merchant processes the refund
6. Fulfillment service inspects, refurbishes, re-stocks, donates or disposes merchandise
If you're doing all this manually (and many businesses still are), the entire process can take weeks. Meanwhile, your customer is unhappy. They want their money back, or they want something other than what they ordered, and they want it now. And, from the customer's standpoint, returns are a make-or-break moment in the relationship cycle. The faster you can solve their problem and the easier you make the process, the more likely they are to think twice about that nasty review, recommend you to friends and shop with you again.
What is an RMA system?
The fact is, e-commerce websites are not built for returns; they're built for sales. A return merchandise authorization (RMA) system is an app or platform that does for returns what your shopping platform does for sales. It provides an easy-to-use, front-end solution for customers, while fully integrating with your back-end operations and warehouse/inventory systems to streamline the returns process.
A frictionless RMA system is an integral part of adapting your operations to manage growth. There are multiple RMA solutions out there that each attack the problem in different ways, but they all have certain things in common.
Improve the customer experience
Wait, what? Is it possible to reduce returns by making them easier for your customers? Yes!
Self-service portal. There are many options available, but the RMA solution you choose should be customized to reflect your brand values. For some brands, that translates to a fully branded self-service portal, to others a simple link in the footer of the website. Most importantly, it should be easy to find and easy to use, involving little to no effort on the merchant's part. The customer answers a few automated questions to explain the reason for the return and, with a few clicks, is directed to the next step.
Encourage exchange or store credit. 60% of Shopify returns are due to wrong size or color, a problem that can be solved with an on-the-spot exchange, but only if you have the technology. The more robust RMA systems can facilitate even exchanges right in the app based on the customer's purchase and responses to the automated questions. Customers that list more subjective reasons for the return, such as "changed my mind" or "didn't like it," can be offered store credits, suggested alternatives and incentives to use that credit immediately, enabling the brand to retain revenue, and in many cases, increase it.
Offer a choice of return methods. Once the return or exchange is approved, the RMA system processes the transaction and generates a return label, barcode, QR code or some other method to track the return. The customer is given instructions on how to package the item and where to take it. Depending on your brand and the RMA system you choose, they might have one choice or dozens. If your brand has a brick-and-mortar location nearby, this is often the least expensive option and increases traffic in your store. Other RMAs utilize multiple carriers and multiple drop-off locations.
Automate the refund. If, in the end, the customer demands a refund, the best experience is one that gets it to them quickly. An RMA system automates this process for you. Some trigger a refund when the return label is scanned by the carrier, others when the item is received and inspected at the fulfillment center. For the ultimate customer experience, some RMA systems process the refund before the original item is returned.
For brands that are built around creating a fabulous customer experience, a seamless returns process is integral to their online success. Other brands are less concerned with the experience than with reducing costs. The thing is, by creating an efficient, centralized system to manage the process, you're doing both.
Reduce costs
Brands focused on profitability can reduce the costs associated with returns in two ways -- by preventing more returns from happening, and by automating repetitive tasks and streamlining operations to save labor costs. Experts in returns management recommend the following:
Improve product descriptions. More photos, detailed descriptions, encouraging size information in customer reviews and providing useful (not cookie-cutter) size charts can prevent returns from happening in the first place.
Clearly communicate your return policy. Your policy should be customized to reflect your brand values and clearly communicated. Items that are ineligible for return should be clearly identified. The top things customers want to know are "Who pays for return shipping?" and "How long do I have to return it?" Making this information easy to find reduces customer service hours.
Automate your policy. An RMA system can help enforce your return policy by flagging ineligible products or discouraging the return of items that have been washed or worn. While these items may still be returned, this information may determine who pays for it, how the returned item should be handled and where it is sent. It can also help identify fraud, serial returners and credit risks. Automating this process eliminates a massive amount of work for customer service and reverse logistics teams.
Improve operations. An RMA system automates repetitive tasks such as return authorizations, customer service emails, tracking and data collection. On the fulfillment end, having this paper trail significantly reduces time spent in identifying and correctly processing returned items. Properly identified items are custom processed according to brand specifications and custom statements of work.
Gather valuable data
The returns process offers a unique opportunity to gather insights that may be negative, but can help your brand in the long run. RMA systems can be automated to collect information at every step of the process, from helping you identify poorly performing products and issues with your website, to identifying habitual returners and preventing fraud.
The larger your business and the more volume you do, the more important the ability to aggregate and analyze this data becomes. More sophisticated systems help you leverage your data to identify your most profitable customers and products, recognize trends, evaluate the financial impact of different solutions and increase profitability.
Integration with your fulfillment solution
Using an RMA solves one piece of the reverse logistics problem, but the physical movement of goods falls to your warehouse or third-party fulfillment provider. A tech-savvy third-party logistics (3PL) provider should have the ability to integrate with any RMA solution. Direct integrations with their warehouse management system allows merchants full transparency into the returns process in real time. By adding an RMA solution to the reverse logistics process, you'll save time and reduce errors on the physical end.
But, how to choose the right RMA? Ask yourself what problem you're trying to solve. Are you primarily trying to improve the customer experience? Improve operations? Get a better handle on data? No matter the problem, there's an RMA solution that can help improve your reverse logistics process.