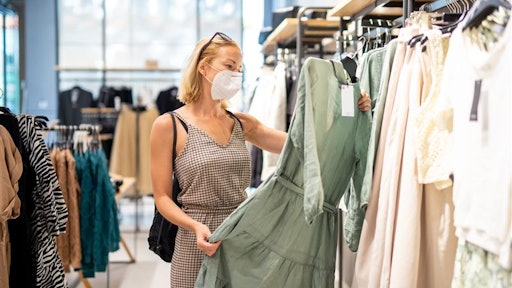 kasto - adobe stock
Retailers have struggled to keep up with the dramatic increase in returns volume during the Coronavirus disease (COVID-19) pandemic. According to the National Retail Federation, an estimated $428 billion in merchandise was returned in 2020, with many brands seeing return rates increase up to 23% from the prior year.
Despite smaller workforces due to social distancing and cooperating with repeated lockdown orders, retailers have worked hard to scale operations in support of increased demand. At the same time, many have extended the typical 30-day returns requirement, often going beyond 90 days, to keep customers happy and ensure positive online experiences in a time when in-store shopping hasn't always been an option.
In addition to the impact from the pandemic, changing consumer behavior is also contributing to the increased returns volume. For example, at-home, try-on offerings are resulting in a significant increase in units returned per order. For retailers operating in the UK and EU, the immediate impacts of Brexit, including unexpected custom charges, admin fees and VAT bills, have plunged the retail supply chain into reverse logistics chaos, with 30% of all orders being returned, according to Statista.
Returned merchandise is literally piling up. As digital-first retail continues to take center stage in 2021, it's clear that the management of e-commerce returns is an area brands and retailers can no longer afford to ignore.
Maximizing the reverse logistics operation
Retailers must make the returns process as simple, clean and effective as possible in 2021 and beyond. Ensuring the right processes and infrastructure is in place to support this critical part of the customer journey is vital to closing sales and inspiring customer loyalty.
Omnichannel approach to returns
With the enhanced shift to e-commerce in 2020, warehouse space is in high demand, including space for returns processing. According to CBRE, the additional warehouse space needed to process the increasing return rate could reach 400 million square feet over the next five years. True omnichannel solutions that connect the online and physical retail spaces through a digital-first shopping experience can allow retailers to spread out the space required to process returns, while potentially speeding up the process of getting returned product turned around for re-sale.
Substantial investments in omnichannel solutions are on the rise as retailers prepare for a new normal post-pandemic. Many are shifting from monolithic distribution hubs to a system of alternative fulfillment points (including store fulfillment, micro-fulfillment centers, pop-up distribution centers, etc.) to optimize store inventory, enable faster delivery and even provide more convenient returns options. In-store returns, designated drop-off points and "at-home pick-up" offerings are all examples of how retailers are eliminating one of the biggest pain points with online shopping.
By creating more options for returns through alternative fulfillment solutions, retailers are able to provide more convenient experiences and ultimately create greater consumer confidence as a result.
Enable the conscious consumer
It's estimated that each year, 5 billion pounds of waste is generated from returns in the United States alone. As consumers become increasingly aware of the impact their shopping habits have on the environment, this reality would likely shock most. Retailers have an opportunity to gain consumer trust by openly communicating with them about how their returns are handled and how waste can be minimized.
Clearly communicating to customers what happens to returns before they make a purchase can encourage more sustainable purchasing, helping consumers make better choices for the environment and reducing returns volume. It's a win-win scenario.
For example, retailers in the health and beauty industry are typically required to dispose of any returned product. By making consumers aware that their returns will be sent straight to landfill may cause them to think twice about over purchasing. Likewise, apparel brands who have the highest rate of returns should encourage consumers to utilize virtual try-on features via augmented reality. This can help cut down on orders containing multiple sizes of the same item, which in turn improves the lifecycle of a product by reducing the wear resulting from repeated returns.
Other sustainable options include package-less return drop-off points, establishing repair and refurbishment programs that enable items to be resold rather than going straight to the landfill, and leveraging secondary marketplaces for reselling to avoid waste.
Give returned products a second chance
If retailers don't have the resources to establish, repair or refurbishment programs for returns, alternative options are readily available. The re-sale market, according to ThredUp, is growing at a rate that is 21 times faster than the fashion apparel industry at the moment. This goes beyond apparel, though. Major companies are turning to online liquidation marketplaces or reverse logistics companies to help them sell returned goods in large quantities, by the crateful or even truck load.
Alternatively, retailers are more frequently opting to issue refunds without requiring return of the product. Processing returns typically ranges between 20-65% of the cost of goods sold. Using artificial intelligence, retailers can determine if the cost of shipping the return or the likelihood that the item could not be resold outweighs the benefit of having an item returned. Amazon first started doing this in 2017, but it has been more widely embraced during the pandemic by other major players in an effort to help manage the significant returns volume.
Seize the opportunity
Don't let returns processing be an afterthought. As e-commerce continues to grow, and returns with it, retailers and brands should consider how they can enhance the overall customer experience through the process. It is, after all, the final interaction customers will have in the customer journey. Take this opportunity to leave a lasting positive impression by prioritizing an easy, seamless returns experience for your customers.