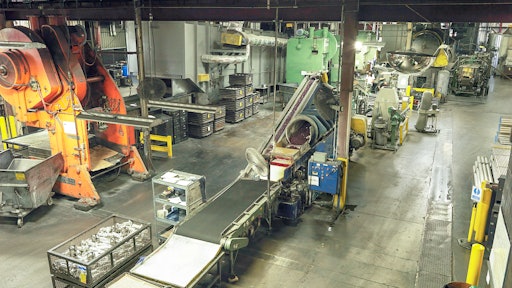 Anchor Harvey
With the ongoing Coronavirus disease (COVID-19) crisis and the looming possibility of an economic recession, the forging market is being reset to a new normal. The Coronavirus pandemic has unleashed a series of unprecedented events that are continuing to redefine and redesign the industry, driving the need to rethink long-held standard practices and adapt to evolving market conditions.
In a centuries-old industry like forging, change, which has often come gradually, is currently accelerating at a rapid pace. This sudden pace of transformation has opened the door to new possibilities, enabling beneficial supply chain revisions to material sourcing, shop-floor workflows, strategic planning and the global web of industry partnerships.
Material sourcing
The Coronavirus's spread is being felt globally across operations, with many affected regions residing at the heart of international supply chains. Faced with regional and national lockdowns, the cost and availability of materials from overseas have experienced dramatic fluctuations. While some companies are paying expedited freight costs, newly imposed tariffs and premiums to buy up the supply and hold capacity on certain materials, others have begun working through alternative strategies and re-evaluating their reliance on overseas suppliers. To reduce the dependence on foreign suppliers, many companies have started to either supplement or entirely shift their supply chain to domestically sourced suppliers.
As manufacturers increasingly opt to source raw materials from within the United States, they have increasingly gained substantial control over their supply chains. Despite having been historically regarded as more costly than overseas sourcing, domestic sourcing has always maintained an advantage in quality. This advantage in quality and reliability combined with an inherent circumvention of rising tariffs, lockdown-related shipping delays, excessive logistics costs, freight expenses, and geopolitical disagreements that can upend supply chains with little to no warning, have all brought domestic material sourcing into pricing parity or better with overseas suppliers while offering substantially less risk.
While it can be difficult to find silver linings to the Coronavirus' effects, the re-examination of supply chains, and resulting shift away from overseas suppliers, could certainly be considered one such positive outcome. Domestically sourced, higher-quality materials enable better final products, produced at the same cost with less hazard, which benefits local economies and, in turn, heightens consumer confidence and spending, improving the bottom lines for companies up and down the supply chain.
Revised workflows
For several generations, most forgers have operated with a traditional mass or batch-and-queue production system. Batch-and-queue processing, which entails several product components being processed at one stage before moving onto the next step as a group, has been increasingly recognized as operationally inefficient. Nevertheless, despite a widespread industry understanding of how batch-and-queue production tends to drive up inventory, extend lead time, and increase the floor space required for production, many have been slow to change.
However, new health regulations and safety guidelines stemming from the Coronavirus pandemic have put floor space at a premium. With social distancing becoming the new normal, the floor space needed for production items, combined with the often irregular workflow paths, in batch-and-queue processing makes the appropriate spacing of employees difficult with parts commonly requiring excess travel between work stations. To maintain a healthy and safe shop floor, many companies are re-examining, or already switching to, a one-piece cellular workflow.
As the name suggests, cellular manufacturing relies on work cells to facilitate flow, with production components moving seamlessly from one cell to the next, and almost no work-in-process (WIP) being placed on hold. The reduction in WIP substantially increases available floor space by as much as half, enabling safer, more well-spaced working environments. The shift to a cellular workflow also increases production velocity and flexibility and reduces capital requirements to the benefit of manufacturers individually and the supply chain as a whole.
Strategic planning
COVID-19 is testing supply chains like no other crisis in recent history. For many companies, the operational and financial consequences have already been severe, with planners experiencing demand drops, segmented surges, supply shortages, inventory difficulties, productivity shortfalls and unprecedented health and safety concerns. With such a multitude of complications occurring rapidly and simultaneously, many businesses found themselves essentially flat-footed, forced to take immediate action but lacking a plan or guiding methodology to do so effectively. As a result, many companies are re-evaluating the strategic thinking behind their operating procedures and long-term plans.
No longer able to rely on pre-existing steady-state models, businesses are increasingly making decisions using real-time information and comprehensive analysis. The increasing embrace of data-driven supply chain decisions is helping companies better manage the disruption amid the crisis, resulting in improved understandings of overall business capacity, production workflows, market segment diversification, sourcing strategies, and operating priorities. With adaptive, risk-based planning frameworks available in the forms of ISO 9001 and AS9100 certifications, coupled with the heightened demand for such structures amid the ongoing pandemic, manufacturers across the supply chain are already growing more robust and forward-thinking. By leveraging data, real-time insights, and thorough risk-assessments, manufacturers are creating a stronger foundation for future growth.
Conclusion
The global, interconnected web of industry partnerships is being rethought at nearly every level as a result of the effects of the Coronavirus. From the location of sourced materials and shop floor production methods to long-term risk assessments and data-based thinking, there are a variety of areas in which manufacturing supply chains stand to benefit. The pandemic has already proven to be a trial-by-fire for many companies, but by implementing responsible strategies to build more efficient production workflows and greater supply chain resilience, the industry as a whole is setting itself up to emerge from the crisis stronger than ever before.