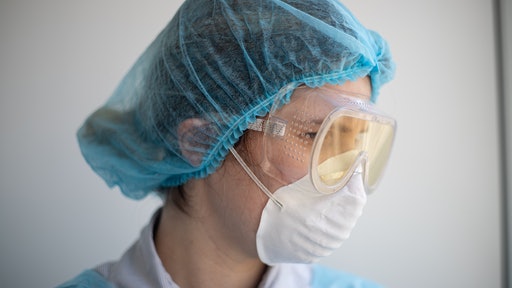 Pexels
Until recently, people have associated social media with the term "viral." Unfortunately, with the advent of the deadly Coronavirus disease (COVID-19) global pandemic, the term "viral" has regained its original perch in the science of infectious diseases.
Besides the tragic loss of life and corresponding strain it has placed upon the world's healthcare systems, the COVID-19 pandemic has given rise to collateral damage effects such as unprecedented disruptions to economies and normal supply chains of goods and services.
While slowdown in the flow of goods to distributors, retailers and consumers during the crisis may seem inevitable, one of the unintended consequences of having an international shortage of healthcare supplies is an increase in illicit commerce.
There is no group of parasites and pirates more opportunistic during a prolonged supply disruption than the counterfeiters. As part of a larger group of unauthorized traders, these criminals fill unmet (pent up) demand for goods by inserting fake versions of legitimate goods into the supply network. The counterfeiters take advantage of the vast, complex supply chains of the world, which generally lack the visibility and controls necessary to ensure the safety and efficacy of the products' performance.
These fakes range from the seemingly benign knock-off of branded goods to very dangerous product categories that require specialized manufacturing, storage and shipping requirements. In the fight to contain the virus and to treat infected patients, pharmaceuticals, vaccines and personal protective equipment (PPE) are particularly attractive to counterfeiters because the legitimate supply chains are often circumvented to expedite delivery, usually at above-market pricing.
Unfortunately, such dubious practices are quite common today because patients and caregivers are searching for products to combat the virus and therefore resort to what's called the "counterfeiter's superhighway" - the internet - for expedited supply. Counterfeiters hide behind the veil of online supply networks where, over time, consumers have embraced the instant gratification of next day delivery (fulfillment) over the more traditional factors of price and quality. And, if retail locations are off-limits, as is the case with social isolation, then internet sourcing makes perfect sense.
The size of this problem is staggering. Even before the Coronavirus was unleashed on the world, it was estimated that by 2022, counterfeiting will be a $4.2 trillion industry, and global damage from counterfeit goods will exceed $323 billion.
During the pandemic, e-commerce is undergoing a transformation that is putting a huge strain on supply chains. As manufacturers struggle to speed up production, shortages of basic items are rampant due to lack of resources from other countries and shorthanded staff. It's also a problem for many marketplaces worldwide. For instance, Amazon recently announced that it was halting its third-party delivery service. Instead, it is focusing on supply chain issues, stocking products, staffing and disruptions in the warehouse.
This chaos leaves an opening for counterfeiters, who like hackers, are extremely opportunistic. As shoppers realize they have nowhere else to go and turn to online shopping, counterfeiters are seizing the opportunity to prey.
So far, Amazon has banned more than 1 million products claiming to protect against or cure an incurable virus. China has confiscated 31 million knockoff face masks. Counterfeiters have been caught selling or advertising face masks, lab coats and infant gas masks on Facebook, Craigslist and Etsy. On the latter, more than 200 postings have been removed. Most recently, 3M received reports that third-party sellers are posing as the manufacturer and selling overpriced fake masks.
But, these cases are only a sampling of what's been reported. We've only begun to scratch the surface.
Since the pandemic worsened in March and April, the number of counterfeit detections have increased 38% across apparel, toys, home goods, accessories and sporting goods. However, this does not mean that counterfeiters stop there. The Federal Trade Commission (FTC) recently warned consumers to be wary of scammers selling face masks and toilet paper; dozens of people have reported to the agency that goods they bought online simply never showed up.
Counterfeiters are opportunistically selling goods such as hand sanitizer and face masks that could gravely impact the health and well-being of ordinary people and first responders. In addition, counterfeiters won't wait for the economy to rebound to take advantage of other e-commerce categories that are thriving, such as games, leisurewear and pharmaceuticals.
Brands would do well to understand how these bad actors fool consumers and the types of platforms they're leveraging for their illegal activity. They must consider how the recent shift in consumer shopping behavior, and counterfeiters' motivations, will impact their businesses in today's new reality before it's too late.
For those scouring the internet for PPE, understanding how to spot a fake in the wild is the best line of defense against purchasing fake or low-quality products. Price is usually one of the first indicators that an item is fake. Counterfeits tend to be cheaper than genuine brands, so consumers should be wary of unusually low prices, which tend to mean that the product is made from poor-quality materials and does not comply with relevant safety standards. If you're eyeing protective gear online and the item doesn't seem authentic, contact the seller and ask about their supplier quality assurance processes.
In general, if the seller is reputable, they'll typically have inspection and authentication procedures in place, as well as technicians who inspect their goods for quality.
So, what's the broader, more universal solution here? How do we expedite the delivery of genuine life-saving goods to epidemic treatment sites without unintentionally bringing sub-standard or fake goods to bear on the problem?
The answer is to disinfect the legitimate supply chain from fake goods by employing state-of-the-art track-and-trace technologies. By adding more visibility and control to the commercial flow of goods from their production source to the point of use, the likelihood that fake and falsified products are inserted into supply networks is greatly diminished.
The technology that enables this safeguard of the supply chain is the application of unique electronic serial numbers to each unit of packaging. These unique numbers in the form of 2D barcodes allow goods to be scanned for authenticity in and out of each point of sale, commonly known as a product's chain of custody. Then by uploading these scans to a central database, legitimate commercial partners in the supply chain can track the goods ostensibly assuring safe and secure passage to their intended destination.
Pharmaceutical treatments and vaccines, for example, must be shipped, handled and stored under strict guidelines pertaining to temperature and humidity. By tracking the movement of drugs throughout their supply chain journey, caregivers can be assured that their patients are administered safe and effective therapies. The same security assurance is needed for personal protective equipment as well as for medical equipment and other hospital supplies.
Product serialization is powerful tool in the fight to contain the spread of COVID-19 virus. By combining such technology with other product authentication methods and sound commercial practices, today's legitimate supply chains are then best equipped to spread a 'contagion' that is good for society- one of safety and security that delivers genuine products where and when they are needed.