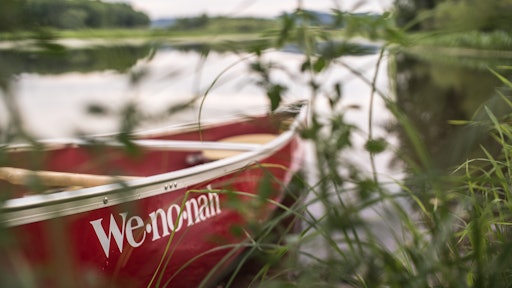 Wenonah canoe literature proclaims, "When the bow and your heart are pointed in the same direction, each stroke brings you closer to something beyond your destination."
It's a statement owner Mike Cichanowski has taken to heart his entire life; first as a young boy cultivating a love of paddling, later as a teen building wooden and eventually fiberglass canoes from the family garage, and finally as an adult fashioning his craft into a thriving canoe business that turns 50 this year.
As Wenonah's competitors have sold their assets to holding companies or moved manufacturing overseas to the lowest bidder, Cichanowski has stayed the course, keeping the company's manufacturing facilities securely anchored in Winona, Minnesota, near the banks of the Mississippi River.
And, though the company has grown from a single employee to more than 70, from a small garage to 140,000 square feet of operational space, and from a single product line to one that also includes kayaks and stand up paddleboards (SUPs), Wenonah has never lost its family feel. In fact, there are still times when Cichanowski and his team host shareholder meetings around a kitchen table and sneak out early on a Friday to paddle the waters of the Great River.
Here, from his modest office lacking in traditional executive accoutrements, such as a massive and polished wooden desk and king-sized leather office chair, and in a town of just over 27,000, Cichanowski has built a paddling empire that adds American-made to its long-list of achievements.

Born in the USA

"We were American-made before American-made was fashionable," says Bill Kueper, Wenonah vice president. "When this business started 50 years ago, we were American made, and we are still American made today."
It's a concept that isn't likely to change as Kueper explains manufacturing in the USA gives the company better control over the products it makes. "We can do customized products in a timely fashion because there is no overseas shipping. We have better control of our inbound supply chain. Everything playing into quality and oversight is here."
The company receives the bulk of its raw materials from U.S. manufacturers. Most of its canoes are made of Kevlar, an aramid fiber produced in Richmond, Virginia, by DuPont USA. Kueper explains the company prides itself in staying away from faux Kevlar, preferring instead the lightweight properties and superior durability of the real thing. In addition, aluminum trim comes from Iowa, and the rivets used in every model are purchased from a U.S. distributor.
"The tricky thing with supply chains is how far back do you go? Do you go all the way back to dirt?" Kueper asks. "Our high-value, quality parts and pieces, and raw materials, are all from the U.S."
A Dive into Diversification
Royalex canoes were once a big part of Wenonah's canoe line. The product enabled Wenonah to earn a reputation of not only having the lightest Kevlar canoes in the industry but also the slightly heavier, more robust and price-sensitive Royalex canoes. All that changed, however, in 2014, when the sole manufacturer of Royalex sheets shuttered the enterprise.
"We were the largest producer of the Royalex canoe in the world, so this was a huge blow to us," says Kueper.
Wenonah shifted some of the former Royalex sales into robust composites utilizing Kevlar, fiberglass and Tuff-Weave. The resulting canoes were lighter than Royalex canoes but not suitable for demanding situations like whitewater. These composites take more labor in the build process, and the price points were higher, so the company has never returned to the production levels experienced in Royalex's heyday. For this reason, it has made sense for the company to diversify its business and move into the SUP industry.
The journey to diversification actually began years earlier when a history of collaboration with Current Designs' kayaks led to Wenonah acquiring the Victoria, British Columbia-based company. After the purchase, Wenonah continued to operate its Canadian factory. However, the logistical challenges of operating a factory on an island eventually led to the company moving kayak manufacturing to the United States.
"It's not a good place to manufacture for global distribution," Cichanowski explains. "It's challanging because raw materials and finished goods must ferry to and from the island making it expensive to do business."
Kueper adds this move, enabled by a JOBZ grant from the State of Minnesota, packed financial benefits as well because both canoes and kayaks use the same fabrics and resins. Before the move, Wenonah was unable to take advantage of supplier discounts because materials were being shipped to different locations. The move also enabled the company to combine the two division's customer service departments and other operations.
In 2011, the company acquired QCC Kayaks, which made boutique high-end composite boats, and in 2014, right after the company learned Royalex was going away, Wenonah acquired the C4 Waterman brand of SUPs. The company now offers more than 40 different boards.
"Having these product lines here gives our sales force the ability to say, 'I can take care of your canoe, kayak and SUP needs,' " Kueper says.
Talent in the Workforce

The Midwestern work ethic is known far and wide, and here in small-town Minnesota, Cichanowski has seen this bear out as the company hires and trains craftsman to do very specialized canoe and kayak building. The Midwesterner's proclivity for hard work is another reason behind Wenonah's decision to stay in the states.
"You're not going to find an experienced canoe man, someone who already knows how to do the work," says Jim Brown, company president. "We might find someone with an adaptable skillset, but not someone who necessarily builds canoes."
Though the company unearths the right skills in its workers through on-the-job training, Brown admits Wenonah is not immune to manufacturing's skilled labor shortage. He explains the river city has a very diverse manufacturing base, making the labor market extremely competitive; everything from a global music printing company to apparel and chain manufacturers call Winona home.
The company navigates this challenge by offering a competitive compensation package that includes a 401K match and a 4/10 workweek. And, for those paddling enthusiasts in its midst, there is a program that allows employees to earn points toward product purchases.
Once employees are onboard, Kueper points out they keep them there helping them further their skills. For instance, the company's North American sales manager was formerly its logistics manager, and before that, he worked in canoe production.
"He showed an interest, he showed potential and we promote from within," Kueper says.
With a solid product line in place and new developments in the works, it's safe to say this Minnesota company will be navigating the waters of change to keep its operations onshore for some time to come.