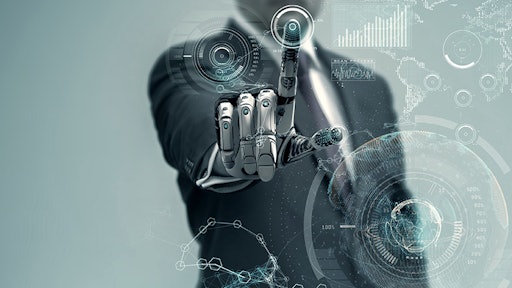 What's in a word? Plenty when that word is digitization.
Research from the Center for Global Enterprise (CGE) predicts that digitizing the supply chain has the potential to lower procurement costs by 20 percent, reduce supply chain process costs by 50 percent and increase revenue by 10 percent. With stakes this high, it is no wonder digitization tops many company priority lists.
However, as digital innovation ramps up within firms, it places pressure on the traditional procurement model, which must evolve to meet new growth, cost and risk objectives. The "Deloitte Global Chief Procurement Officer Survey, 2017," finds today's CPOs state their top goals include improving agility, responsiveness and customer centricity while supporting the company's digital transformation.
But, with many procurement operations reporting just a 1 percent increase in their operating budgets for 2017, charging into the digital frontier presents a few challenges. Consider that Deloitte's survey also finds that 90 percent of survey respondents believe their industries will be disrupted by digital technology, while just 44 percent indicate they are adequately prepared for these disruptions.
The Hackett Group's sourcing and procurement benchmarking research for 2017 made similar discoveries. The consultancy's analysis found nearly 85 percent of all procurement organizations believe digital transformation will fundamentally change the way they deliver services over the next three to five years. The study also revealed that the use of cloud-based applications, advanced analytics, robotic process automation (RPA), mobile computing and Big Data also are expected to grow dramatically. Yet, just 32 percent of procurement organizations responding to this survey report having a formal digital strategy in place, and only 25 percent indicate they have the needed resources and competencies in place today.
The overall theme that emerges is procurement can play a key role as analytics, robotics and other technologies creep into corporate strategies. But, Ryan Flynn, principal at Deloitte, says, "CPOs first need to think about how they can use digital to transform their own operations."
Put Procurement in the Digital Picture
Dr. Gordon Murray, a strategy and change management specialist with procurement expertise for Tata Consultancy Services, reports digital technology can "deliver improved procurement performance through reduced costs, faster access to procurement platform solutions, accelerated access to information, flexibility in working, increased innovation and creativity, and improved procurement intelligence."
While Murray highlights the potential for true transformation, Patrick Connaughton, senior research director at The Hackett Group, warns he's found when company leaders discuss digital transformation they often do so in the context of how the company can better support the end consumer. As such, the process transitions to more of a sales and marketing type of digital enablement. This, he says, is shortsighted because digital also can transform the back office and propel procurement forward.
Procurement's digital potential is often limited by a lack of insight into how digital can impact procurement operations, stresses Kay Ree Lee, the director of Value Realization for SAP Ariba. He explains, "Some companies have a basic understanding of digital procurement, while others are more advanced in their thoughts about it. At the very basic level, it involves conducting transactions on the network or in the cloud, while on a more advanced level it includes things like artificial intelligence, Big Data, blockchain and more."
In most cases, procurement, like many other company operations, has already moved down the cloud computing path, which is a positive first step, notes Flynn, but he adds it's time to begin thinking about cognitive analytics, which Deloitte defines as "a term used to describe how organizations apply analytics and cognitive computing technologies to help humans make smarter decisions."
"Things like cognitive spend analytics, crowd sourcing in the information technology space, using machine learning to pull content from thousands and thousands of contracts, and predictive analytics are rapidly maturing, and more and more companies must begin to adapt," Flynn says.
A Bonanza of Benefits
Predictive analytics helps procurement better forecast risk, which can significantly impact a brand and its margins. And, it encompasses more than just a supplier's financial liability; advanced analytics can help procurement perform predictive forecasting to better understand a supplier's impact. Because of its potential to make a difference, Connaughton indicates, this is an area procurement can focus on right away.
Lee points out SAP Ariba already offers companies a means of tracking suppliers, but stresses the company's products also include a predictive analytics engine designed to forecast risk for every supplier. "You also can tweak how you think about risk," he says, because one company may define risk differently than another. "This allows a company to predict outcomes instead of looking back; they know Company A has historically had certain challenges and can plan their outcomes from there."
Digital technologies also allow procurement to review the stakeholder experience in order to provide an intuitive, streamlined buying experience. In this way, procurement can add in enabling technology that makes stakeholder's lives easier. The effort builds trust and helps procurement gain organizational support to take on higher-value work. "Stakeholders want to find the supplier they need quickly, and may be asking how they can find something that is going to let them be more innovative," Lee stresses. "Modernizing the buying experience is also part of the digital transformation."
Digitization also can help procurement gain a better handle on advanced vendor-managed inventory processes. Digital offerings can provide alerts when raw materials will be arriving late, so a company can make adjustments to avoid stock outs. "This can help take working capital out of the system for the overall organization," states Rich Katz, chief technology officer at Elemica, a company that markets products designed to automate supply chain processes. "It provides a bigger picture of what the company is trying to achieve from a financial perspective."
Overall, Katz stresses procurement digitization helps companies reduce risk. "Any advanced warnings about supply shortages can be addressed in a way that avoids plant shutdowns, which can be terribly expensive," he says.
Flynn agrees, "There's a huge opportunity to be more predictive at managing risk across the organization, especially in risks that require you to look across your entire supply base. Digital procurement allows you to get visibility down the supply chain to help companies get ahead of potential supply disruptions."
Taking the Next Step
"It is key for companies to do a readiness assessment that asks: 'How prepared are we for digital transformation?" states Connaughton. "To fully understand the level of effort that's going to be required they need to know how ready they are, and if there is a plan in place to improve the buying experience or for advanced analytics, for example. That assessment is really the first step."
The Hackett Group's research then details four additional areas to focus on as companies seek to digitize procurement:
1) Improving the Stakeholder Experience: Top-performing procurement organizations already have unearthed most of the significant opportunities for cost savings and efficiency gains, and many are now focusing on improving the stakeholder experience as a way to create additional value. Raising stakeholder satisfaction is a strong strategy to help procurement gain organizational permission to take on higher level work. The Hackett Group's research identifies three key strategies in this area: Build an omni-channel and personalized stakeholder experience, measure value beyond savings, and segment the stakeholder community to find the right service level mix.
2) Orchestrating a Procurement-as-a-Service Portfolio: An "as-a-service" portfolio refers to streamlining the buying experience and creating an organizational model that permits procurement to be closely aligned to its primary stakeholders, so it can react quickly to changing requirements. To achieve this, The Hackett Group advises procurement to develop a well-balanced portfolio of sourcing and purchase-to-pay service offerings, rebrand the procurement organization to increase awareness and influence, and optimize the use of centers of excellence and placement of resources globally.
3) Setting a Foundation of Analytics-Driven Insight: As procurement's role matures from transactional facilitator to trusted business advisor, a key enabler is proficiency with Big Data, next-generation analytics that offer an unprecedented ability to quickly model massive volumes of structured and unstructured data from multiple sources. To take full advantage, The Hackett Group advises procurement to invest in training for analytics, center of excellence and special projects teams; deliver new forms of market intelligence, in part by using third-party category intelligence reporting services; and mitigate risk through predictive forecasting.
4) Leveraging Technology to Accelerate Transformation: Technology is at the heart of any digital transformation. To ensure a successful transformation, The Hackett Group recommends finding the right mix of suite versus niche software solutions, building flexibility into the roadmap to take advantage of emerging technology, and helping to improve technology sourcing for the company.
Identify the Quick Wins
The next step is to decide high-value items to tackle first. Perhaps RPA makes more sense initially then full-blown cognitive computing, for example. "If procurement is looking for quick-win automation, RPA is a good place to start versus having some holistic predictive cognitive risk forecasting tool," Katz says.
Another easy area to tackle, says Katz, is transactional sourcing. "The quickest thing to automate is transactions; purchase orders, shipping notices, etc. are easily automated in the digital world."
The challenge, says Lee, is that not all companies know what to do with their data. "They need to consider how they take what they have in terms of data, make sense of it and then use it for the good of the company and its goals," he says.
Flynn states that procurement has always struggled with its use of data, and stresses these operations need to invest in their data and their analytics capabilities. "This includes their vendor data as well as item data about what they are buying. They need to be able to take that data, cleanse it and then analyze it quickly to find opportunities," he says, noting he sees real opportunity in using artificial intelligence and machine learning to draw insights that can help procurement leverage spend across the organization.
The key is to have companies start small, pick a couple of solutions that make sense, and phase them in over time. "They might want to explore solutions that can leverage existing systems and data, and don't require a huge transformation for them to do it," Flynn says. "They can move quickly with these solutions to quickly build out some successes."
Flynn also encourages procurement to "think big" about the technology that might transform the operation five to 10 years down the road. "They need to consider this from an operating model and a skills perspective, so that they connect the overall strategy, the operating model, the talent strategy to where you want to be as an organization in the future and how you want to leverage additional technologies."