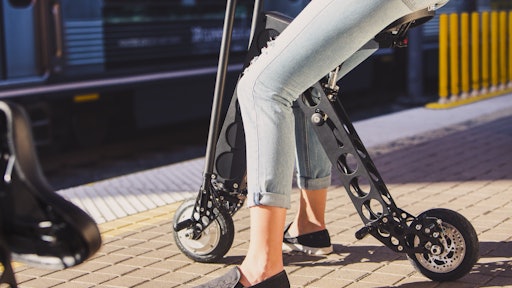 What if you could live in a world free of traffic jams and desperately searching for parking? You can with the URB-E from URBAN626. Peter Lee, CEO of URBAN626, conceptualizes the URB-E as an efficient problem-solver for the last mile within cities or what he calls the micro mile. While public transportation and other, newer transportation options—like Zipcar, Uber and Lyft—partially solve the last-mile issue, they leave a lot to be desired when you do not have access to them, or their availability or punctuality is not up to par—for instance, when your meeting starts in 10 minutes across a gridlocked city. The URB-E, in contrast, can zip right by and through traffic on sidewalks and in bike lanes, offering more freedom of mobility to the time-strapped consumer.
The URB-E, which stands for urban electric, falls into the electric vehicle market, but it's in a class all its own. It boasts a compact, foldable design; a 20-mile range; speeds of up to 15 MPH; the ability to charge in four hours; and a weight of approximately 35 pounds, so you can fold it up and carry it on the bus, in the cab, on the train or even use it to cart your groceries through the supermarket. URB-E acts a security blanket, solving the micro-mile trap and filling the gap in transportation options.
Like all transformative transportation inventions—the automobile and the airplane—URBAN626's URB-E is a quintessentially American product. It was not only designed and produced in the United States, but it was also invented, patented and sourced here. It's not a bike. And it's not a scooter. There are no pedals, nor floorboards. Users simply control the throttle with their hand, similar to a motorcycle, for speed and the URB-E cruises around with steering that simulates that of a bicycle.
Its invention was kind of a fluke. Companies were soliciting the students of Grant Delgatty, a product designer and instructor at the ArtCenter College of Design in Pasadena, California, to try to solve the last-mile obstacle. When he had an epiphany about what a pain point the last mile can be for city-dwellers, students and other transportation-savvy people, he started to develop his own ideas. Eventually, he crafted a prototype of a foldable, lightweight, minimalist contraption that was powered by batteries. From there, he teamed up with Porsche lead engineer Sven Etzelsberger to set the cornerstone of what was to become URBAN626.
Why Pasadena?
Most URBAN626 employees—and even the founders—live in or near Pasadena. Lee thinks it was beneficial to locate the business close to home: "When you're focused on building something, and inventing something, and establishing a movement that simply did not exist before, you can't waste time going back and forth. Everything needs to be focused on communicating and innovating and executing."
Initially, the URB-E prototype was launched as an Indiegogo campaign that garnered positive feedback. But as Lee puts it, "Like many Indiegogo and Kickstarter campaigns, it's one thing to have a prototype; it's another thing to have a product that goes to market, and is consistent and able to withstand the pressures of the consumer mass market. In this space, you see a lot of product that is out there that comes from a good idea or prototype, but [these companies] are not able to go to market because they're not able to produce."
URBAN626 overstepped the production obstacle early on by establishing a supply chain in California, which boosted the company's agility, and therefore, speed to market. According to Lee, "We identified California as having a very robust computer numerically controlled (CNC) and manufacturing heritage that is borne out of the aerospace industry. So we just tapped into that. We now have a really robust supply chain and some of the best fabricators who have, for 20 to 30 years, produced parts for Boeing and Airbus and SpaceX."
Pasadena is also a natural environment for a startup because it's located within proximity of The California Institute of Technology (Caltech), a school from which, Lee says, NASA pools their engineers. The College of Design (ArtCenter)—a product design school—also calls Pasadena home. The combination forms a favorable environment for a startup to recruit talent to innovate new products. A year ago, there were four people total, including an intern, working at URBAN626, but now, the company has 22 employees on its payroll.
Why Made in the USA?
Being able to collaborate with suppliers and partners that are experts in their particular fields is the main reason that URBAN626 decided to source and produce the URB-E in the U.S. Of the company's suppliers, Lee says, "We don't just ask somebody to make a widget and they make a widget. We ask them to make a widget and they come back to us and say you can make this widget better. They're not just spitting product back to us. They contribute to the process by sharing with us their manufacturing expertise."
According to Lee, there are three concessions that you must make to manufacture in China: good communication, quality control and transparency. "For URB-E and for the product we're making and the company we're establishing, those are concessions that we just couldn't take a chance on. We also focus on innovating and designing quickly, and having a two-week delay, and sending things over to China and getting feedback, and spending time explaining, that is time wasted."
By establishing a U.S.-based supply chain and leveraging its network of manufacturing experts, URBAN626 thought it could make up any loss that it may incur by choosing to use more expensive labor by increasing its speed to market, innovation and quality. Lee concludes, "We're not using made-in-the-USA as an advertising component or strategy. We use made-in-the-USA because it's the only way to make the URB-E."
For more information, please visit www.urb-e.com.