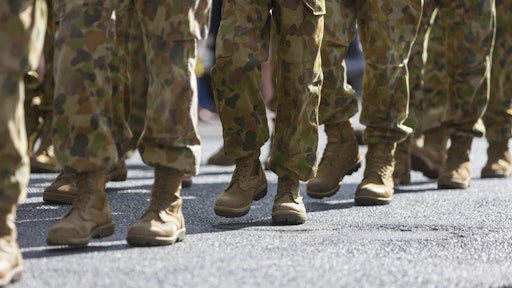 The U.S. Army had a supply chain problem. After 12 years of war in the Middle East, withdrawing from Iraq and pulling out of Afghanistan, the Army, like all branches of the military, had to shift to a peace-time footing.
Cuts are planned to strip the Pentagon budget of $1 trillion over the next decade. With Afghanistan operations winding down, inventory requirements are changing dramatically and billions of dollars are at stake, meaning accurate forward planning has become critical. In one significant corner of this sprawling organization is Army Materiel Command (AMC). It's taking a fresh approach to managing operations and revolutionizing forward planning and providing to provide dramatic cost reductions.
AMC is a 65,000-employee operation, responsible for planning "all things logistics" for the Army—transportation, sustainment, clothing, armament and battlefield movements.
"If a soldier eats it, drives it, shoots it or flies it, AMC supplies it," AMC's Principal Deputy Chief of Staff for Logistics and Operations Planning, Jim Dwyer is quoted as saying in a case study of the U.S. Army published by Oliver Wight. "Our role is to keep the Army's combat systems running; everything from the M1 Abrams tank to the Black Hawk helicopter."
As the senior civilian logistician at AMC HQ, Dwyer, who previously spent 27 years in the Army, rising to Colonel, has synchronization responsibility for all AMC logistics functions and overall responsibility for budget allocation to AMC's three subordinate "Commands": AMCOM (Aviation and Missile Command); TACOM (Tank-Automotive and Armaments Command); and CECOM (Communications-Electronics Command). Seven years into his current role, Dwyer understands first-hand the importance of meeting the needs of his customers: "I truly believe that if a weapon system isn't operating at peak performance, then we're putting soldiers at risk."
Yet, despite the war coming to an end, and budget cuts looming, spend on inventory wasn't reducing accordingly. "Our workload is dropping and we have to be more frugal with our dollars. The problem was, all our inventory models were based on the demands of being in theater and we needed a more forward looking system."
To help with this huge project, AMC turned to Oliver Wight, which implemented an Integrated Business Planning (IBP) program (the first of the services to do so).
"They knew they'd have to cut budget, but there was little visibility," said Jon Minerich, Chairman of Oliver Wight Americas. "They had data, but it wasn't usable. We helped them look into demand. They had all the information in their ERP, but no way to get at it."
AMC also had to deal with inventory balances that were based on current rates of supply, but again, didn't have enough visibility or information to make decisions.
The Oliver Wight team used IBP to help the AMC look 24-36 months into the future. "They were astounded to see the amount of inventory they would have if they didn't take action," Minerich explains. "We got their plans and schedules in order and they saw the impact as it brought down the inventory. We also put in a new tool for their ERP system to help them get control of inventory quickly."
It worked. AMC cut inventory by $4.5 billion in 12 months and projects annual savings of billions of dollars over the next 10 years. Annual storage costs have been reduced by $60 million and inventory staff has been reduced by 50 percent.
AMC's Dwyer says in the U.S. Army case study, this was done, "without any degradation in readiness. Not only that, because of the way S&OP allows us to look ahead and be proactive, we can also see billions of dollars of opportunity cost savings way into the future. Our ROI will be measured in billions of dollars every year for the next decade. We're only just seeing the tip of the iceberg in terms of its potential."
Once it got rolling, that is. "There was huge resistance from the Army up front until we showed them IBP," Minerich says. "Then everybody was motivated quickly. There were no politics to debate. When they decided to execute, they did it extremely well. With other organizations, it takes a while to make changes throughout."
Oliver Wight's approach to change management, which it calls a knowledge-transfer process, is three-pronged: Leadership, Transformation and Ownership. In the Leadership phase, the executives are taught their change management responsibilities, and how to employ them. In the Transformation phase, Oliver Wight works with the core team—representatives from all key areas—to design a more detailed education process and create an in-house team of experts to train others, which leads to the Ownership phase. The in-house team conducts its own "cascade of information" to train their own people.
For the Army Materiel Command, it paid off in billions of dollars.