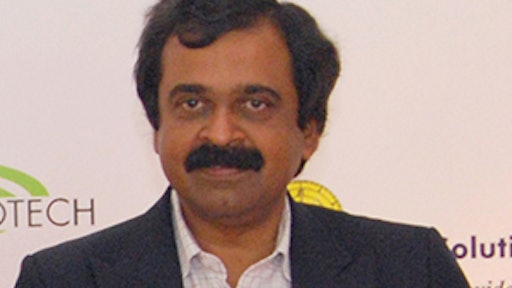 Sales and operations planning (S&OP) is always viewed as a key tool for managing complex supply chains. However, organizations don't seem to be able to realize the full advantage of S&OP processes. They continue to face a multitude of challenges, such as the need to increase their product portfolio, shorten the product lifecycle, ensure correct timing of new product launches and product phase-outs, analyze what-if scenarios and replan, mistrust S&OP data, functionally silo participant behavior and so on.
To make S&OP work, organizations need to create strategic alignment across functions supported by robust S&OP management processes. With the ever-increasing complexity and S&OP processes maturing, investment in a versatile tool becomes imperative. While the tool space is maturing, there were two clear inhibitors in the past—the data management challenge and the process adoption challenge. This paper focuses on analyzing the S&OP space and the key needs for large-scale adoption.
The Organization Lever for Balancing Competing Objectives
Manufacturing businesses face competing and/or non-aligned objectives from three key internal stake holders: finance, sales and marketing, and operations. Often, function-specific objectives and company objectives are neither well-defined, nor properly aligned. Different functions work on their individual objectives, achieving local optimization, while adversely impacting the overall business performance.
What Breaks S&OP?
Although companies appreciate the importance of S&OP as a concept to balance the demand and supply, and align the objectives of key functions, they face many challenges largely on account of the lack of process maturity and difficulties in process execution.
From our experience, the fundamental reasons why S&OP processes across companies fail in their objectives are:
The S&OP processes focus more on product mix than volume.
A lot of time is spent on validating data.
There is minimal involvement of senior management in S&OP meetings.
Measures are not defined for gauging S&OP process performance.
The absence of real-time information for what-if business scenarios results in poor decision-making.
Assumptions made in S&OP meetings are not revisited in subsequent meetings.
A shorter planning horizon leads to an insufficient lead time to implement decisions.
Business plans are not updated in line with S&OP, which leads to a disconnect between the two plans.
Decisions that are made in S&OP meetings are not adhered to.
Most of these challenges can be categorized into process maturity challenges, process execution challenges or tool challenges. As an example of a process maturity challenge, most organizations today have S&OP processes that help to match demand with supply, but financial considerations are conspicuously absent. Likewise, poorly defined S&OP processes compound the problem.
Typical process execution challenges include the management of exploding product groups and shelf-keeping units (SKUs), especially when the data for S&OP doesn't automatically come to the S&OP tool, or in scheduling new product launches.
Further, S&OP processes are constrained because of two major reasons:
The lack of a tool to act as a single source of data for S&OP.
An inability of the S&OP tool to perform what-if analyses.
A Quick Examination of the S&OP Tool Space
Most organizations today lack S&OP maturity not only because of the reasons enumerated before, but also due to a lack of appropriate tool support. There are many S&OP solution providers, including Steelwedge, OM Partners, SAP, Oracle, JDA, Kinaxis, IBM Cognos, Logility, etc. Apart from acting as a single source of truth, these tools provide key functionalities like:
Collaboration support.
Supply chain modeling.
Financial impact analyses.
Scenario management.
Workflow management.
What-if analyses.
Some of these solutions integrate well with transaction systems like enterprise resource planning (ERP) systems, advanced supply chain planning systems (APS) and customer relationship management (CRM) systems. Further, to get the best results and return on investment from S&OP tools, the organization must be sufficiently mature in which S&OP acts as a tactical tool to drive profitability, achieved by utilizing key functionalities of S&OP tools like supply chain modeling, financial impact analysis, scenario management and what-if analysis.
S&OP Best Practices—The Keys to Success
In addition to the factors listed above, there are a few best practices that are fundamental to S&OP success. These include:
Orchestrate and manage S&OP processes with a defined cadence for various process steps and activities, and ensure process rigor in executing consistently.
Persistently manage data because the data requirement for S&OP can be enormous, especially when done for all product families, and manual data entry takes significant time. In order to sustain S&OP processes in an organization, it is important to automatically feed data from different sources, including ERP, to ensure that the S&OP tool acts as a single source of S&OP data for the organization.
Identify and implement the right S&OP tool to provide the desired process automation support for the organization.
Measure S&OP performance and qualify the success of an S&OP process investment.