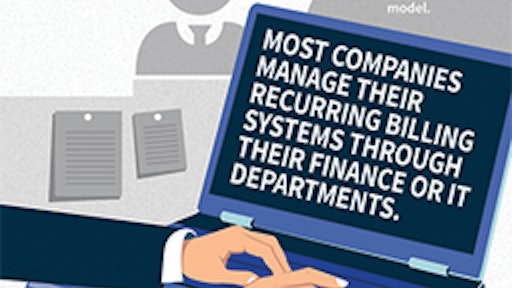 Today, even the largest of enterprises in both the private and public sectors are adopting subscription, or recurring revenue business models, an approach once largely relegated to the sale of insurance, music, movies and a few other limited items online.
In recent weeks, we saw many Fortune 1000 businesses and other entities adopting this approach as a way to tap new customers and expand sales, not to mention smooth out revenue flow.
Target stores, for example, recently announced that it is using subscriptions to sell and deliver baby supplies to new moms and dads. Toyota Motors announced in recent weeks it is going to sell annual subscriptions for its onboard navigation services in Europe. In the public sector, the North Carolina Lottery announced in late September that it is offering subscriptions to increase participation in select lottery games.
The fact that these large-scale enterprises are adding subscription models to their businesses comes as no surprise to those of us who have labored in this industry. But adopting the model is not without challenges for many companies.
Aria Systems recently commissioned survey firm Gatepoint Research to look at the phenomenon, and ask executives and managers about the many hurdles involved in adding recurring billing to their legacy systems.
The study, conducted by email, included results from a poll of 103 high-level executives, mostly those employed in product, operations and finance functions. Forty-five percent hold the title of manager, 51 percent are directors, and 4 percent are vice presidents or C-level executives.
Of the businesses represented by the survey participants, 72 percent have annual revenues of less than $250 million; 8 percent between $250 and $500 million; 10 percent between $500 million and $1.5 billion; and 10 percent greater than $1.5 billion.
The responses were interesting, to say the least:
42 percent of respondents said they use homegrown billing systems in their organizations. Of those, 40 percent expressed low levels of satisfaction with their system.
34 percent manage more than 10,000 subscribers or customers.
67 percent are using a flat subscription model.
Most respondents said they manage their recurring billing systems in house—through their finance or information technology (IT) departments.
They said they most valued tiered usage models (52 percent), a flexible product catalog (47 percent) and channel/reseller management (43 percent).
80 percent said they use, or plan to use, software-as-a-service (SaaS) or cloud-based billing services, while 31 percent said they considered themselves "mature users" of SaaS.
Of those who have not yet moved to the cloud, 35 percent report being unhappy with their current solution.
But perhaps the most significant question in the survey was whether or not responding executives are satisfied with their existing recurring revenue billing functions:
Only 75 percent of respondents answered the question.
25 percent answered not applicable (N/A) or declined to answer.
42 percent said they were in the "satisfied" to "very satisfied" range.
25 percent were non-committal, giving a rating of three on a scale of one to five.
8 percent rated their satisfaction level at a one or two rating on a scale of one to five.
Now, my mom always taught me that if you can't say something nice, it's better not to say anything at all. I have to wonder if the same principle is in play here, too. Rather than outing their existing solution as less than desirable, respondents chose to say nothing at all. I don't know how else to account for the non-response from a quarter of the participants.
Beyond that issue, I see three important findings in this survey.
If you assume that more than half of respondents aren't satisfied with their current solutions, and half are either moving or looking to move some or all of their billing to the cloud, then factor in data from earlier surveys indicating that more than 43 percent of companies already have recurring revenue streams, we can see that the data paints a rosy picture for the future of the cloud billing industry.
The second finding relates to the current landscape and future direction of recurring billing. The data shows that many businesses are operating more than one billing solution. That's not unusual, but it does point out an opportunity for those businesses to reduce costs through consolidation of their systems.
Most responding executives indicate a desire to move to cloud solutions for some or all of their billing. These businesses are looking for solutions that can support sophisticated consumption-based revenue models and flexible product catalogs. The cloud billing industry cut its teeth on subscriptions, but the data from the Gatepoint Research study seem to indicate an opportunity for providers who can prove the ability to support a wide variety of consumption-based use cases.
The fact that 80 percent of respondents in this survey are looking at the cloud points to the challenge for traditional software providers that don't want to be left behind.
The third key finding relates to the growing complexity of business relationships. Forty-three percent of respondents listed channel/reseller management as a high-priority item. That response represents a growing trend and provides another challenge for billing providers. This is an area in which many businesses still rely on spreadsheets and the need for new systems is clearly evident.
The entrance to New York's Natural History Museum features two impressive dinosaur skeletons—the finest that I have seen in my travels. One of the two on display, a raptor, looks ready to jump off the pedestal and devour the next busload of tourists coming through the entryway. Those dinosaurs are cool, but keep in mind, they're also extinct. They couldn't adapt to a changing environment and ended up as museum exhibits.
The marketplace is changing, too, with businesses reaching out to grab onto the benefits available in long-term recurring revenue relationships with their customers. For many companies, the highest hurdle in adapting to competitive changes is not the willingness to experiment with new revenue models. It's the limitation of legacy billing systems designed for one-time transaction models.
Indeed, many businesses find they are stymied by old technology when making the shift to new revenue models. They want a flexible, cloud-based billing system with few limitations so that they can offer a mix of pricing and billing models.
For billing providers, it may be an adapt or die moment, as those with the most robust recurring revenue solutions have a distinct competitive advantage. Those that can't adapt to this new reality may ultimately become museum pieces alongside those dinosaurs at New York's Natural History Museum.