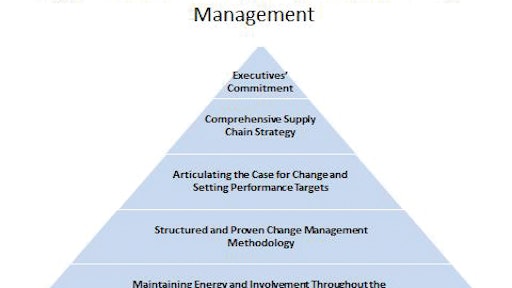 In response to the dramatic changes in the business landscape over the past few years, many companies are launching business transformation programs to drive sweeping changes in their supply chain processes. Some examples to these changes are exploring new sourcing networks, establishing collaborative forecasting process, optimizing networks and inventories, focusing on private-label products, and applying customer and supply chain segmentation to reduce complexity and improve margin. In all different industries—from the relatively slow-moving ones such as utilities and cement to the rapidly changing businesses such as high-tech and retail—lean and agile supply chain processes have become critical in achieving competitive advantage.
Taking the journey of supply chain business transformation is no longer an option; it's a strategic mandate in order to stay relevant in the industry. So clearly, it is crucial to act fast and launch the transformation activities, but the industry's reality is that 70 percent of all transformation initiatives (programs) fail. Therefore, the effort to improve supply chain results has been short lived, incomplete, or partially succeeded. The low success rate and the scary statistics keep CEOs involved in the transformation programs up at night, and make others who are about to take the transformation journey think twice about going forward with this attempt.
For nearly 17 years, I worked with different companies across different industries, as a strategy director, process consultant, change agent, project manager, solution architect, and planning director. I worked on large- and small-scale processes, systems, and organizational changes. I witnessed both successful transformations and failed ones. The common two themes among the failed ones are: 1) the lack of familiarity with change transformation programs and what it takes to make them happen, 2) and resistance to change due to people-related aspects being poorly managed or altogether neglected. Executives who fail to plan for the human side of change often find themselves wondering why their best-laid plans have gone astray.
A few years back, I was asked to play the executive process advisory role for a global high-tech company. Their largest end-to-end supply chain transformation program was under way. The program included process improvement and technology implementation to the following processes: Sales and Operation Planning (S&OP), Demand Planning, Supply Planning, Order Planning, Inventory Planning, Order Fulfillment, Transportation, and Channel Management. In the first two weeks of my engagement, I came to a conclusion that the transformation was at risk and immediate corrective action was desperately needed. Here are a few of my findings:
First, the employees did not understand why and how the business must change, or their own role in making it happen. There was a clear lack of communication and articulation of the need for change. The sponsor didn't even have access to the business case to hand to me when I asked for it. I discovered later that the major cost saving element was layoff!
Second, I went over the transformation program structure, and I found out that nine different tracks were identified to execute the program; like program management, process, technology, data, testing, suppliers, and change management track. My role was under the process track. My shocker was that appropriate expertise and resources were identified for all tracks except for change management, it was "TBD"! Basically a major transformation program was 12 months under way, layoff is one of the outputs of the program, the company has not done this type of transformation before, and yet no one is assigned for change management track!
Third, all program tracks were working in silos with little coordination. I was able to notice the mistrust that every team had regarding the other teams' ability to deliver on time, and the blame game already started. Fourth, there was no supply chain strategy defined to reverse the trend of losing market share.
It took this company several months and several drastic adjustments to clean this mess. Several senior managers and executives lost their jobs because they were slow to react.
What follows are the success elements for effective change management (as shown in Figure 1) based on research and my own experience. Using these elements as systematic and comprehensive framework, executives can understand what to expect, how to engage the entire organization in the process, and how to ensure successful supply chain transformation programs.
Executives' Commitment and Visible Support
Since change is difficult and inherently unsettling, stakeholders will turn to the CEOs and senior management team for direction and answers. The leaders of the organization must embrace change first and then display their commitment and show their support. They must speak with one voice and model the desired behaviors especially since supply chain transformations require intensive cooperation and cross-functional collaboration among executive peers. This would force executives to get out of their comfort zones and their respective areas of responsibility and find time out of their busy daily operation schedule to envision an entire new business.
As a change agent, not having all executives on the same page early on is one of the first challenges I try to address. I typically, for this purpose, schedule 15 minute one-on-one meetings with all executives in my first week on site. Executives reluctant to come aboard and support the transformation program visibly will disrupt the speed of the company's progress in planning and undermine transformation significantly.
Comprehensive Supply Chain Strategy
Very few companies have a good and documented supply chain strategy. Executives struggle with assessing the current state of the supply chain, and envisioning the new state that is required to support the vision and address current challenges, from technologies and processes to human resources and governance. They also struggle to decide when and where to begin and how to translate the vision into goals, goals into strategies and strategies into process changes and projects.
In addition, the culture of "playing it safe" is another challenge. Companies get used to executing low-risk incremental improvements on the same business environment for an extended period of time, and they become close-minded for drastic improvements, because they do not know how to handle transformation programs and target big results. The scope can be overwhelming.
When companies are in the process of implementing several incremental improvement projects like Six Sigma or Kaizen projects, it will be a challenge to add a large transformation program to the mix targeting the same departments. Companies that try to stuff too much into the organization will clog it causing employees and managers' capacity to execute to become a choke point unless the projects are prioritized and sequenced correctly.
Comprehensive strategy includes: 1) re-examine/define strategy as changes occur in the global marketplace, 2) translate strategy into prioritized, actionable and practical improvement plans, 3) develop a three-to-five year roadmap that guides the transformation of supply-and-demand capabilities and take planning processes to the next level, 4) highlight how to achieve one or more corporate goals like growth or customer service levels, 5) capitalize on large opportunities for improvement that deliver significant ROI over time, as well as "quick win" operations improvements with a fast payback, 6) eliminate outdated roles and responsibilities, unnecessary activities, and performance metrics that no longer reflect current realities, and 7) align operational processes and metrics across the supply chain to reflect the overarching supply chain strategy.
Articulating the Case for Change
Building the business case for change is crucial to compel leadership-stakeholders alignment. Three steps should be followed in developing the case: First, articulate a convincing need for change based on the company's current situation and market opportunities. Second, quantify the expected operational and financial benefits, estimate cost, and calculate the return on investment (ROI). Third, explain how to show progress and measure success, which metrics will be improved to achieve the expected benefits, what will be the new performance targets and deadlines, and who will accountable.
At a recent industry conference, I asked my 80-plus member audience to raise their hands if they are "OK" with their own performance measurement governance (metrics identification and setting targets, tracking, and controlling). Only three managers raised their hands. The widespread feeling among managers is that they are measuring too much or too little, or are measuring the wrong metrics. The majority also feel that their performance measurement governance doesn't drive good behavior or trigger continuous improvement. In this case, from Lean perspective, it is a waste of time and money. The root causes of these challenges can be summarized under four categories:
The difficulty in identifying the metrics that would yield the most information on success
Difficulty in identifying root causes when metrics targets are not achieved
Lack of clear ownership and responsibilities
Lack of consistently clean data
Proven Change Management Methodology
Having a structured and proven methodology to show the way in the change transformation journey is a must. Any significant supply chain transformation program creates uncertainty and people resistance. New leaders emerge, job descriptions are changed, new skills and capabilities must be developed. Dealing with these change management issues on a reactive, case-by-case basis puts timeline, morale, and results all at risk. A structured and formal plan for managing change—beginning with the transformation team and then engaging key stakeholders and leaders—should be developed early and executed effectively as changes move through the organization. The plan should be comprehensive to cover planning, implementing, and sustaining the transformation changes.
A structured methodology demands as much data collection and organization readiness assessment as does the redesign of strategy, processes, and systems. There are three common methodology mistakes that executives need to avoid: first, some companies rush things and focus only on IT activities that they cannot shorten and neglect the change management factor.
Second, some spend a huge amount of time on the planning phase, little time on implementing the change, and no time on sustaining it. Third, other companies put significant emphasis on the transformation's soft factors, such as culture, leadership, and motivation while missing out on the hard factors of change management like financial results, commitment level of executives, the number of resources and skills required to execute the program, benchmarking and gap analysis, and program roadmap and duration.
For transformation programs to work, there must be convergence between the new process, new technology capabilities, people readiness with the required new skills, and organization structure alignment changes.
Maintaining Energy and Involvement
As supply chain transformation programs progress from defining strategy and setting targets to design and implementation, they affect different organizational levels and stakeholders. Disengaged stakeholders can really slow down progress and can be a reason by itself for transformation failure. Supply chain stakeholders represent different functions and different roles (operators, SC managers, planners, suppliers, customers, warehouse receivers, carriers, etc.) which add another dimension to the challenge.
Stakeholders need to know why change is happening, how their work will change, what is expected of them during and after the transformation program, how they will be measured, and what benefits success will bring to them personally. Transformation team leaders should be addressing all of these questions explicitly and keep stakeholders involved in the process and informed to maintain energy throughout the organization.
Building and then empowering an effective transformation team is very crucial to maintain excitement and eventually embrace change. In building the transformation team, executives must be sensitive to the unique needs of the program environment, and ensure that the team is having the right skills like identifying resistance root causes and coming up with strategies to overcome resistance. The team should also try to avoid resistance in the first place by being proactive and mitigate the risk ahead of time.
Highly visible incentives, such as promotion, bonuses, and recognition should be provided as reinforcements to maintain energy and sustain change. Also, involving people in identifying problems and providing solutions creates ownership. Continual reassessment of the achieved benefits of the program and stakeholders' adoption to the new process is another way of maintaining energy.
Ehap Sabri, Ph.D., CFPIM, is a supply chain leader, management consultant, business professor, and author with 17 years of industry experience. He is a strategy consulting director at JDA Software and a visiting professor at the University of Texas at Dallas. Dr. Sabri is the author of two books: Purchase Order Management Best Practices: Process, Technology, and Change Management and Lean & Agile Value Chain Management: A guide to the next level of improvement. He can be contacted at ehap.sabri@jda.com or ehap.sabri@utdallas.edu.