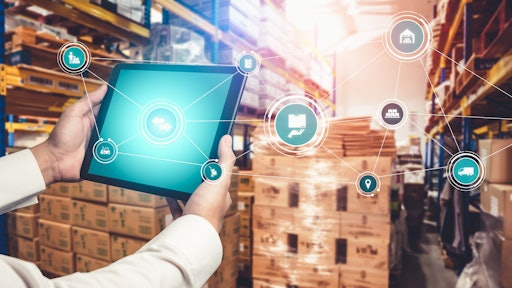 Blue Planet Studio AdobeStock_450740420
With 82% of customers conveying that it is important that retailers proactively communicate during every stage of fulfillment and delivery, there's no doubt that consumerization is taking the trucking and logistics industry by storm. On top of that, the supply chain is under mounting stress due to expanding online retail, rising consumer demands and evolving market tendencies. With all this, shipping customers are demanding greater insight into the status of their freight and estimated delivery times to proactively manage their freight transportation as much as possible.
Some companies have raised the bar for visibility, which customers have now come to expect everywhere, and today's shippers expect the same simplicity when trying to understand where their shipment stands within the supply chain. Carriers and brokers who don't provide this information – especially legacy or smaller businesses – can suffer immensely from a lack of communication and collaboration that will ultimately frustrate customers and encourage them to ship elsewhere. This is amplified when there are unplanned supply chain disruptions such as natural disasters, pandemics or political unrest; businesses with poor supply chain visibility will fail to support the transparency customers demand.
Collaboration for supply chain visibility
What this all amounts to is that keeping up with the accelerating demands of customers and today's increasingly digital environment requires significant adjustments to conventional methods of doing business, so that there is clear and real-time supply chain visibility to all stakeholders. Providing that visibility is essentially expected at this point, and finding a transportation management system (TMS) with advanced tools for enhanced visibility is the most cost-effective way to boost collaboration so that all stakeholders can view the status of their freight at any time.
Simply providing a notification when items ship, along with an estimated delivery date is no longer enough. Offering self-serve portals with in-order chat and automated status updates is now table-stakes for any carrier or broker. While sharing delivery time access is a start, providing real-time tracking and live estimated time of arrival status keeps all stakeholders working from a single source of truth. This doesn't just make customer and partner's lives easier, it also frees up time for carriers and brokers to focus on value-adding activities.
Between customers, partners and team members, there are simply too many participants working from an order for everyone to be working from their own, siloed systems. One person might be generating the quote, another could be dispatching the driver or carrier, while someone else down the line is responsible for sending the invoice. Without a TMS to organize and streamline this process, absent is standardization for the sake of a universal truth. Let's say an unexpected weather event interrupts the course of a shipment; without universal access to real-time track and trace information, customers will feel left in the dark regarding the interruption and will likely take matters into their own hands to track down their freight. If there is no single place for all this information to live, a business is left open to inefficiencies and risks.
Visibility-centric TMS can also integrate with other systems a carrier or broker is already using, bringing all the information a user needs to the forefront. So, whether they're looking at the order for which they are rating, invoicing or dispatching, all the information is there: hours of service remaining with a driver, the amount of time to make a pickup, etc. A TMS provides contextual and meaningful ways to ensure all stakeholders, from brokers to carriers to shippers, get the most visibility into the whereabouts of shipments. Further, since this valuable information is logged and stored in the TMS, brokers and carriers can easily and set-up accurate reporting, improving their decision-making in the future.
And these don't just make your customers' lives easier. Brokers and carriers that properly utilize these new technologies will save immeasurable time on repetitive, manual back-and-forth status updates, so they can focus on building their business.
Mitigating inefficiencies
More than ever, one of the chief goals of today's trucking business is increasing efficiency to provide better service to customers. Using a driver mobile app, paperwork is reduced by enabling drivers to digitally sign and manage key documents while reducing errors and keeping everything logged and accessible. It also provides a means to easily and effectively chat with a company's team. Directly chatting within the app keeps conversations organized and logged for future auditing – protecting dispatchers and drivers.
The growing expectation that shippers have for their logistics provider include the desire for a competitive rate on the spot, and because a modern TMS automates manual processes, they can be given the best rates faster. Shippers also want to know in real-time where in the world their freight is. When that freight is delivered, they want proof of that delivery immediately and electronically. A TMS will give them the tools they need to answer their own track-and-trace questions and get all the information they want instantly. It keeps a digital log of arrival and departure times, giving an accurate and unbiased view of expedited shipment deliveries. This empowers businesses to get ahead of problems while confidently and transparently marketing their track record.
Additionally, ensuring all team members understand the impact and role they have on a shipment is key to operational efficiency. Freight is a team sport, where most of the players are spread across multiple companies throughout the supply chain. Keeping all stakeholders in the loop on any relevant information helps the entire shipment run smoothly. No scenario is worse than a driver showing up for a delivery and the warehouse saying they weren't expecting the driver and cannot fit them in. When parts of the team are left in the dark, mistakes happen, frustration grows and expedited transportation is next to impossible. And revenue is lost.
Staying future focused
Transportation companies may boast excellent service, on-time deliveries, and honesty, but how can shippers verify such claims? In a world where freight is increasingly viewed as a commodity, it's difficult to become a broker or carrier of choice without data to back up your performance. A combination of real-time tracking and a driver mobile app will not only help shippers get the transparency and visibility they deserve but also set up their supply chains for success. Shippers should always be inquiring with their freight suppliers about any new features or tools they may have available or be developing soon.
As customers demand greater certainty and insight into their orders, it's more important than ever that there is clear visibility along the entire supply chain. The right TMS solution enhances collaboration, mitigates delays, provides clear communication and enables all stakeholders to see where freight is at any time. It equips the entire supply chain with the best and most lucrative transparency as the consumerization of the industry continues to take hold.