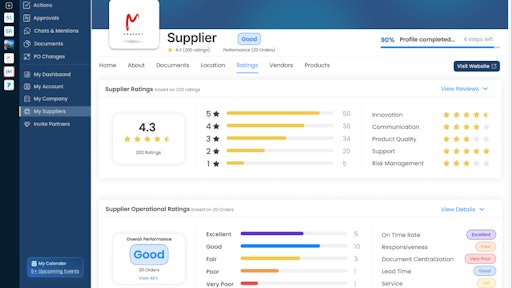 Quloi
Quloi added a new Supplier Management Module to enhance buyer-supplier collaboration, visibility and supplier performance and offer order automation, seamless action-based collaboration, and real-time, end-to-end visibility for manufacturers and distributors.
"The Quloi platform is always evolving with the goal to continuously advance digital transformation of supply chain processes for the benefit of buyers, suppliers, and logistics partners, as well as retailers and consumers. The launch of our Supplier Management Module will coincide with the roll-out of the Supplier Directory, which is geared toward mid-size and enterprise buyers looking to optimize their supplier relationships. It was designed to activate all supplier networks under a single platform so that buyers will have easy access to all relevant information such as storage location, facility capabilities, supplier documentation, user comments, operational ratings, product library, and key points of contact," says Quloi CEO Matt Goker. "The Supplier Management Module takes the Quloi platform to the next level with robust functionality that checks off all the boxes required to strengthen buyer-supplier collaboration and relationships, improve quality assurance, and increase business productivity, cost-savings, and profitability. Today, businesses should have this expectation of digital supply chain solutions."
Key takeaways:
With the new Supplier Management Module, buyers and suppliers gain seamless collaboration for significantly improved communications and transparency.
Onboarding new suppliers is comprehensive and supports reduced administrative burdens, while also helping to expedite the supply of goods and services. Buyers can invite new suppliers using the platform's Invite Partner menu.
In addition to these functionalities, the

Quloi

Supplier Management Module's performance assessment capability enables a systematic approach to supplier evaluation through the use of a comprehensive scorecard with the focus on elevating supplier performance.
Another feature of

Quloi's

Supplier Management Module is efficient management and access to supplier-related documentation for optimum document control. The Supplier Geo-Locations search function enables manufacturers to identify suppliers in close proximity to further support efficient supplier selection.