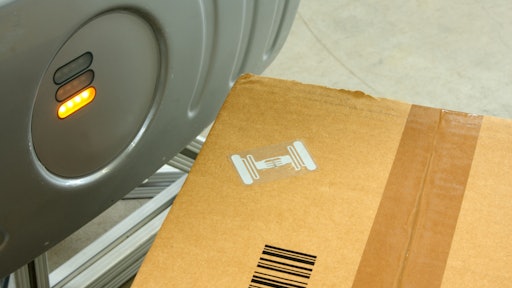 GettyImages-113511588
As we head into another pandemic holiday season, logistics teams across the globe are gearing up for a busy time. Home delivery is now established as a normal way to shop and customers expect to receive orders quickly, with access to updated information while in transit. Deloitte forecasts that online sales will grow by up to 15% over last holiday season. As logistics teams and shipping companies prepare to handle the increase in volume, the need to automate and streamline operations is top-of-mind. Any single step that can be eliminated or repeated task simplified has an exponential impact – especially during peak operations like the coming holiday season.
This is where RAIN RFID comes in.
Today, billions of everyday things such as apparel, automotive parts, luggage and medications are connected to the internet and managed efficiently by enterprise systems using RAIN RFID.
Like a tiny radio, a RAIN RFID tag attached to packages, crates or pallets can identify and track shipments as they move through a distribution chain. Shippers are relying on RAIN RFID systems for visibility into their operations and to ensure that packages move through networks quickly and efficiently.
Sometimes called passive or UHF RFID, RAIN RFID tags are inexpensive and don't need batteries to operate. They can be read as close as a few centimeters or as far away as several meters. RAIN RFID systems can identify up to 1,000 items per second without direct line-of-sight, making them ideal for use in conveyers and sortation systems. RAIN is the fastest growing segment of the RFID market due to its low cost and ability to automate inventory and asset tracking across industry sectors.
The benefits of modern RAIN RFID solutions
While most postal operations are already highly automated, they need to innovate to take their operations to the next level. Adding RAIN RFID to track packages moving through facilities is a significant step in automation. The true value of RAIN RFID technology is that it allows companies to automate data collection and vastly reduce human effort and error. Packages and shipments are identified with no-line-of-sight required so that systems don't miss a package that was oriented in the wrong direction. Readers can identify multiple RAIN RFID tagged items simultaneously, which increases efficiency and helps businesses understand inventory levels, location of items, and intended destinations. By upgrading existing infrastructure with the latest technology, companies can gain increased visibility, flexible delivery and traceability on returns, providing optimal reverse logistics at a low cost.
The business case for RAIN RFID
According to Accenture, RFID has evolved from a technology once only used in a handful of retail scenarios to becoming the foundation of a solution delivering business results to retailers around the globe. In fact, in Accenture's Retail RFID Study, the majority of retailers (80%) said the benefits of RFID cannot be replaced by another technology. RFID generates volumes of data that inform insight-based decision making. During the pandemic, retailers across the world have used RFID to enhance their omnichannel operations. In fact, according to the Accenture study, with RFID in fully in place, retailers are reporting more than 10% ROI.
RAIN RFID technology opens up possibilities
As an Internet of Things (IoT) technology, RAIN RFID enables an increasingly connected and automated era of manufacturing, shipping and logistics management. These solutions help organizations ensure they have the right items, in the right quantities, at the right locations, at the right time. And, there has never been a greater need for organizations to have real-time data and insights to make critical decisions to ensure their customers have the knowledge they need about the packages they expect and rely on, especially as we head into what's sure to be a busy holiday shopping and shipping season.