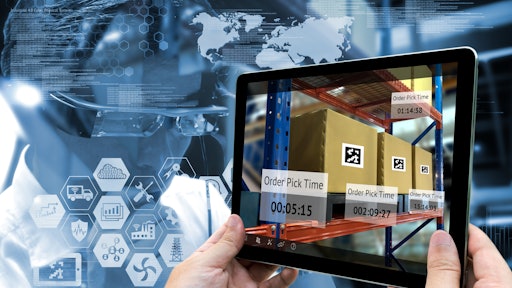 AdobeStock_127004310
As 2021 comes to a close and many begin holiday shopping, White House officials and experts warn that current supply chain bottlenecks may impact the holiday shopping season. Consumer spending is already on the rise – increasing 20-30% in the past year alone, or 4-7% above pre-COVID-19 levels. This sharp increase comes with industry-wide expectations to ensure goods are able to arrive on time. The transportation industry in particular is under increased pressure to meet demands and make up for delays caused by the supply chain crisis.
A recent study published by the IBM Institute for Business Value (IBV) notes that 64% of transportation executives cite that their organization's future success depends on digitally reinventing themselves. If the pandemic wasn't enough proof that the industry was in dire need of a digital makeover, then the current supply chain challenges certainly do. Not in five years, but now is the time for companies in the supply chain to step up, adopt new technologies and do their part to close the gaps between shippers, consumers and businesses.
Optimization made easy
At first glance, modernizing the supply chain seems like a daunting task. However, advances in freight and vehicle tech have made it possible to collect and consolidate necessary data, giving carriers and shippers a bird's eye view of their operations. Technology like advanced analytics, telematics, vehicle connectivity, artificial intelligence (AI) and mobile help supply chain managers spot trends, identify areas of improvement and optimize operations. For example, a fleet manager can look at a dashboard of insights and can pinpoint particular times and geographical locations that result in decreased fleet efficiency, they can make smarter decisions around scheduling and driving routes. Optimization of the supply chain therefore starts with having smart, digital capabilities that increases visibility of the entire logistics chain.
These tools also allow fleet operators to detect irregularities that may signal fuel fraud and misuse – an unfortunate reality of the industry that has reportedly cost companies up to $100,000 in a single year. In trucking, where fuel is a top expense, fuel card misuse is best deterred with advanced technology like telematics, contactless payments with customizable controls and a fuel management system that can track every mile, every stop and every gallon purchased. To optimize the supply chain for the long-term, technology solutions must be customizable, scalable and user-friendly.
Time is money
In the world of transportation, time is of the essence. Drivers are expected to make deliveries on time, paid by the mile and shipments made. Yet drivers face a number of obstacles on the road that interfere with their efficiency and fleets' bottom line. For example, once a driver pulls up to pump fuel, they instantly are faced with several authentication factors before the transaction can even begin. While this appears to be a minor inconvenience to the average user, these extra steps ultimately add up over time to drivers and fleets. Drivers need a seamless payment experience at the pump and digital initiatives like GPS tracking and contactless mobile payment capabilities ensure this occurs. By adopting virtual payment solutions everyone – fleets, drivers and merchants – win. Drivers remain focused on delivering the next load while simultaneously allowing more goods to be delivered to keep up with increased demand.
Currently, the supply chain is at the mercy of external factors – government, labor, demand, regulations – making it difficult to navigate this crisis. While emerging technology will resolve every challenge in the short-term, it's clear that a transformation is necessary. It is ultimately up to each sector within transportation industries to remain agile and close the digital gap. This will be most possible by prioritizing cloud-based software solutions for maximum return long-term. The question for fleets then remains – is your business prepared to adapt to the increasingly digital world around us? Those who do not are setting themselves up for extinction, while those who advocate for change will evolve and adapt to whatever external pressures are put on them next.