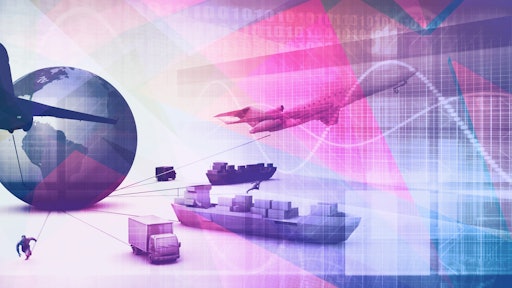 kentoh/stock.adobe.com
In late 2022, APQC carried out a quick poll of 278 manufacturing organizations about the use of advanced analytics in supply chain. 'Advanced analytics' refers to technology-enabled, complex processes of examining large and varied data sets to uncover key trends, unknown correlations, customer preferences and more to make more informed business decisions. In this article, we break down our key findings and provide insights on the current state of analytics technologies in supply chain.
Investments in
Advanced

Analytics are Increasing

A majority of respondents (83%) have seen their organizations increase financial investments in advanced analytics over the past three years and a third of respondents (34%) say these investments have increased significantly. By contrast, only 4% of respondents report seeing decreased investments in analytics.

Broadly speaking, organizations find analytics to be a good investment. Almost all respondents (97%) report that advanced analytics is at least moderately effective in their organizations, with about two-thirds (65%) saying advanced analytics is extremely or very effective.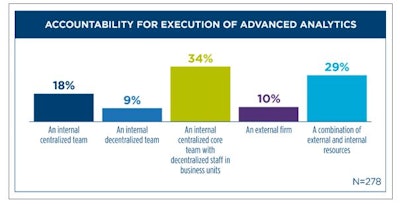 Execution/Governance Models
Effective governance models are critical to ensure clear ownership and accountability for analytics. APQC finds that the most common model is one in which an internal, centralized core team provides resources and support for decentralized teams in the business (Fig.1). Often called a "hybrid" model, this governance structure combines the benefits of centralization (e.g., standardization and visibility into projects across the enterprise) with the benefits of decentralization (e.g., deep knowledge of specific business needs and priorities). A combination of external and internal resources (such as a vendor working with an analytics center of excellence) is also a common model for advanced analytics.
Benefits of advanced analytics
Organizations that adopt and implement advanced analytics for their supply chains benefit from enhanced decision-making support. For example, about half of respondents (51%) say that advanced analytics improves forecast accuracy, while 41% say that it reduces analysis and forecasting cycle times. Analytics is also helping respondents to model different supply chain scenarios (38% of respondents) and providing dashboards to help leaders visualize key trends (36%).
Although it is a more emergent application, about a third of respondents (30%) report that advanced analytics helps to reduce unplanned downtimes for machinery or systems. Leading organizations often achieve this by using analytics in combination with IoT sensors, which help to alert key stakeholders when (or before) machinery or systems need maintenance, repair or replacement.
Hurdles to Widespread Adoption
Given the benefits of advanced analytics, it would make sense to see widespread adoption of analytics-driven technologies across supply chain organizations. Unfortunately, many organizations find adopting and using analytics to be a significant challenge.
APQC finds that many of the biggest hurdles to widespread adoption are rooted in a lack of adequate change management. For example:
Almost half of respondents (43%) say that the biggest hurdle is that employees are too busy or don't have enough time for advanced analytics,
43% cite a lack of a compelling business case for advanced analytics, and
42% say resistance to change is a major hurdle to widespread adoption.
To adopt and implement analytics effectively, organizations need to be ready with a change management plan that includes a strong business case. However, challenges like these make it clear that many organizations may be missing this critical piece of the puzzle.
Change management is particularly important when implementing new tools and technologies. Even if leaders and executives are supportive, employees may initially resist changes to the ways they carry out daily work, find established tools or ways of working more comfortable, worry about what new technologies mean for their job security or all of these at the same time.
As they explain the change and why it is important, implementation teams need to develop a compelling answer to the inevitable question from employees: "What's in it for me?" If employees are worried that they don't have time to learn and use the technology, make sure that management sets aside time for training and explains how this technology will make their lives easier and save them time. Leading organizations often find it very effective to designate champions in the business to communicate these messages in their respective areas, since potential end users are more likely to listen to peers who work alongside them.
Moving Forward
Organizations today have more data than they would ever be able to process manually. Analytics helps leading organizations to sift through this data and provides critical intelligence for better decisions, faster responses to disruption and reduced equipment downtimes. While they were once a competitive differentiator, analytics-driven tools and technologies are increasingly becoming "table stakes" for competing at all. Organizations that continue to dither about whether analytics is a good investment and those that struggle with change management will increasingly be left behind.